Red-necked longhorn beetle – Aromia bungii
Background
The red-necked longhorn beetle (Aromia bungii) is a wood boring beetle native to eastern Asia that breeds in flowering trees, various species of Prunus and other hardwood trees. It can affect fruit tree yield and may seriously weaken or even kill host trees. Added to the regulated pest list in 2018, it is a pest of potential concern that is not known to occur in Canada.
Early detection could help manage this pest if it were to occur in our country.
The red-necked longhorn beetle is a large, black beetle which has a red thorax. It's only known look-alike in Canada is the cherry long-horned beetle, Ropalopus sanguinicollis The red-necked longhorn beetle has stout spine-like lateral tubercles on its thorax, whereas the cherry long-horned beetle has a smoothly rounded thorax. The red-necked longhorn beetle also has shinier elytra.
These two longhorn beetles can be difficult to differentiate and both breed on Prunus. When in doubt, it is better to be cautious. If you believe you have found suspect specimens of the red-necked longhorn beetle, please contact the Canadian Food Inspection Agency (CFIA).
Plant pest card - Red-necked longhorn beetle
Identification
Adult beetles are 22-38 mm in length and completely glossy black in colour except for the red thorax, which bears a stout, spine-like process on each side. Like other longhorned beetles, the antennae are as long as (females) or longer (males) than the body.
Hosts
Hosts include Peach (Prunus persica), apricot (P. armeniaca), American plum (P. americana), cherry (P. avium), plum (P. domestica), and Japanese apricot (P. mume). There are a number of additional hosts mentioned in the scientific literature but with little information on their status as hosts: white poplar (Populus alba), Chinese white poplar (P. tomentosa), persimmons (Diospyros ), Chinese wingnut (Pterocarya stenoptera), Chinese chestnut (Castanea mollissima), oaks (Quercus), walnut (Juglans regia), neem (Azadirachta indica), olive (Olea europaea), weavers bamboo (Bambusa textilis), pomegranate (Pumila granatum). As many publications on this insect are written in Chinese, there may be additional hosts of Aromia bungii that are not reported in the English literature.
Location of Infestation Within Tree
Early instar larvae mine galleries between the bark and sapwood within the trunk; late instar larvae develop within the heartwood. Larvae can also mine galleries in larger branches.
Host Condition
The preferred health status of host trees is not clearly understood. However, other species in the Aromia genus prefer to attack young healthy trees as well as those that are stressed.
Distribution
This beetle is known to occur in China, North and South Korea, Mongolia, Vietnam, introduced into Japan, introduced and under eradication in Italy (Campania region). It is presumed eradicated from Germany (Bavaria).
Signs and Symptoms
Eggs are laid in bark cracks. Larval galleries are 17-22 cm long under the bark of the trunk or along branches. Exit holes are 12 mm in diameter. Large coarse fibrous debris (frass) may be pushed out and can occur around the base of the tree. In Asia, Aromia bungii can affect yield in fruit trees and may seriously weaken or even kill host trees.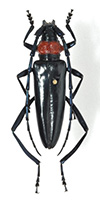 A. Female A. bungii. Note antennae extend to tip of abdomen.
B. Male A. bungii. Note antennae 1.5 × body length.
C. Expelled A. bungii frass from Prunus in Italy.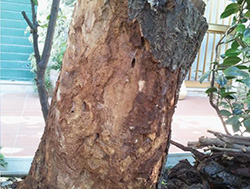 D. Larval galleries within Prunus (Italy).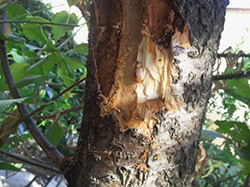 E. Aromia bungii larva feeding beneath the bark of a Prunus.
F. Aromia bungii infested plum tree (Prunus domestica) in Italy.
Photo Credits
Pierre Haller. http://www.biolib.cz/en/imagegalleryuser/id220287/?uid=7039
Pierre Haller. http://www.biolib.cz/en/imagegalleryuser/id220286/?uid=7039
Daniela Benchi. Plant Health Service of Campania Region, Napoli (Italy) http://photos.eppo.org/index.php/image/6828-arombu-01/images/623-aromia-bungii-arombu-
Raffaele Griffo. Plant Health Service of Campania Region, Napoli (Italy) http://photos.eppo.org/index.php/image/6834-arombu-08/images/623-aromia-bungii-arombu-
Bruno Espinosa. Dipartimento di Entomologia e Zoologia agraria, Facolta di Agraria, Portici, Napoli (Italy) http://www.sito.regione.campania.it/AGRICOLTURA/difesa/aromia.html
Daniela Benchi. Plant Health Service of Campania Region, Napoli (Italy) http://photos.eppo.org/index.php/image/6827-arombu-02/images/623-aromia-bungii-arombu-
Raffaele Griffo. Plant Health Service of Campania Region, Napoli (Italy) http://photos.eppo.org/index.php/image/6826-arombu-05/images/623-aromia-bungii-arombu-