Brown spruce longhorn beetle – Tetropium fuscum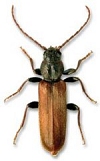 The brown spruce longhorn beetle (BSLB) is an exotic pest that affects spruce trees. Native to northern and central Europe, BSLB is a direct threat to the forests of North America and a significant threat to trade in Canadian forest commodities.
To help prevent the spread of BSLB, the movement of spruce logs, and firewood out of the regulated area is restricted. The current regulated area includes the entire province of Nova Scotia.
Help prevent the spread of BSLB, don't move firewood.
Information on the regulated area
Updates
General information about BSLB
Import and export requirements for wood products