2022 BSL4ZNet International Conference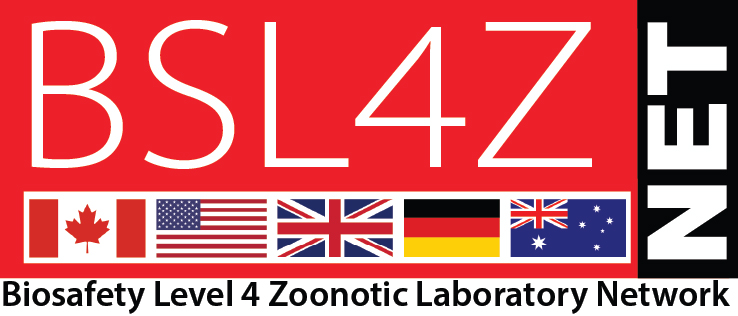 Forging ahead stronger: Strengthening zoonotic disease preparedness
September 8 to October 13, 2022
Virtual conference
Latest
The Biosafety Level 4 Zoonotic Laboratory Network (BSL4ZNet) is organizing a series of virtual sessions from September 8 to October 13, 2022. The sessions will feature keynote speakers, expert panelists and a moderated dialogue with questions and answers.
BSL4ZNet is an international network of members from 5 countries, and members have agreed that the working language of the network is English. As a result, the 2022 International Conference will be delivered in English.
In accordance with the Government of Canada's Policy on Official Languages, all supporting communications and services provided by the CFIA for the public will be available in both official languages.
About
Throughout the COVID-19 pandemic, global collaborations have been critical in driving science forward. The time has come to leverage this experience to strengthen pandemic preparedness. In line with this, the overarching theme for the 2022 BSL4ZNet International Conference is "Forging ahead stronger: Strengthening zoonotic disease preparedness". The conference will take place virtually from September 8 to October 13, 2022.
Registration
Registration for the 2022 BSL4ZNet International Conference will open on August 15, 2022.
Program
The 2022 BSL4ZNet International Conference will be organized into 4 thematic sessions focused on strengthening zoonotic disease preparedness.
SARS-CoV-2: then and now on Thursday, September 8, 2022
Emerging and re-emerging pathogens: current research, challenges and future opportunities on Thursday, September 15, 2022
Training world-class personnel in a post-pandemic era: competencies, culture and technological advancements on Thursday, October 6, 2022
Advances in biosafety, biosecurity and biosurveillance on Thursday, October 13, 2022
The conference will feature 4 keynote speakers, panel sessions, and over 50 expert panelists from around the world. Our diverse line-up of international keynote speakers and panelists will include scientific experts and leading science professionals from government, academia, industry and non-profit organizations. They work in the areas of research, emerging and re-emerging bio-threats laboratory management, biosafety and biosecurity, science diplomacy and policy. They will bring their knowledge, expertise and collaborative spirit to the conference. Participants will hear and engage in discussions on how to leverage the experience of the COVID-19 pandemic and other zoonotic outbreaks through reflections and lessons learned to strengthen zoonotic disease preparedness.
The 2022 BSL4ZNet International Conference will also include the Cutting-Edge Virtual Symposium on Coronavirus with Disease-X Potential, which will take place from September 27 to 29, 2022. The symposium segment of the conference is organized by Australia's Commonwealth Scientific and Industrial Research Organisation (CSIRO), the US Food and Drug Administration (FDA), and the UK-International Coronavirus Network (UK-ICN) with peer-reviewed proceedings featured in a special issue in the Journal of General Virology, sponsored by the Microbiology Society.
Details on each session, including agendas, topics, keynote speakers and expert panelists, will be available on the registration portal (coming soon!). This virtual event will include live discussions, networking opportunities as well as an engaging and inclusive environment for dialogue.
Recordings of all the conference sessions will be available to registered participants on the event portal.
Contact BSL4ZNet
Questions? Contact cfia.bsl4znet.acia@inspection.gc.ca for more information.