Weed Seed: Thlaspi arvense (Stinkweed)
Family
Brassicaceae
Common Name
Stinkweed
Regulation
Secondary Noxious, Class 3 in the Canadian Weed Seeds Order, 2016 under the Seeds Act.
Distribution
Canadian: Occurs throughout Canada (Brouillet et al. 2016Footnote 1). Most abundant as a weed in the prairie provinces (Warwick et al. 2002Footnote 2).
Worldwide: Native to Europe and Asia and introduced in North America, southern South America, northern Africa, South Africa, Australia, New Zealand, and beyond its native range in northern Europe (USDA-ARS 2016Footnote 3). Widespread in temperate regions of the northern hemisphere and recently spread to temperate regions of the southern hemisphere (Warwick et al. 2002Footnote 2).
Duration of Life Cycle
Annual or Winter Annual
Seed or Fruit Type
Seed
Identification Features
Size
Seed length: 1.9 - 2.7 mm
Seed width: 1.0 - 2.0 mm
Seed thickness: 0.5 - 1.0 mm
Shape
Seed oval shape tapering to hilum end; compressed
Surface Texture
Distinctive pattern of concentric ridges on seed
Colour
Reddish-brown in immature seeds, dark brown when mature
Other Features
Hilum at narrow end, looks like an open mouth with tissue inside
Habitat and Crop Association
Cultivated fields, old fields, gardens, pastures, rangelands, meadows, thickets, woods, irrigated areas, sloughs, beaches, roadsides, lawns, railway lines and disturbed areas (FNA 1993+Footnote 4, Warwick et al. 2002Footnote 2, Darbyshire 2003Footnote 5). A serious weed of pastures and cereal, oilseed, forage and vegetable crops (Warwick et al. 2002Footnote 2, CABI 2016Footnote 6).
General Information
Stinkweed was first introduced into Michigan in 1701 (Royer and Dickinson 1999Footnote 7) and is now found in all U.S. states except for Hawaii (NatureServe 2015Footnote 8). One plant is capable of producing up to 20,000 seeds, which can remain viable for 20 to 30 years (CABI 2016Footnote 6).
Not only does stinkweed reduce crop yields, it also decreases crop quality by increasing the erucic acid content of the oil produced (Warwick et al. 2002Footnote 2). Stinkweed can be toxic to cattle, causing symptoms such as abortion, colic, and sometimes death (Warwick et al. 2002Footnote 2).
Similar Species
Garlic mustard (Alliaria petiolata)
Garlic mustard seeds are a similar size, dark brown colour and have a concentric ridge surface pattern like stinkweed.
Stinkweed seeds are oval and compressed while garlic mustards seeds are elongate and compressed only at the hilum end.
Photos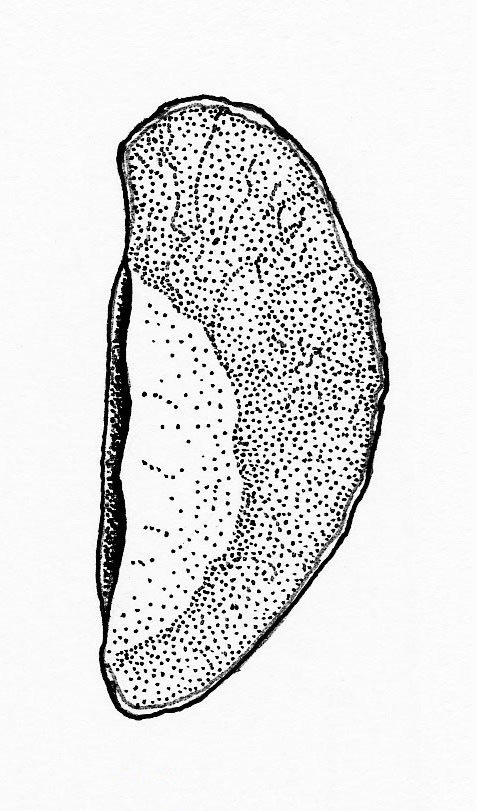 Similar species