Weed Seed: Cirsium arvense (Canada thistle)
Family
Asteraceae
Common Name
Canada thistle
Regulation
Primary Noxious, Class 2 in the Canadian Weed Seeds Order, 2016 under the Seeds Act.
Distribution
Canadian: Occurs in all provinces and territories except NU (Brouillet et al. 2016Footnote 1).
Worldwide: Native to most of Europe and temperate Asia to as far south as India and Nepal. Introduced to North America, Argentina, Chile, Iceland, Greenland, South Africa, Australia and New Zealand (USDA-ARS 2016Footnote 2).
Duration of life cycle
Perennial
Seed or fruit type
Achene
Identification features
Size
Achene length: 2.5 - 4.0 mm
Achene width: 1.0 mm
Shape
Elongate achene; straight to slightly curved, tapering at the base and truncate at the top
Surface Texture
Achene fibrous and woody texture, thin longitudinal furrows can be seen with magnification
Colour
Achene dull yellow to brown
Other Features
Narrow pale collar at the top of the achene
Immature achenes can have plumose pappus hairs
Habitat and Crop Association
Cultivated fields, old fields, gardens, lawns, pastures, fence lines, shores, thickets, open forests, roadsides, railway lines and other disturbed areas (Darbyshire 2003Footnote 3). Infests crops including wheat, corn, peas, beans, sugar beets and potatoes, as well as pastures and rangelands (Moore 1975Footnote 4).
General Information
Seeds of Canada thistle were likely introduced as a contaminant of crop seed in the late 18th century (Moore 1975Footnote 4). Canada thistle grows over a wide range of habitats and elevations, preferring rich loam soils (Ministry of Agriculture, Food, and Fisheries 2002Footnote 5).
Seed production averages 1,500 seeds per plant, but these remain viable for only a few years (Ministry of Agriculture, Food, and Fisheries 2002Footnote 5). It also produces deep creeping rhizomes that allow it to survive below normal tillage depths (Royer and Dickinson 1999Footnote 6).
Similar species
Nodding thistle (Carduus nutans)
Nodding thistle achenes have a similar size, shape and colour as Canada thistle.
Nodding thistle achenes have a smooth, varnish-like surface with transverse markings, while the achenes of Canada thistle are fibrous and woody with thin furrows and no transverse lines.
The top peg is thicker and wider in nodding thistle. The immature achenes of nodding thistle have filamentous pappus hairs and Canada thistle has plumose hairs.
Photos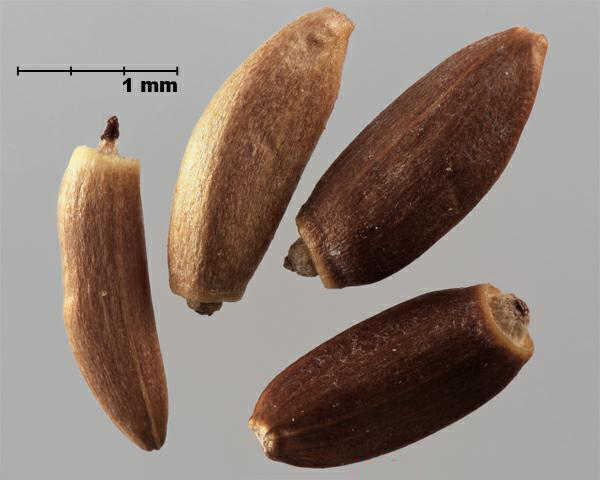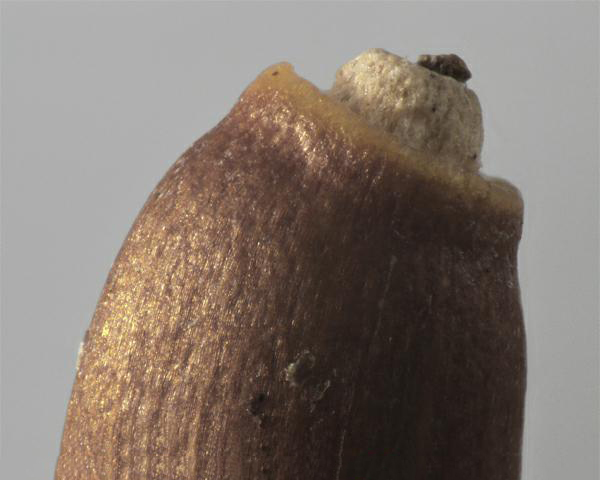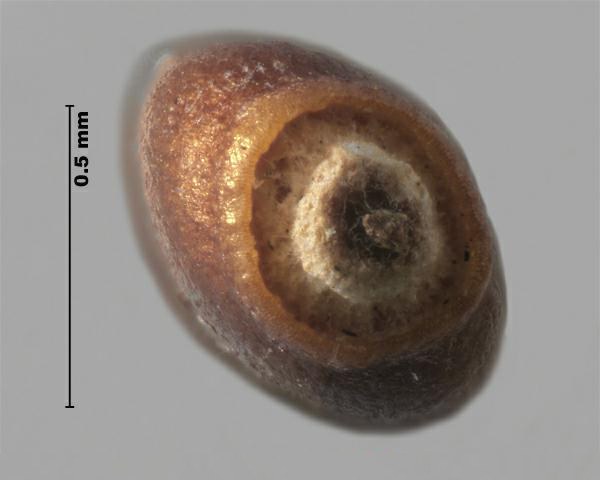 Similar species