Verticillium stripe –
Verticillium longisporum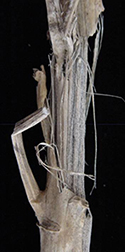 The Canadian Food Inspection Agency (CFIA) confirmed the presence of Verticillium longisporum (Verticillium stripe) in a canola field at a single location in Manitoba and issued a NAPPO Pest Alert on 01/15/2015. Prior to this detection, V. longisporum had not been reported in Canada.
Consistent with the International Plant Protection Convention (IPPC) and its international standards for phytosanitary measures (ISPMs), the CFIA implemented provisional measures to contain the spread of the pest and completed a pest risk assessment while the regulatory status of V. longisporum was being determined.
To make an informed regulatory decision, the CFIA conducted a national survey of canola fields between August and November of 2015. This survey confirmed the presence of V. longisporum in six provinces: British Columbia, Alberta, Saskatchewan, Manitoba, Ontario, and Quebec.
Based on the results of the survey and the pest risk assessment, a risk management decision (RMD) document was prepared recommending that V. longisporum not be regulated as a quarantine pest in Canada. The RMD was circulated for review and comments by stakeholders between March 15 and May 15, 2017 with stakeholders broadly supporting the CFIA's recommendation.
The CFIA is formally notifying that V. longisporum is widely distributed in Canada. The regulation of V. longisporum is not warranted, nor is it cost-justifiable to implement official measures to control further introductions or domestic spread of this pest.
What information is available