Spotted lanternfly – Lycorma delicatula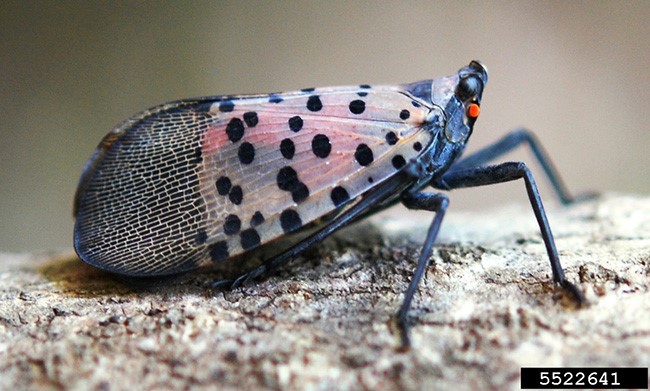 The spotted lanternfly (Lycorma delicatula, Hemiptera: Fulgoridae) is an impressive and colourful insect native to Asia. It is not yet known to exist in Canada but is a potential threat to Canada's grape, fruit tree and forestry industries. Spotted lanternfly was added to the regulated pest list in 2018 in an effort to prevent its introduction from infested areas.
What to do
It's important not to accidentally transport these pests into Canada, so if you're travelling or going camping in infested areas of the US, check your camper, trailer or RV before making the return trip
Inspect things stored outside, including your vehicle and patio furniture
Look closely at things like tarps, yard and garden items, and sports equipment (including the underside)
Spotted lanternfly egg masses are laid in late summer
These egg masses can survive winter temperatures and hatch in the spring
If you think you have found the spotted lanternfly pest or egg masses in Canada, scrape them into a sealable container and immediately notify the Canadian Food Inspection Agency (CFIA)
If you think you have found a plant pest, report it to the CFIA.
What information is available
Plant pest credit card: Spotted lanternfly
PDF (1 077 kb)
Text version

Adults are approximately 20 to 26 mm long and 12 mm wide. They have uniquely-coloured wings: the front wings are light brown/grey with black spots at the front and dark speckled bands near the back. The rear wings are red in colour and have black spots near the front and white and black bands at the back. The abdomen is yellow with horizontal black stripes. Early stage nymphs are black and white, while later stage nymphs are black, white and red.

Hosts: grape, tree-of-heaven, willow, apple, pine, stone fruit.

Signs include grey or black weeping wounds on host plants and yellowish-white mold patches occurring at the base of the tree. Newly laid egg masses are brown in colour and covered in a grey, waxy coating.

© 2015 Her Majesty the Queen in Right of Canada. Aussi disponible en français. Use without permission is prohibited. Photo credits: L. Barringer & H. Raguza (Bugwood.org), E. Wachmann, Itchydogimages. Report all sightings.
Infographic : Spotted Lanternfly
PDF (229 kb)
SLF infographic

(Photo credit: Lawrence Barringer, Pennsylvania Department of Agriculture, Bugwood.org)

Spotted Lanternfly (Lycorma delicatula)

Prevent its spread

It could be devastating for Canada's wine, fruit and forest industries.

Spotted lanternfly (SLF) is present in the United States and getting closer to the Canadian border. All Canadians can help prevent the spread of SLF from infested areas by reporting sightings of this pest.

What to look for – Lifecycle

Egg laying: September to November
Egg mass: October to June (Photo credit: Amanda Roe, Natural Resources Canada)
Early stage nymph: May to July
Late stage nymph: July to September
Adults: July to December

Where to look for it

Over 100 species of trees and plants
Commercial and leisure vehicles
Outdoor items

If you think you have found the spotted lanternfly pest or its egg masses in Canada, report it to the Canadian Food Inspection Agency (CFIA).

Learn more at inspection.canada.ca/pests