Lymantria monacha (Nun moth) - Factsheet
Identification
Adult: Nun moths are moderately sized, hairy and often stout-bodied with a wingspan of 45 to 55 mm (female) or 35 to 45 mm (male).Footnote 1 Footnote 2 Moths have white forewings with numerous dark, transverse, wavy lines (arches) and patches. The hind wings are gray-white or gray-brown, with minute dark patches along the outer edge.Footnote 1 Footnote 2 Female antennae are short and saw-like, whereas male antennae are feathery.Footnote 1 Footnote 2 Females have a reddish-brown abdomen with black spots, males have a gray-black abdomen.Footnote 1 Footnote 2 Melanic gray-brown and black forms are also known to occur.
Larva: Mature larvae are light to dark brown and have an orange to pale-brown head with dense black markings. Larvae are 30 to 35 mm long. Numerous short black and white hairs are present; hairs on the prothoracic and anal segments are longer. The 1st four abdominal segments have a dorsal pair of small, bluish glandular protrusions; the 6th and 7th segments have prominent mid-dorsal, orange glandular warts.Footnote 1 Footnote 2 A dark dorsal band runs from the 2nd to the 11th segment.Footnote 1 Footnote 2
Egg: Eggs are initially orange-brown or purplish, turning dark brown over time, 1 mm in diameter, spherical and slightly concave in the centre.Footnote 2 Footnote 3 Footnote 4
Host Trees
Prefers Picea, Larix, Abies, Pinus and Pseudotsuga.Footnote 2 Footnote 4 Will also feed on Acer, Betula, Carpinus, Fagus, Fraxinus, Malus, Prunus, Quercus, Ulmus and other fruit trees.Footnote 2 Footnote 4
Location of Infestation Within the Tree
Larvae feed on needles or leaves. First instars prefer newly expanded foliage or young male flowers, whereas older larvae can feed on new and old foliage.Footnote 2 Footnote 4 Footnote 5 Footnote 6
Host Condition
Healthy trees.Footnote 2
Distribution
China, Japan, North Korea, South Korea, Russia, Türkiye and Europe.Footnote 2
Signs and Symptoms
Naked clusters of eggs may be found in bark crevices or under bark scales of trees and logs, wood packaging, forest products, sea containers and ships.Footnote 7 Egg clusters are not covered with the abdominal hair of females.Footnote 2 On coniferous trees, female nun moths preferentially oviposit on the lower bole, but during outbreaks oviposition will occur on the upper bole and in the crown.Footnote 5
Gymnosperms
First instar larvae will only feed on the foliage of newly expanded shoots and are unable to consume older needles.Footnote 2 Second and third instar larvae are able to feed on older foliage but prefer to feed on new needles.Footnote 2 Footnote 5 Larvae can be wasteful feeders and may only consume the base of a needle, resulting in partially uneaten needles falling to the ground.Footnote 4 The crowns of defoliated trees appear thinned and have a reddish-brown colour. During outbreaks, over 50% of the foliage can be defoliated. Severe defoliation over a few years can cause tree mortality.Footnote 5
Angiosperms
Initially, larval browsing creates holes in the leaves.Footnote 8 As feeding progresses, leaves are entirely consumed except for the middle vein.Footnote 6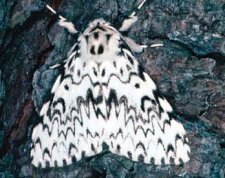 A - Adult
L. monacha
. Note white forewings and numerous dark, transverse, wavy lines and patches.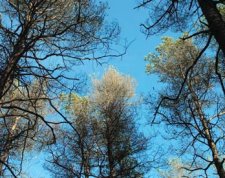 B - Thin crowns caused by
L. defoliation.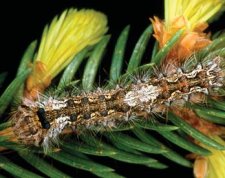 C - Mature dark brown
L. monacha
larva (30-35 mm long). Note mid-dorsal orange warts on the 6th and 7th segments.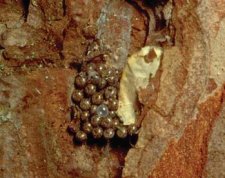 D - Bark scale removed to reveal naked
L. monacha
egg mass.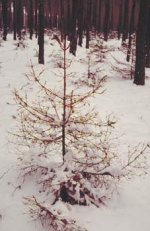 E -
L. monacha
defoliation on understory host tree.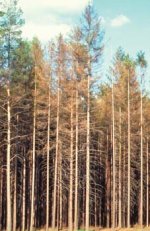 F - Extensive stand defoliation caused by
L. monacha
. Note thinning reddish-brown crowns.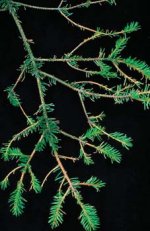 G - Defoliation by late instar
L. monacha
. Note partially eaten needles.
Photo credits