European grapevine moth – Lobesia botrana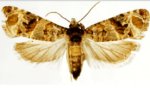 The European grapevine moth is currently regulated as a quarantine pest in Canada and is present in the countries listed in Appendix 2 of directive D-13-03.
The preferred hosts of the European grapevine moth are grapes. However, it may also feed on several other plants or plant products, including stone fruits, blueberries, blackberries, raspberries, gooseberries, currants and pomegranates.
What information is available
Policy directive