Asian longhorned beetle – Anoplophora glabripennis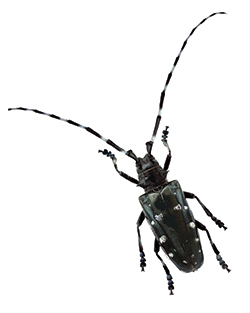 The Asian longhorned beetle (ALHB) has been eradicated from the cities of Mississauga and Toronto in the province of Ontario. This was the only known population of ALHB in Canada.  ALHB is a highly destructive wood-boring pest of maples and other hardwood trees including poplar, birch and willow. It was discovered in the cities of Mississauga and Toronto in August 2013. ALHB is native to Asia and can spreads through transport of infested wood products including firewood.
After 5 years of surveys with no detection of this plant pest, the Asian Long-horned Beetle Infested Place Order has been repealed effective June 9, 2020. The movement of firewood and host tree materials will no longer be restricted, however it is important to remember that one of the most common ways pests travel is by hitching a ride in firewood.  It is always recommended to buy and burn wood locally.
There are several native Canadian insects (White spotted Sawyer beetle, Monochamus scutellatus, Western Conifer Seed Bug, Leptoglossus occidentalis, Banded Alder Beetle, Rosalia funebris) which look similar to the Asian longhorned beetle.
Acts and regulations we enforce
Information we provide to the general public
News releases
Information we provide to the plant industry and scientific community
Notice to industry
Policy directives