Creating more inclusive workspaces at the CFIA's Burnaby Laboratory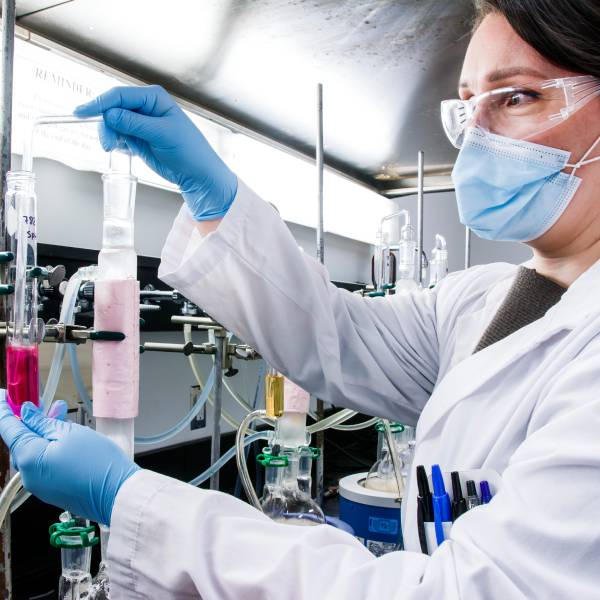 Promoting an inclusive workplace has always been a priority for Carolyn Bateman, Director of the Canadian Food Inspection Agency's (CFIA) Burnaby Laboratory. At the lab, CFIA scientists lead food safety testing and research programs that help keep all Canadians safe.
Carolyn understands that federal science is stronger when it reflects the diversity of the Canadian public. She is committed to creating new opportunities for communities that may otherwise be overlooked and underestimated – and whose exclusion can represent a loss of top talent in federal science.
Inclusion in CFIA science
More than 22% of persons in Canada – or around 6.2 million – identify as having a disability. Numerous challenges and barriers can lead to their discrimination, marginalization and exclusion. This includes inaccessible workplaces, tools and practices as well as negative perceptions about what persons with disabilities are able to do. Canada's Disability Inclusion Action Plan is a blueprint to help make Canada more inclusive, fair and free of these physical, societal and attitudinal barriers. The CFIA Accessibility Plan also advances the Agency's vision of a fully accessible, respectful and inclusive workplace that values and enables everyone. By creating work environments and job opportunities that are welcoming and accessible, science at the CFIA can benefit from the innovation, creativity and talent that comes with a diverse workforce. Together, the Government of Canada and the CFIA are helping to drive change and create work environments where every employee can thrive, with the ultimate goal of being the most accessible and inclusive public service in the world.
People impacted by deafness and hearing loss represent a diverse community. The capitalized term "Deaf" typically refers to people who participate in the culture and society of Deaf people, and who often prefer to communicate using Sign language. Others may be medically "deaf," but do not identify with the Deaf community. The term "d/Deaf" includes both groups. A person who is "hard of hearing" may have mild to severe hearing loss. You can learn more about respectful terminology from the Canadian Association of the Deaf.
Thinking about the work done at the lab, Carolyn realized that many activities involve observing and analyzing test results and identifying trends. She wondered if the d/Deaf and hard of hearing community might be a natural fit for this type of work.
"Everybody in that diverse community has a superpower, so I wanted to find something that works as a real asset to the lab," explains Carolyn. "In the lab, we look at results, analyze them, identify trends and make judgment calls every day. Many people impacted by hearing loss are incredibly visually aware – much more so than hearing people."
Inspiring future scientists
Carolyn started exploring connections with the Deaf and hard of hearing community in Burnaby and nearby Vancouver. She connected with the British Columbia Provincial School for the Deaf, also located in Burnaby just a few kilometres from the lab. Carolyn and Linda Lee, a CFIA Area Operational Specialist Unit Manager on assignment as Project Manager, reached out to see if students at the school might be interested in getting work experience at the lab.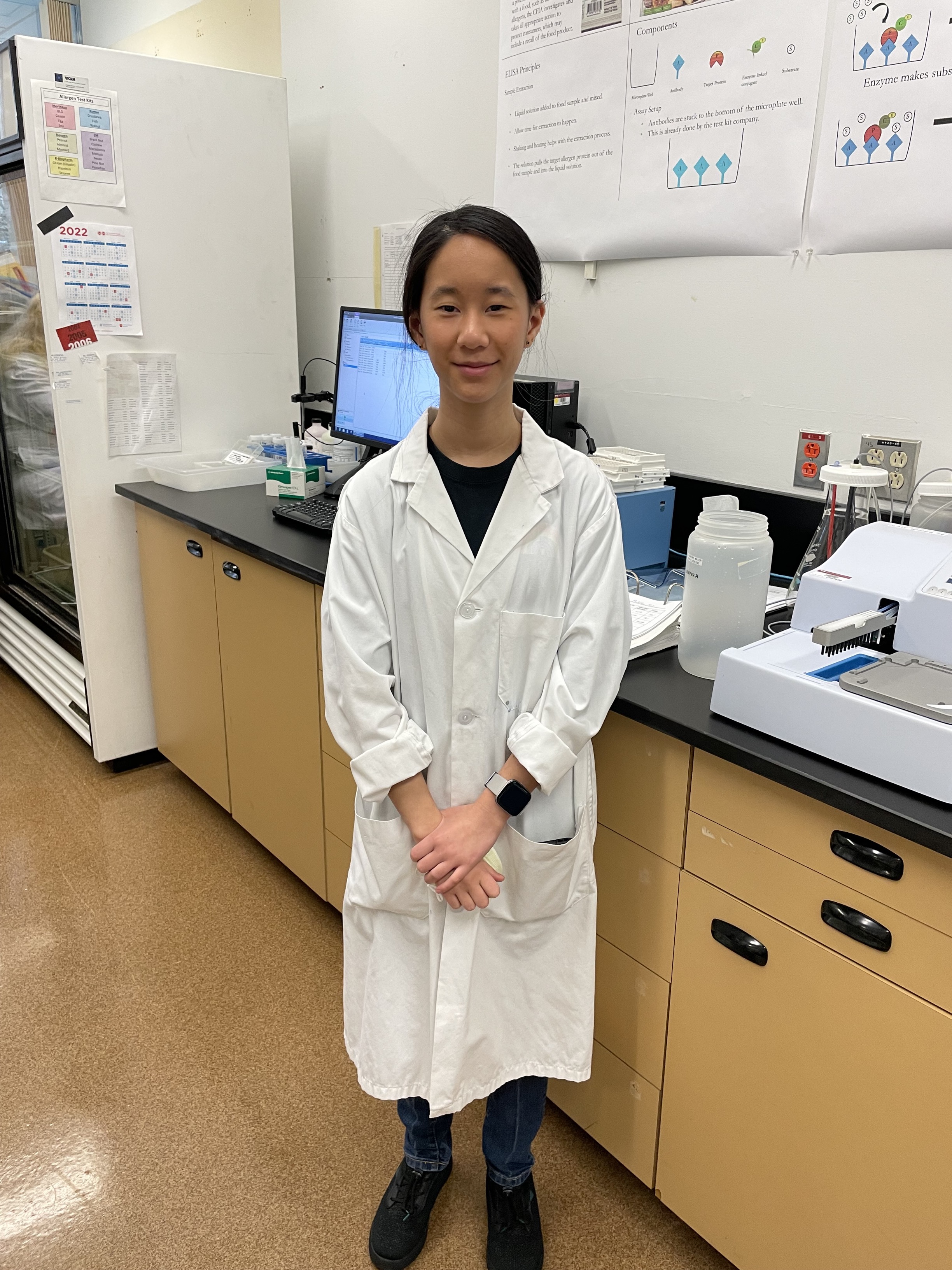 "We wanted to create opportunities for students in the d/Deaf and hard of hearing community to start learning the language of science," says Carolyn. "Putting the visuals together with the words on the page can help them better understand what they're learning in science class. We wanted to give them a place to be inspired to choose science in school and to consider pursuing more education and careers in science."
In November 2022, Teanna Kay joined the Burnaby Laboratory for her student work experience. Teanna is a high school student at the BC School for the Deaf. She loves science – although her favourite subject is English – and going out to eat at new restaurants to try different foods. Teanna learned about the opportunity at the Burnaby Laboratory at school, and figured her interests in science and food were a perfect fit.
"I really did love science already. So when this opportunity came up, I was really excited to learn more about real-world science," explains Teanna. At the lab, she helps prepare samples and is getting a lot of experience observing a variety of processes. "I had a general idea about what the CFIA did, but I didn't know the in-depth details for all of the sampling, preparing and prepping," says Teanna. "When I first got to observe a test, it was for allergen testing. I was like, oh, that's so interesting. Seeing how the samples are collected and extracted. There are so many different kinds of machines that need to be used, and the process is very, very long."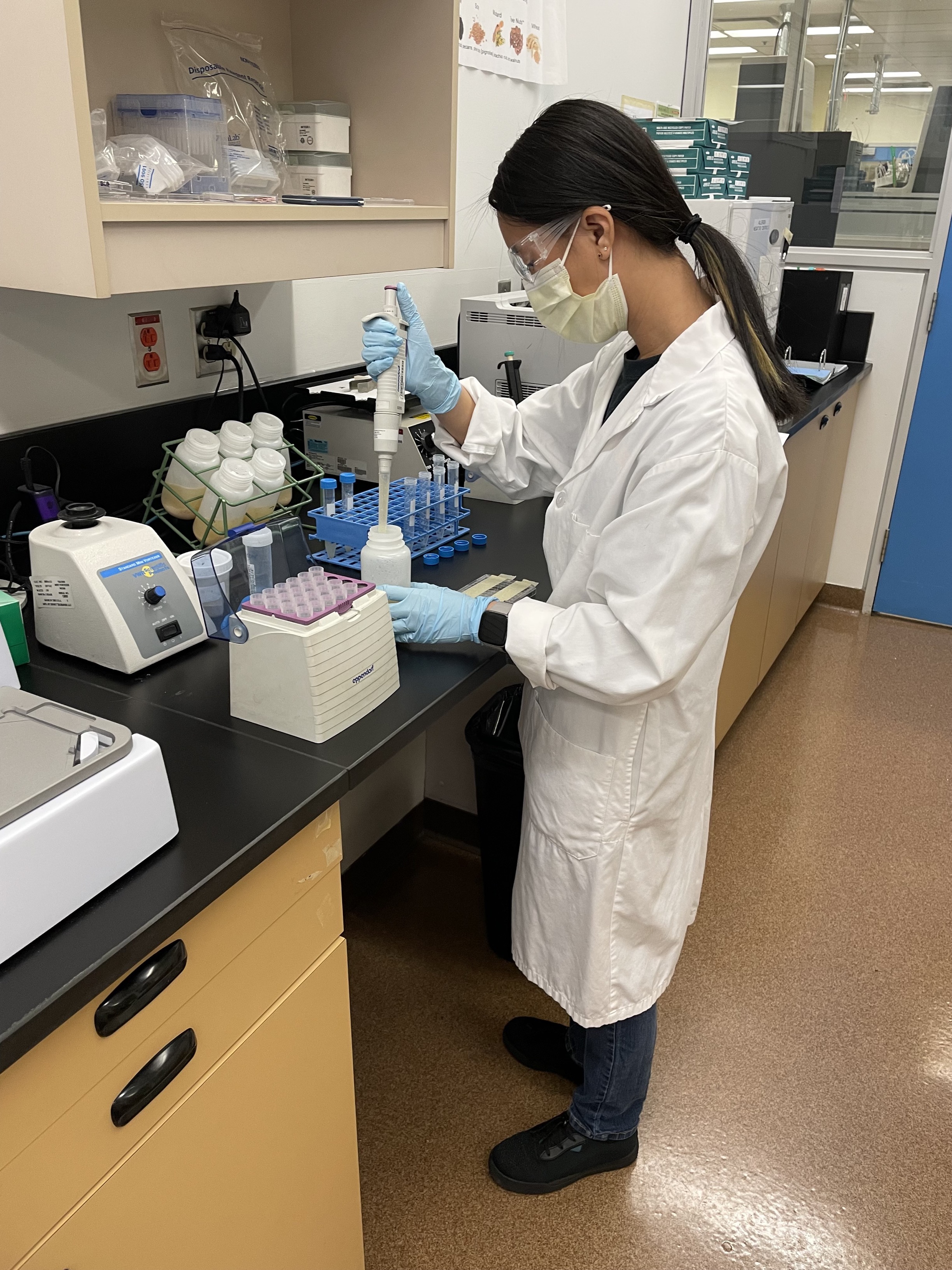 "Being in the lab, you get to see what that science looks like," explains Teanna. "This opportunity has been really great to get hands-on experience working with equipment, to visually see and touch and experience all of the different scientific things that I was interested in before." While Teanna is required to complete 30 hours of work experience as part of her program, she plans to spend much more time at the lab.
In January 2023, 15 students in grades 8 and 9 from Teanna's school also visited the Burnaby Laboratory. Following the tour, students asked about summer employment. "It was clear that the more engagement we have with them, the more interest and the more students we will have in the future," says Carolyn.
Removing barriers in the workplace
Visiting the BC School for the Deaf and having Teanna on site has helped Carolyn and her team re-think the setup and layout of workspaces in the lab. Small changes make a big difference in eliminating barriers for Teanna and future employees from the d/Deaf and hard of hearing community. To get some expert advice, the lab reached out to the Wavefront Centre for Communication Accessibility, which is dedicated to removing barriers for Deaf, DeafBlind and hard of hearing individuals.
The Wavefront Centre headquarters, located in Vancouver, are rated the most accessible building in the country according to the Rick Hansen Foundation Accessibility Certification. The CFIA hired the same architectural firm that designed the award-winning Centre to design a welcoming and accommodating space for the d/Deaf and hard of hearing at the Burnaby Laboratory. Lorraine May is the Facilities Manager at the Burnaby Lab and has been leading this initiative.
An accessibility consultant helped the team identify systemic barriers and come up with solutions to make the space more inclusive. The first pre-design site visit with contractors took place in January 2023. The goal is to carefully design the space to consider the needs of the d/Deaf and hard of hearing community. This includes accommodating paint colours, IT equipment and adaptive tools – keeping in mind that each individual has different needs. Some design features under consideration include:
enough open space so that employees can meet in a circle. Line of sight is essential for the d/Deaf and hard of hearing, and meetings in a circle allow people to better read lips and body language
acoustic analysis to ensure sound echoes don't interfere with hearing devices
video displays placed so that notices, messages or virtual meetings can be seen clearly from any workstation
New and future opportunities
The lab will continue to explore opportunities for students at the BC Provincial School for the Deaf, and encourages members of the d/Deaf and hard of hearing community to apply for jobs at the lab.
In April 2023, the lab welcomed Deborah Burleson, a new indeterminate staff member who brings technical talent and expertise to the lab's Chemistry unit. Deborah wears hearing aids and reads lips. Her hearing loss came later in life which had a profound impact on her life. Before her hearing loss, she was a Music Therapist working in palliative care, as well as the facilitator for Rhythm & Word, a music therapy program for at-risk youth. Learn more about the program in Deborah's article in A Sound Decision: Child and Youth Edition (see page 16).
She played several musical instruments including piano, guitar and drums. However, the decline of hearing and resulting diagnosis impacted her ability to continue her career in music. It was a significant effort adapting to the hearing loss, having to learn to read lips, being more focused and observant when communicating – especially in large groups – and dealing with exclusion.
She decided to switch to the medical field, becoming a medical lab assistant with Life Labs and subsequently with Mount Saint Joseph Hospital in Vancouver. When the COVID pandemic hit, mask mandates in medical facilities made verbal communication nearly impossible. The d/Deaf and hard of hearing community depends on lip reading and facial gestures to communicate, and 3 years into the pandemic, Deborah decided it was time to look for other laboratory opportunities outside of a frontline medical setting. It was through the Wavefront Centre that Deborah learned of the opening at the CFIA's Burnaby Laboratory.
Resources to promote inclusion
Having d/Deaf employees has demonstrated the importance – and relative ease – of removing barriers for scientists at the lab. Working with the d/Deaf and hard of hearing community has helped the team discover a range of resources available that most of us are maybe unaware of, or take for granted.
This includes the accessibility tools that will come pre-programmed into many of our smart phones, or can be readily downloaded, like speech-to-text applications (Teanna recommends Ava). Reusable writing tablets (like Boogie Board®) have also proven a handy communication tool.
Teanna will often communicate using an American Sign Language (ASL) interpreter, especially for long meetings or nuanced conversations. Her school often provides an interpreter, but the lab also explored other available resources, like the Government of Canada Translation Bureau. While most federal employees may be aware of the Translation Bureau's resources for Canada's official languages, they also provide ASL interpretation services. The lab can complete a request, and the Translation Bureau assigns an interpreter to provide support, either virtually or onsite.
The Accessibility, Accommodation and Adaptive Computer Technology (AAACT) program from Shared Services Canada also provides services and solutions to help the public service to serve all Canadians, including those with disabilities. The program has been instrumental in delivering adaptive computer technologies, tools, training, services and resources.
Federal departments interested in creating workplaces to support the full participation of all employees can also look into the Centralized Enabling Workplace Fund (CEWF) at the Office of Public Service Accessibility.
A model for others
Everyone at the lab has been grateful to work alongside their new colleagues and learn about best practices for inclusive communication. In fact, several employees are now learning ASL. Carolyn, Linda and Lorraine hope that this initiative provides a model for other CFIA labs, offices and branches, as well as other government departments and laboratories. Their experiences clearly show how equity and inclusion benefit everyone.
Meanwhile, with graduation quickly approaching, Teanna is considering her options for the future – although she hasn't decided yet! "I am interested in science, and I'm also interested in being a teacher," says Teanna. "So maybe I could be a high school chemistry teacher." When we recognize and celebrate the diversity, innovation and contributions of all people, it's clear there is no limit to what Teanna can accomplish.
Learn more
Get more Inspect and Protect
Interested in reporting on a story? Contact CFIA Media Relations to arrange an interview with one of our experts.
Have an idea or feedback to share? Get in touch!