Meet Sharan Sandhu, CFIA food inspector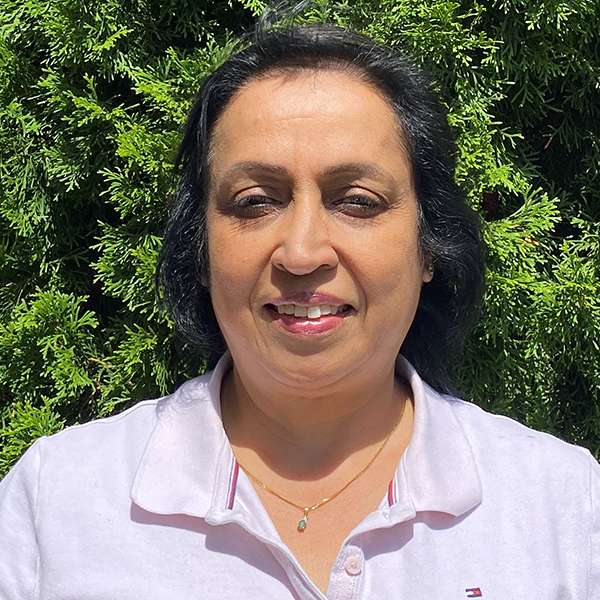 My name is Sharan Sandhu. I was born and raised in Malaysia, where the hot climate made it possible to harvest and enjoy an abundance of fresh fruits and vegetables all year.
Surrounded by such a rich environment, I was interested in learning more about plants and the molecules behind their matter. I took biology and chemistry courses in high school but later ventured into civil engineering.
I eventually found my way back to working with produce, which is reminiscent of my roots and my upbringing.
For over a decade, I've been working as an inspector with the Canadian Food Inspection Agency (CFIA) to protect fresh fruits and vegetables so that you can safely enjoy every bite that originates from Canadian crops.
Laying strong roots
Growing up in Malaysia, I was accustomed to a diverse atmosphere. I witnessed the benefits of exploring different cultures through my large family. I have five siblings who now live in various parts of the world, including England, Australia, the United States and Malaysia.
This diversity also extended to the types of food available to me. I was fascinated by the range of tastes, aromas, and textures that different types of cuisines had to offer.
Harvesting a fruitful career
After focusing on science disciplines in high school, I pursued a career in civil engineering at a polytechnic in Malaysia. I then went on to work at the Kuala Lumpur City Hall for 10 years before I immigrated to Canada.
It wasn't until later that I came to work at the CFIA. I began working in the private sector as a technician at a manufacturing company. A few years later, it was time for a change. I was expecting my second child and felt I was missing the balance and support that I needed, and I longed to shift gears from the engineering and technology fields and connect my work with my love of the natural world.
Almost 25 years later, I believe that working at the CFIA has been a fruitful decision in my professional life. The work I do has a widespread impact as I contribute to the health of consumers.
Protecting Canadian produce
As an inspector, no two days are exactly alike. CFIA inspectors complete on-site and lab inspections to check the freshness and quality of produce. I'm assigned to different areas across Ontario where inspections are required. When I arrive at a company's facility, I collect and examine samples.
My mission is to protect Canadian consumers from contaminated produce. Everything from the temperature of transport vehicles to the produce's pesticide content is tested.
If produce doesn't meet all requirements, I work with the company to keep the product out of the marketplace.
When customers have complaints about the fruits and vegetables they have purchased, I communicate with retailers and my district office by filing reports to address the issue, and inform customers of how it's being addressed. I also take action when products are recalled to initiate an effective preventive control response at the affected company.
Rain or shine: providing the pick of the crop year round
Whether it be a cold winter's day or a warm summer afternoon, food inspections take place year round.
I enjoy working in a diverse environment that supports work-life balance. As an immigrant and a woman, I know that inviting varied perspectives and lived experiences is vital in the workplace. At the CFIA, I am welcome to bring the lived experience of my past and present with me to work, including my motherhood and Malaysian heritage. I've always felt supported by my colleagues and been provided the flexibility to care for my family life while fulfilling my rewarding role as an inspector at work.
I am proud to contribute to the safety of the assorted produce that Canadian crops have to offer. You can also play a role in helping to keep our fruits and veggies fresh.
Before you dig into the produce on your plate, be sure to store, cook and handle it safely to avoid getting sick.
And if something doesn't seem right, it's important to ask questions and report concerns.
Learn more
Get more Inspect and Protect
Interested in reporting on a story? Contact CFIA Media Relations to arrange an interview with one of our experts.
Have an idea or feedback to share? Get in touch!