Annex G - C-PIQ Export Document – Form no. CFIA/ACIA 5314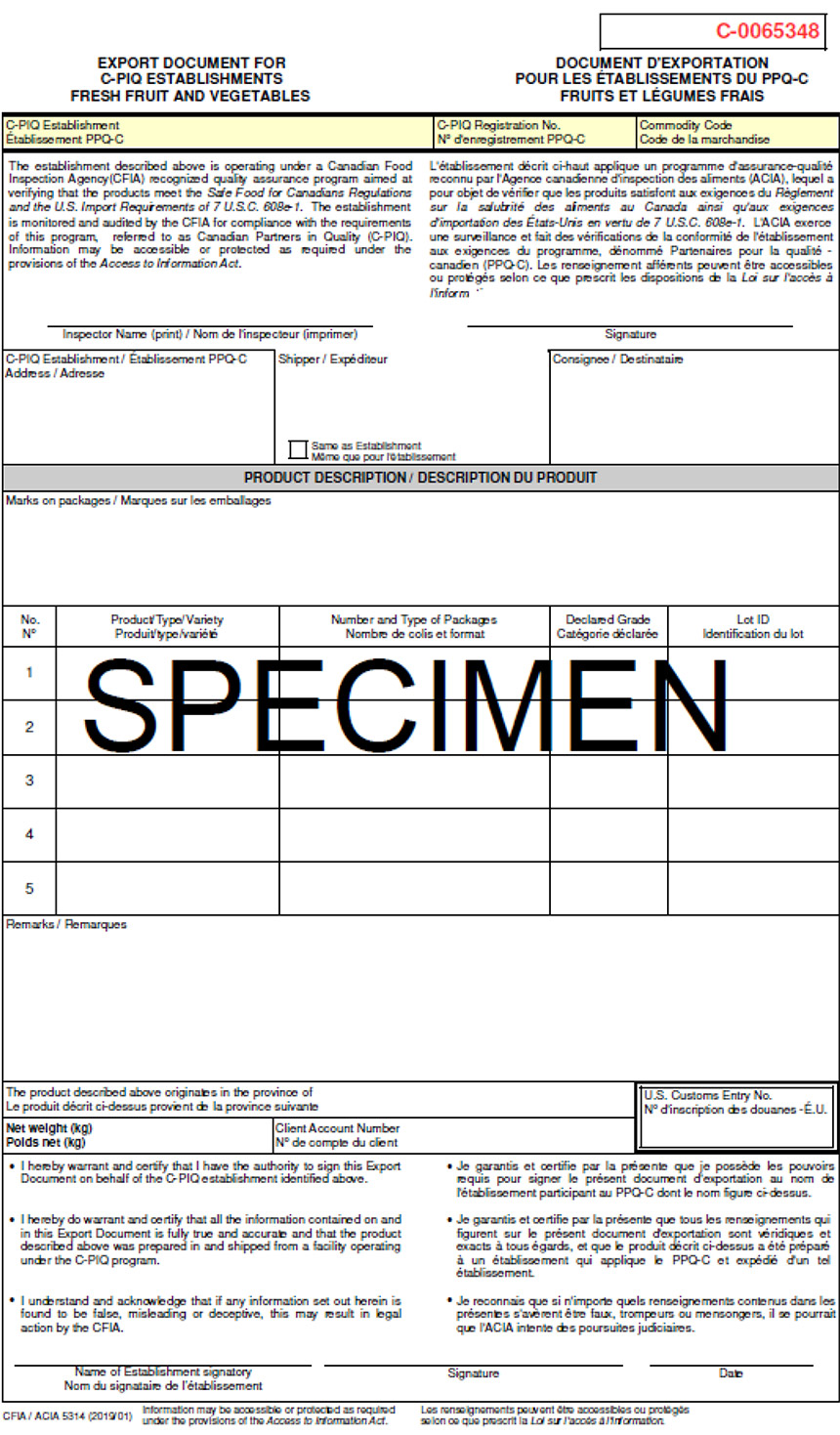 Instructions for completing the export document for C-PIQ establishments
To be completed by the CFIA:
C-PIQ Establishment (full name);
C-PIQ Registration Number;
Commodity Code;
Name and Signature of the CFIA Inspector.
C-PIQ establishment /address (full name and physical location of establishment)
Note: Informed Filler will assign a unique official export document number for each document.
To be completed the C-PIQ registered establishment:
Shipper (full name and address). Same as establishment when Shipper and Establishment are same;
Consignee (full name and address – minimum requirement of city, state/province, country).
Product description
Marks on Packages (full description including which marks are associated with a particular lot);
Product / Type / Variety (e.g. Potatoes / Long Type; Potatoes / Round Type; Potatoes / Round Type / Yellow Fleshed)
(Note: variety is not required for potatoes);
Number and Type of Packages (quantity and description of package; e.g. 900 master container 10 x 5 lb poly bags; or 500 x 50 lb cartons);
Declared Grade (grade as declared on the packaging, or on an invoice or manifest in the case of bulk shipments);
Lot ID (the unique C-PIQ lot identification number assigned to package or pallet for traceability, and the date code);
Remarks (to be used for information not specified in any other box; e.g. Truck number; and additional space for Lot ID information too large for Lot ID box);
Product origin declaration (a Plant Protection requirement; APHIS and US Customs require a statement of origin for each shipment);
Net Weight (kg) (declaration of net weight of the shipment in kilograms (conversion 1 kg = 2.2045 lbs));
Client Account Number
US Customs Entry No. (this is a US requirement);
Name of Establishment Signatory, Signature and Date (Declaration of Establishment Signatory – Name and Signature of the C-PIQ Registered Establishment personnel authorized to request, complete and issue C-PIQ Export Documents, and the date on which the document was issued).