Outbreak Investigation Report on H5N2 Avian Influenza in Ontario, 2015
1. Oxford County of Ontario - Outbreak Context
1.1 Geography and Climate
Oxford County is located in southwest Ontario, and includes the city of Woodstock. The area has a significant amount of agriculture and is fairly diverse in terms of the sectors represented. Southwest Ontario has significant populations of wild resident and migratory waterfowl. Oxford County lies within the Mississippi Flyway (Figure 1), which extends East-West from Saskatchewan to Quebec and North-South from the Arctic to the Gulf of Mexico and the Caribbean.
The weather station in Woodstock reported a transition month with 35 cm of snow on the ground and temperatures as low as -21°C on March 4th warming to a high of 9.5°C and all snow melted by March 20th.  This rapid melting resulted in localized flood conditions, exacerbated by temperatures dropping to below freezing overnight. Similar weather patterns to this have been associated with driving rodents and wild birds into barns, potentially resulting in increased disease spread.
Figure 1 – The Mississippi Flyway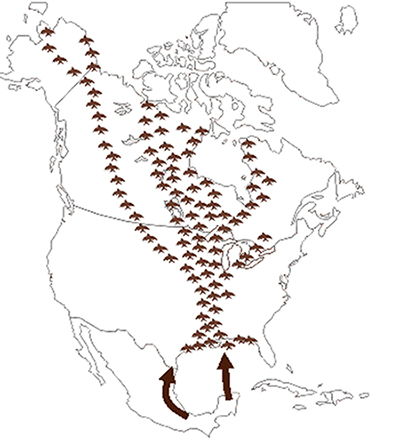 1.2 Structure of the Poultry Industry
The commercial poultry industry in Ontario is highly integrated. Each sector is represented by a separate organization, and there are marketing boards for chicken meat, turkey meat, table eggs, and hatching eggs. These groups work together to address biosecurity issues and motivate producers to cooperate with disease surveillance and control programs. Outside the supply-managed sectors, smaller sectors include layer breeders, turkey breeders, ducks, geese, squab, pheasant, quail, and specialty chickens.
The non-commercial poultry sector in Ontario is diverse and individual production systems are unique. There is no mandatory registry for the non-commercial poultry sector.
The poultry industry in Ontario represents approximately 52% of the total Canadian poultry sector. In Ontario, 56% of the sector is composed of broilers, 12% are turkey producers, and hatching and table eggs do another 31%. There are 33 CFIA-registered hatcheries in Ontario, representing 33% of the national total.
1.3 Biosecurity
The CFIA, the Ontario Ministry of Agriculture, Food and Rural Affairs (OMAFRA), the Feather Board Command Center (FBCC) and respective industry groups have made an active effort to encourage good biosecurity practices in Ontario. These organizations, as well as CFIA, have also made emergency preparedness activities a priority.