Feed Regulatory Renewal Consolidated Modernized Framework Proposal – November 2015
Risk-based Oversight
This page has been archived
Information identified as archived is provided for reference, research or record-keeping purposes. It is not subject to the Government of Canada Web Standards and has not been altered or updated since it was archived. Please contact us to request a format other than those available.
Introduction
Not only is feed regulatory modernization being undertaken to address objectives such as reducing regulatory burden, increasing responsiveness to industry changes and providing clarity and flexibility to affected regulated parties, it is also being shaped by a concurrent initiative to modernize the Agency's approaches to enforcement via oversight strategies and activities.
The Integrated Agency Inspection Model (iAIM) features a more prevention-focussed and systems-based approach that enables both the CFIA and regulated parties to more readily adapt to emerging global and scientific trends.
The model is predicated on having some common regulatory tools in place (such as requirements for preventive control plans and grant permissions) to enable comprehensive and consistent application across all commodities/programs. Consequently, such common tools as preventive control plans and permissions are featured prominently in this modernized feed regulatory framework proposal.
Inspection Modernization – Guiding Principles
The Agency's modernized inspection model is to apply globally recognized risk management concepts based on prevention, including systems-based, performance-based and risk-based approaches, that are:
founded on science and based on risk, and that use common inspection procedures and tools;
aligned with international standards, such as those developed by the Codex Alimentarius Commission, the World Organization for Animal Health (OIE) etc.;
based on the premise that industry is responsible for its products and processes and must demonstrate ongoing compliance with legislative requirements; and
flexible, to accommodate the complexity and size of an operation;
Regarding roles and responsibilities, regulated parties are responsible for complying with the law; they demonstrate this commitment by ensuring that the commodities and processes for which they are responsible meet regulatory requirements. In addition, they must provide the CFIA with input and information that is used in regulatory decision making. The CFIA verifies industry compliance through activities that include inspection, surveillance, sampling and testing. These activities are used to assess whether a regulated party has developed, documented, implemented and maintained written preventive control measures, whether these measures are effective, and whether regulatory requirements and permission conditions have been met. The CFIA also takes appropriate compliance and enforcement action when non-compliance is identified.
Risks posed by hazards in feeds must be managed or eliminated during production, processing, importing and distribution. It is the responsibility of regulated parties to:
produce or import commodities that meet Canadian regulatory requirements;
mitigate identified risks associated with those commodities; and,
demonstrate a commitment to reducing risks associated with regulated feeds to an acceptable level through responsible practices such as:

surveillance and control measures,
processing controls (e.g., heat treatment, seed cleaning, bark removal, composting),
cross-contamination controls (e.g., sanitation and hygiene, establishment of buffer zones or controlled access areas), or by
limiting exposure (e.g., containment prior to processing).
The CFIA will take a common systematic approach to determining appropriate levels for oversight activities by assessing and re-assessing regulated parties' preventive control plans or relevant equivalents where required and the track record of regulated parties (including associated surveillance and recall data, certification to a relevant standard that is recognized by the CFIA, and the regulated party's compliance history).
The CFIA will regularly review, verify and/or update information to determine the overall level of risk presented. Based on the results of this process, the CFIA will determine the frequency, intensity and type of oversight activities required, and allocate its resources to those products and regulated parties that present the highest risk to Canadians, Canadian animal and plant populations and the environment. In allocating resources, the CFIA will also continue to take into account specific requirements of other countries to facilitate access to export markets.
A number of other triggers could also impact oversight activities by the CFIA and which can be included as elements of a risk management strategy. These include:
responses to complaints, investigations, recalls or outbreaks/incursions in Canada;
results of concern arising from an oversight activity, such as inspection or sampling
information about a potential issue received from a third party (including, another government department, or an international trading partner);
requests for inspection by a regulated party (e.g., for export marketing purposes); or,
requests by a foreign trading partner or foreign delegation for a site visit.
The frequency, intensity or type of CFIA oversight activities may also be adjusted when:
a regulated party implements and maintains a preventive control plan that exceeds minimum requirements; or
the effectiveness of a regulated party's preventive control plan, in preventing and mitigating risks and achieving regulatory compliance, is consistently demonstrated through the regulated party's compliance history.
The Figure (below) illustrates the risk oversight process, highlighting the information and intelligence sources as well as the analyses used by the CFIA to determine the frequency, intensity and types of oversight activities appropriate in a given circumstance.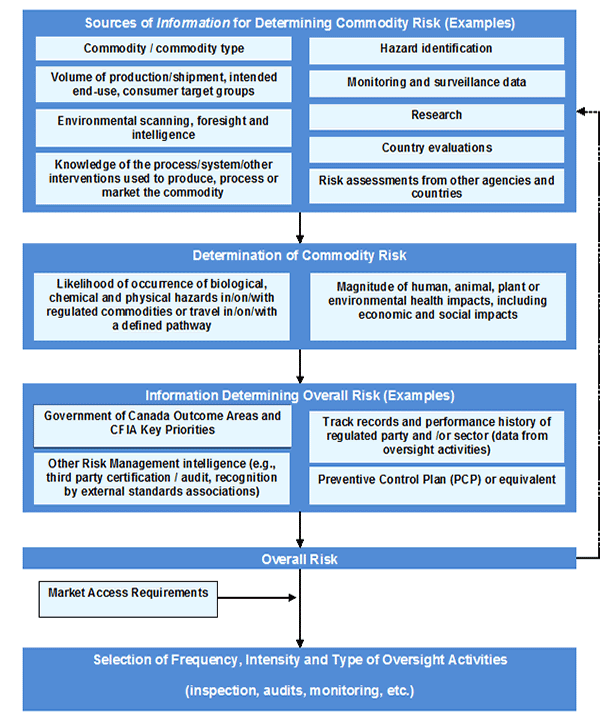 CFIA regulatory response to non-compliance
The CFIA has a mandate to respond to events that are initiated by lack of compliance on the part of the regulated parties and by events that are the responsibility of the Agency to control, such as pest and disease incursions. A compliance and enforcement strategy would be based on the principle that the regulated party is responsible for producing safe feed and healthy animals that comply with regulatory requirements. The corrective measures must be carried out by the regulated party. A response would be directed at the regulated party, including a licence holder, who does not comply with regulatory requirements. The response could include several activities as described in the CFIA's Compliance and Enforcement Operational Policy, such as product seizure and detention, suspension/cancellation of permissions, administrative monetary penalties and prosecution.