CFIA Science Fact Sheet: Using genomics tools for day-to-day applications
What is genomics?
Genomics is the science that decodes genetic information in an organism's DNA. It enables the study of how genes function and interact with each other, and how they influence the growth and development of an organism. Genomics is sometimes confused with genetics, which is the study of individual genes and how organisms inherit genetic traits, for example, why somebody has brown eyes and another has blue.
Genomics helps us to understand, interpret, and use DNA to solve real-world challenges. These challenges are wide-ranging, such as finding solutions to meet food and energy demands, climate change, and long-term health issues. What scientists learn from genomics has the potential to improve the quality of life for people in Canada and around the world.
How the CFIA uses genomics
Researchers at the CFIA use genomics to develop new methods and tools to help improve how we develop policies and programs and enforce regulations. Genomics can also provide the scientific evidence that the CFIA needs to protect the health, safety and well-being of Canada's plants, animals, food and economy.
Examples of how the CFIA uses genomics:
monitor and quickly respond to animal, plant health and food safety emergencies
dramatically reduce the time and cost to detect, identify and understand pests and pathogens
develop tools that help other countries identify organisms
process large numbers of test samples more quickly and cost-effectively
digitize an organism's genetic information to share it with international partners electronically without having to transport a live sample
The CFIA uses this DNA barcode to:

Genomes and DNA barcodes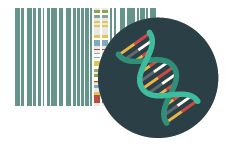 The CFIA uses a process known as whole genome sequencing (WGS) to identify an organism's entire genome. A short piece of it can be used to identify a species whenever its DNA is found. That short piece of the genome acts like a barcode – whenever scientists see that piece of DNA, they know without a doubt what species they're dealing with.
Creating a DNA barcode
Having a tool that can quickly and accurately identify an organism is a huge time saver for scientists trying to solve complex problems. A process known as whole genome sequencing identifies the complete DNA sequence of an organism at a single time. To do this, scientists collect a DNA sample and then analyze it to identify billions of nucleotides, the basic structures that compose the DNA of an organism's genome.
Almost any biological sample that contains a full copy of DNA–even a very small amount–can provide the genetic material necessary for whole genome sequencing. These samples can be skin cells, seeds, plant leaves, or anything else that has DNA-containing cells.
How we create a DNA barcode:

Tools of the trade
While a DNA barcode makes solving problems simpler, identifying one is a complex process. There are many steps that each require specialized equipment and techniques to get the job done. Once researchers have collected tissue that contains DNA, they are careful to handle it in a way to keep the sample sterile.
DNA barcodes can be kept in a database for future reference. The database also allows the DNA sequencing results from multiple projects to be merged and easily compared.
CFIA scientists organize the DNA barcodes they obtain using the Barcode of Life database. The database is part of the International Barcode of Life project (iBOL), which is the largest biodiversity genomics initiative ever undertaken. Hundreds of biodiversity scientists and genomics specialists from 25 countries are working together to build a comprehensive DNA barcode library. This library will be used to create a system to identify all living things by their DNA.