Weed Seed: Vaccaria hispanica (Cow cockle)
Family
Caryophyllaceae
Synonym
Saponaria vaccaria
Common Name
Cow cockle
Regulation
Secondary Noxious, Class 3 in the Canadian Weed Seeds Order, 2016 under the Seeds Act.
Distribution
Canadian: Occurs in AB, BC, MB, NB, NS, ON, QC, SK, YT (Brouillet et al. 2016Footnote 1).
Worldwide: Native to northern Africa, Europe and temperate Asia and introduced in North America, Argentina, Uruguay, northeast Africa, South Africa, Australia, and beyond its native range in Asia (Arabian Peninsula, Japan, Thailand) (USDA-ARS 2016Footnote 2). Widespread in the United States (USDA-NRCS 2016Footnote 3).
Duration of Life Cycle
Annual
Seed or Fruit Type
Seed
Identification Features
Size
Seed diameter: 1.5 - 2.4 mm
Shape
Surface Texture
Small tubercles in rows over seed surface
Colour
Mature seeds black; immature seeds reddish-brown
Other Features
Slightly flattened around outside of seed
Hilum a small opening on flattened edge
Habitat and Crop Association
Cultivated fields, old fields, roadsides, railway lines and disturbed areas (Darbyshire 2003Footnote 4).
General Information
Cow cockle prefers fine-textured soils (Frankton and Mulligan 1993Footnote 5). It was a common weed of grain crops in the past, but its numbers and distribution have been declining over the last few decades (FNA 1993+Footnote 6). The saponins contained in the plants and seeds are potentially toxic to livestock if ingested (Frankton and Mulligan 1993Footnote 5).
Similar Species
Bouncingbet (Saponaria officinalis)
Bouncingbet seeds are a similar size, black colour, round outline and rough surface as cow cockle seeds.
Bouncingbet seeds are compressed, the hilum is in a notch, and the surface pattern is made of raised cells rather than tuberculate as cow cockle seeds.
Photos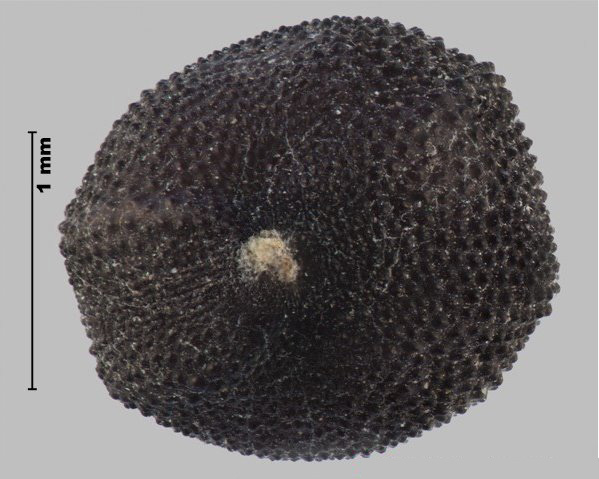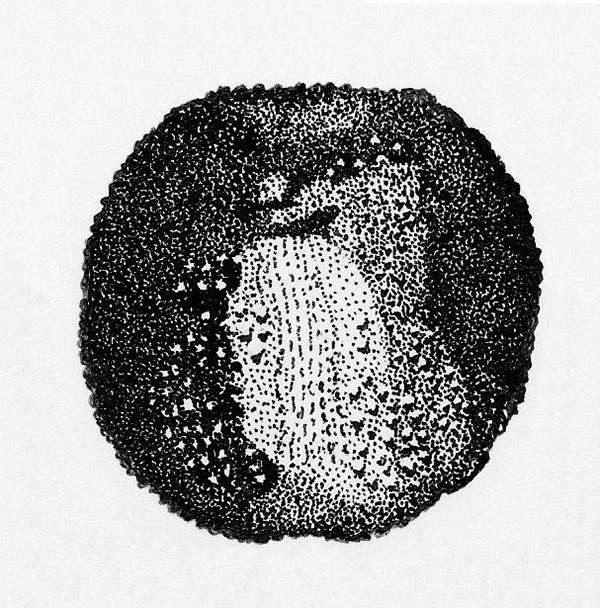 Similar species