Weed Seed: Paspalum dilatatum (Dallis grass)
Invasive Plant - Dallis grass (Paspalum dilatatum)
Family
Poaceae
Common name
Dallis grass
Regulation
Prohibited Noxious, Class 1 in the Canadian Weed Seeds Order, 2016 under the Seeds Act. All imported and domestic seed must be free of Prohibited Noxious weed seeds.
Listed on the List of Pests Regulated by Canada established under the Plant Protection Act.
Distribution
Canadian: Absent from Canada (Brouillet et al. 2016Footnote 1).
Worldwide: Native to South America and introduced to southern Europe, tropical and southern Africa, Asia, Australia, New Zealand and the southern United States (CFIA 2014Footnote 2).
Duration of life cycle
Perennial
Seed or fruit type
Spikelet
Identification features
Size
Spikelet length: 2.3 - 3.8 mm
Spikelet width: 1.6 - 2.2 mm
Shape
Spikelet is broad oval in outline with a pointed tip and a truncate base; with dorsal side curved and ventral side flat, plano-convex shaped
Surface texture
Glumes and sterile floret of spikelet are papery, while the fertile floret's palea and lemma are hard and shell-like with densely covered in small tubercles
Colour
Spikelet is dark yellow, floret is pale yellow
Other features
The glume edges have long, curled hairs; the glume surface has sparse hairs and is gland-dotted
Glumes have 3 - 5 longitudinal nerves, the central nerve is prominent
Habitat and crop association
Dry prairie, marshy meadows, shrublands, riparian habitats, freshwater wetlands, lawns, golf courses, sports fields, waste places (Hitchcock and Chase 1950Footnote 3, CFIA 2012Footnote 4).
General information
Dallis grass was introduced into the southern United States in the 1800s as a forage grass (Hitchcock and Chase 1950Footnote 3). It has also been used as a turf grass (Barkworth et al. 2003Footnote 5). Turf grass seed contaminated with Dallis grass is a potential introduction pathway into new areas (CFIA 2014Footnote 2).
Similar species
Field paspalum (Paspalum laeve)
Field paspalum spikelets are a similar size, oval shape, papery glumes, hard paleas and lemmas, and dark yellow colour.
Field paspalum has a humped profile and the glumes lack the curled hairs of Dallis grass spikelets.
Photos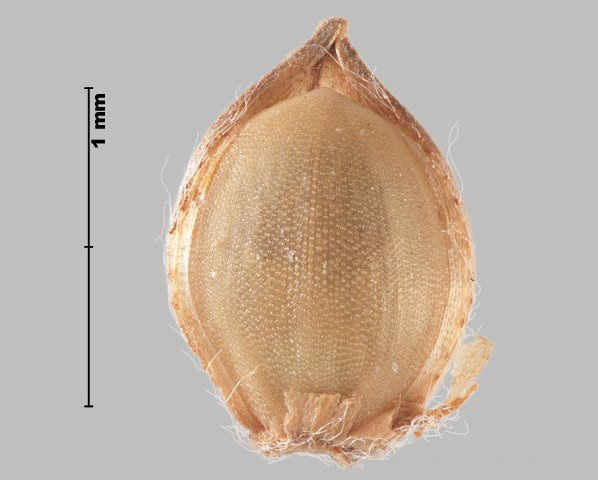 Similar species