Weed Seed: Euphorbia esula (Leafy spurge)
Family
Euphorbiaceae
Common Name
Leafy spurge
Regulation
Primary Noxious, Class 2 in the Canadian Weed Seeds Order, 2016 under the Seeds Act.
Distribution
Canadian: Occurs across Canada except in NL, NT and NU (Brouillet et al. 2016Footnote 1).
Worldwide: Native to central and eastern Europe and temperate Asia and introduced in northern Europe and North America (Canada, the United States and Mexico) (USDA-ARS 2016Footnote 2). In the United States it occurs across northern areas and into the southwest (Kartesz 2011Footnote 3).
Duration of life cycle
Perennial
Seed or fruit type
Seed
Identification features
Size
Seed length: 2.1 - 3.0 mm
Seed width: 1.5 - 2.3 mm
Shape
Oval-shaped seed; ends are slightly flattened
Surface Texture
Seed smooth, with a raphe on one side
Colour
Seed surface is usually light grey with reddish-brown mottles, but can be solid grey, orange or brown
Other Features
The hilum is usually covered by a caruncle
Habitat and Crop Association
Cultivated fields, pastures, rangelands, fields and roadsides (Royer and Dickinson 1999Footnote 4, Darbyshire 2003Footnote 5).
General Information
In the United States, leafy spurge is a particular problem in the northern and central plains states (CABI 2016Footnote 6). It prefers moist sites and disturbed soils and is aggressive in semi-arid situations or overgrazed pastures where competition is reduced. It can also establish in healthy natural ecosystems and in untilled, non-cropland habitats (CABI 2016Footnote 6).
Seed is dispersed by ejection from the capsule when ripe, up to a distance of 4.6 m. The seed may also be dispersed by water, wind, and animals. Seed in the soil may remain viable for up to eight years (CABI 2016Footnote 6).
Similar species
Cypress spurge (Euphorbia cyparissias)
The seeds of cypress spurge have a similar oval shape, grey colour and tissue over the hilum as leafy spurge.
Cypress spurge seeds (length: 2.0 - 2.5 mm; width: 2.0 - 2.3 mm) are generally shorter and wider than leafy spurge. Most are a solid light grey colour, but can be brown; all are without mottles.
Photos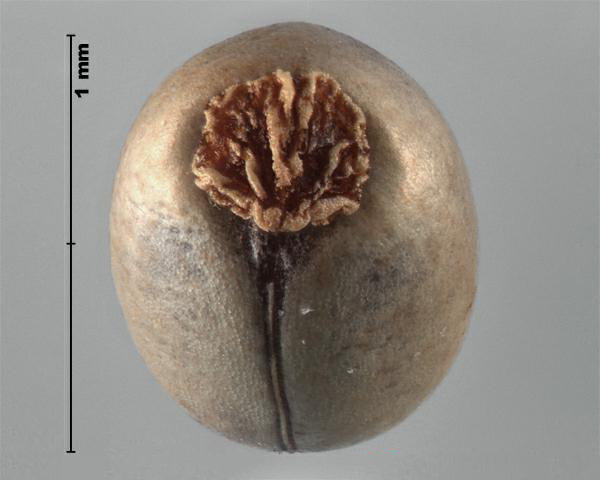 Similar species