Weed Seed: Echium plantagineum (Paterson's curse)
Invasive Plant - Paterson's curse (Echium plantagineum)
Family
Boraginaceae
Common name
Paterson's curse
Regulation
Prohibited Noxious, Class 1 in the Canadian Weed Seeds Order, 2016 under the Seeds Act. All imported and domestic seed must be free of Prohibited Noxious weed seeds.
Listed on the List of Pests Regulated by Canada established under the Plant Protection Act.
Distribution
Canadian: There have been several records from Canada but it has not persisted (CFIA 2014Footnote 1).
Worldwide: Broad Mediterranean native distribution. Introduced to Australia, South Africa, southern South America, and the western United States (CFIA 2014Footnote 1).
Duration of life cycle
Winter annual or biennial
Seed or fruit type
Nutlet
Identification features
Size
Nutlet length: 2.5 - 4.2 mm
Nutlet width: 1.5 - 3.0 mm
Shape
Ovate-shaped nutlet with a flat base and narrow top; slightly trigonous
Surface texture
Nutlet is densely covered in small tubercles and ridges
Colour
Colour of nutlet is off-white to straw-yellow, surface between the tubercles is pale
Other structures
Nutlet has a flat base and a pronounced ridge around the centre of the fruit.
Habitat and crop association
Pastures, roadsides and disturbed areas (CFIA 2012Footnote 2). Carries over as a weed in crops when pastures are rotated with cereals or other crops (CABI 2016Footnote 3).
General information
Paterson's curse was introduced into Australia in the 1880s, where it proved to be an aggressive, drought-tolerant, herbicide-resistant and toxic weed (Kloot 1982Footnote 4). The plants contain toxic chemicals that can cause liver damage in pigs and horses (Culvenor 1956Footnote 5).
Similar species
Blueweed (Echium vulgare)
The two species are similar in size, ovate shape, straw-yellow colour and surface ornamentation.
Blueweed nutlets are a darker colour than Paterson's curse, and the surface ornamentation is usually low ridges and streaks rather than tubercles.
The surface colour of blueweed (between the tubercles) is dark brown or black, the surface colour of Paterson's curse is pale.
Photos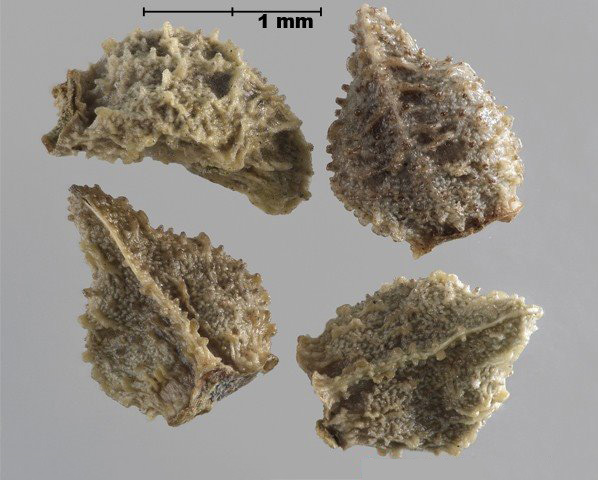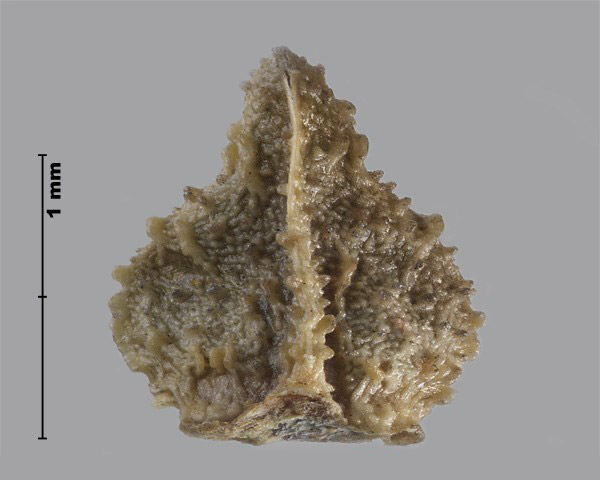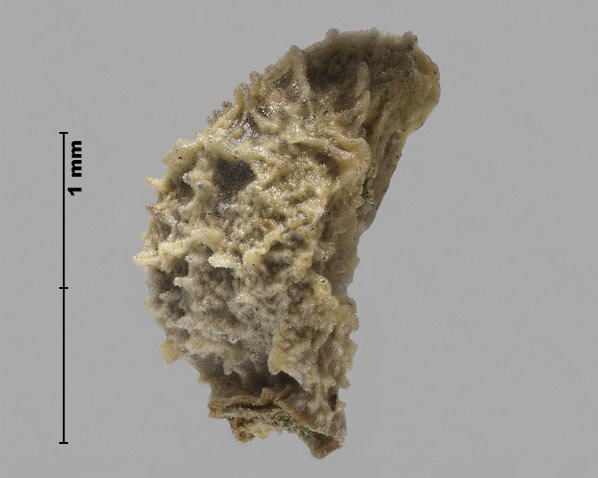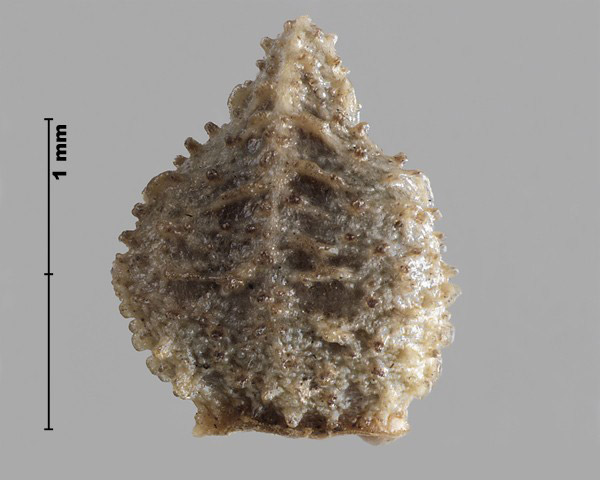 Similar species