Weed Seed: Crupina vulgaris (Common Crupina)
Invasive Plant - Common Crupina (Crupina vulgaris)
Family
Asteraceae
Common name
Common crupina
Regulation
Prohibited Noxious, Class 1 in the Canadian Weed Seeds Order, 2016 under the Seeds Act. All imported and domestic seed must be free of Prohibited Noxious weed seeds.
Listed on the List of Pests Regulated by Canada established under the Plant Protection Act.
Distribution
Canadian: Absent from Canada (Brouillet et al. 2016Footnote 1).
Worldwide: Native to northern Africa, Europe and western Asia. Introduced to the western United States and Massachusetts (USDA-ARS 2016Footnote 2).
Duration of life cycle
Winter annual
Seed or fruit type
Achene
Identification features
Size
Achene length: 3.5 - 4.5 mm
Achene width: 2.5 - 3.5 mm
Pappus length: 4.0 - 7.0 mm (mostly 7.0 mm)
Shape
Cuneate achene with a rounded base and flat top, not compressed
Surface texture
Achene is smooth, with dense hairs that give the appearance of a velvet coating
Colour
Medium brown achene, with dark brown base and pappus
Often pale hairs around top of achene
Other Features
Persistent pappus of stiff bristles that surrounds a style peg at the top of the fruit mixed with several short spines on the inside
Habitat and crop association
Pastures, rangelands, grasslands, hayfields, open woodlands, orchards, vineyards, roadsides, railroads and waste areas. Rarely found in cultivated crops, but may be found in field margins (CFIA 2012Footnote 3).
General information
Common crupina was first discovered in Idaho in 1969 and had infested 9300 hectares by 1981. It was later encountered in the western states of Washington, Oregon and California, where it has since invaded over 26,000 hectares (Thill et al. 1999Footnote 4).
This species prefers well-drained soils and does not tolerate disturbance. Each plant produces on average 23 seeds in a season, leading to a seed production of 1000 seeds per square metre for a typical population (Thill et al. 1999Footnote 4).
Similar species
Southern crupina (Crupina crupinastrum)
Achenes are similar length, cuneate shape, dark brown colour and distinctive long bristle pappus as common crupina.
Southern crupina (1.5 - 2.0 mm wide) is narrower than common crupina, with a paler pappus.
Photos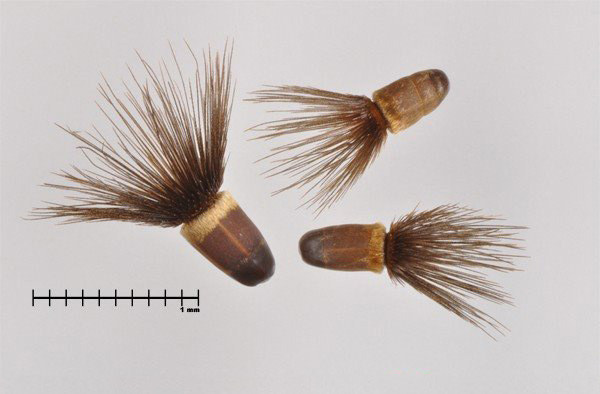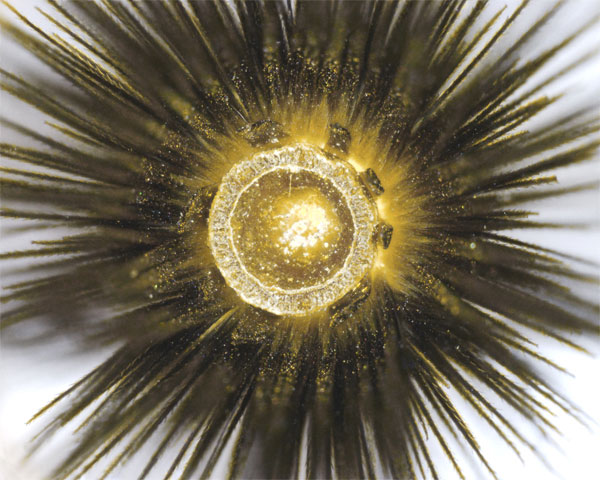 Similar species