Weed Seed: Centaurea virgata subsp. squarrosa (Squarrose knapweed)
Family
Asteraceae
Common Name
Squarrose knapweed
Regulation
Prohibited Noxious, Class 1 in the Canadian Weed Seeds Order, 2016 under the Seeds Act. All imported and domestic seed must be free of Prohibited Noxious weed seeds.
Distribution
Canadian: Absent from Canada (Brouillet et al. 2016Footnote 1).
Worldwide: Native to temperate Asia and introduced in the western United States and Michigan (USDA-ARS 2016Footnote 2, DiTomaso and Healy 2007Footnote 3).
Duration of life cycle
Perennial
Seed or fruit type
Achene
Identification features
Size
Achene length:

2.5 - 3.5 mm

Achene width:

1.5 mm

Pappus length:

1.0 - 2.5 mm
Shape
Achene is oblong with a rounded bottom and flat top, laterally compressed with a small notch near the base
Surface Texture
Achene is smooth and dull
Colour
Light brown to straw-coloured achene with strong central stripe, numerous thin side stripes and a pale area around the basal notch
Other Features
Collar at top of the achene is narrow and yellowish.
Notch at the base of the achene is shallow (under

1.0 mm

depth).
Habitat and Crop Association
Degraded rangelands, grasslands, open sites, logged areas, and roadsides (Cal-IPC 2016Footnote 4).
General Information
Squarrose knapweed was accidently introduced into California in 1930s with sheep ranching (Howell 1959Footnote 5). This species tolerates a wide range of temperatures and drought conditions, but does not tolerate cultivation or irrigation (Whitson et al. 1996Footnote 6).
Similar species
Spotted knapweed (Centaurea stoebe)
Spotted knapweed achenes are a similar size, oblong shape, dark colour, striped pattern and pappus length as squarrose knapweed.
Spotted knapweed is narrower (by

0.5 mm)

, often lighter in colour with a shallower notch (by

0.5 mm

) and a narrower pale area around the notch than squarrose knapweed.
Photos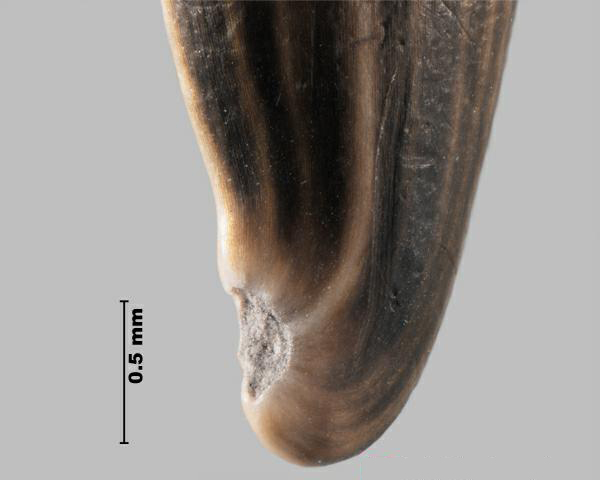 Similar species