Weed Seed: Centaurea solstitialis (Yellow starthistle)
Invasive Plant - Yellow Starthistle (Centaurea solstitialis)
Family
Asteraceae
Common name
Yellow starthistle
Regulation
Prohibited Noxious, Class 1 in the Canadian Weed Seeds Order, 2016 under the Seeds Act. All imported and domestic seed must be free of Prohibited Noxious weed seeds.
Listed on the List of Pests Regulated by Canada established under the Plant Protection Act.
Distribution
Canadian: Previously reported from AB, BC,ON and SK; however, no populations have persisted to date (CFIA 2014Footnote 1).
Worldwide: Native to northern Africa and eastern Europe across to central Asia. Introduced in other parts of Africa and Europe, as well as North and South America, Australia, and New Zealand (CABI 2016Footnote 2). Found in many U.S. states (USDA-NRCS 2016Footnote 3).
Duration of life cycle
Winter annual
Seed or fruit type
Achene
Identification features
Size
Achene length: 1.8 - 3.0 mm
Achene width: 1.0 - 1.5 mm
Pappus length: 1.0 - 4.5 mm
Shape
Oblong-shaped achene with rounded bottom and flat top, compressed; large notch near the base
Surface texture
Achenes from the centre of the flower head have a glossy surface; achenes from the outer edge have a dull surface
Colour
Most achenes are straw yellow with a pale collar, base and a central stripe
Achenes from the outer edge are dark brown with reddish-brown and pale yellow streaks
Other features
Achenes are strongly dimorphic: the achenes from the centre of the flower head are more numerous and have a long, white pappus
The less numerous achenes from the outer edge of the flower do not have a pappus
Habitat and crop association
Pastures, rangelands, grasslands, and roadsides in dry areas (CFIA 2014Footnote 1). Occasionally found as a weed of alfalfa and grain crops but mainly a weed of rangelands (CABI 2016Footnote 2).
General information
Yellow starthistle was accidentally introduced into California during the Gold Rush era of the mid-1800s (DiTomaso and Healy 2007Footnote 4). The species is a problem in California with millions of hectares infested, and is spreading into Washington, Oregon and Idaho (CABI 2016Footnote 2).
The seeds are locally dispersed by the spiny seed heads caught in animal fur and farm machinery, and contaminated crop seed is a risk for introduction into new areas (Zouhar 2002Footnote 5).
Similar species
Malta knapweed (Centaurea melitensis)
Malta knapweed achenes are a similar size, oblong shape, and pale colour as the achenes of yellow starthistle from the inside of the seed head.
Malta knapweed has a deeper basal notch, a shorter pappus with wider bristles, and a grey background colour compared to yellow starthistle achenes.
Photos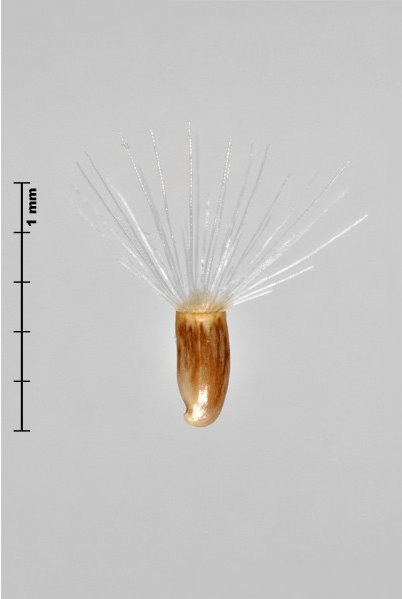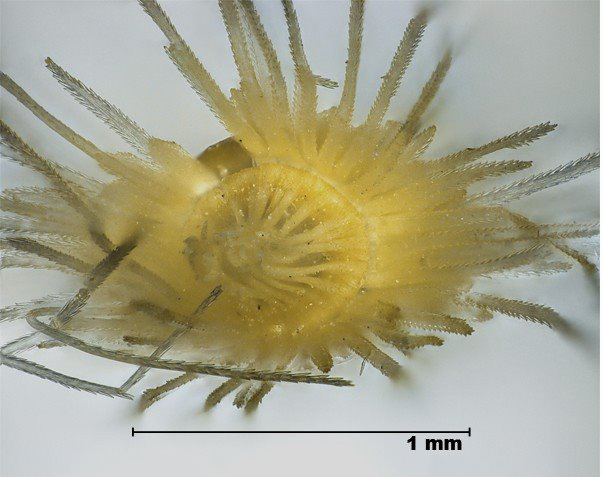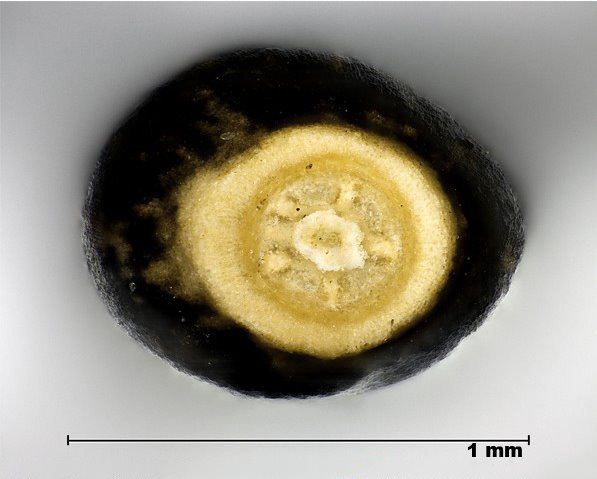 Similar species