Weed Seed: Bothriochloa ischaemum (Yellow Bluestem)
Invasive Plant - Yellow Bluestem (Bothriochloa ischaemum)
Family
Poaceae
Common name
Yellow bluestem
Regulation
Prohibited Noxious, Class 1 in the Canadian Weed Seeds Order, 2016 under the Seeds Act. All imported and domestic seed must be free of Prohibited Noxious weed seeds.
Distribution
Canadian: Absent from Canada (Brouillet et al. 2016Footnote 1).
Worldwide: Native to Asia and southern Europe and introduced in the Caribbean, Mexico, parts of South America, and the United States (CFIA 2014Footnote 2).
Duration of life cycle
Perennial
Seed or fruit type
Spikelet
Identification features
Size
Spikelet length: 4.0 - 5.0 mm
Spikelet width: 0.8 - 1.0 mm
Awn length: up to 15.0 mm
Shape
Spikelet is long ovate with 2 stalks from the base
Surface texture
Spikelet is smooth, dull to slightly shiny and the dorsal side has longitudinal furrows and may have scattered hairs
Colour
Spikelet is pale yellow with purple tips
Other features
A pair of pedicels extend 3/4 up the ventral side of the spikelet
Pedicels may have sterile spikelets attached
Copious white hairs are found around the base, along the margins of the spikelet, and on the pedicels
Short teeth are evident along the upper margins of the dorsal side of the spikelet
Habitat and crop association
Borders of fields, pastures, rangelands, dry stony places, roadsides and waste ground. Often abundant along roads, it tends to spread outwards from roadsides and into new areas (CFIA 2012Footnote 3).
General information
Yellow bluestem was introduced into the United States in the early 1900s as a forage crop and soil stabilizer, and plantings are continuing in marginal rangeland and roadsides (CABI 2016Footnote 4).
Dense stands formed by yellow bluestem tend to eliminate native species, alter the soil microbes and impact wildlife biodiversity and habitat availability (CABI 2016Footnote 4).
Similar species
Australian bluestem (Bothriochloa bladhii)
Australian bluestem spikelets are a similar size, ovate shape, yellow colour and smooth surface as yellow bluestem.
Australian bluestem spikelets are generally about 0.5 mm shorter than yellow bluestem and have a reddish cast and/or purple streaks on the glumes. The dorsal side of Australian bluestem spikelets is often dull with short, scattered hairs.
Silver beardgrass (Bothriochloa laguroides)
Silver beardgrass spikelets are a similar size, ovate shape, yellow colour and smooth surface as yellow bluestem.
Silver beardgrass spikelets (3.5 - 4.0 mm long) are generally shorter than yellow bluestem (4.0 - 5.0 mm long). The teeth on the dorsal glume of the spikelet appear shorter, and the hairs at the pedicel tip (5.0 - 7.0 mm long) are longer, compared to yellow bluestem (2.0 - 3.0 mm). The dorsal side of silver beardgrass spikelets is smooth, and a uniform colour, in yellow bluestem it is furrowed with purple tips.
Photos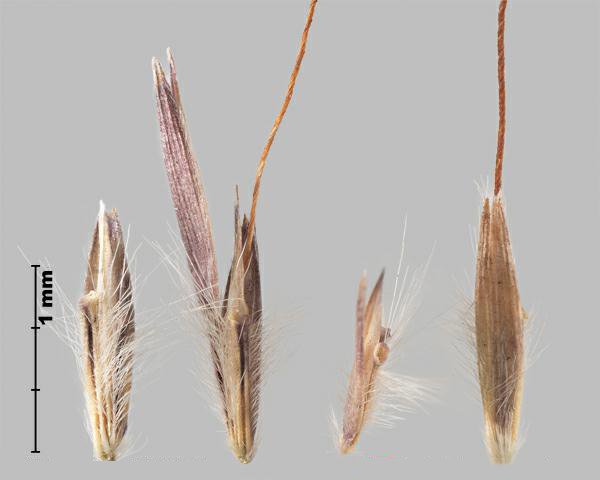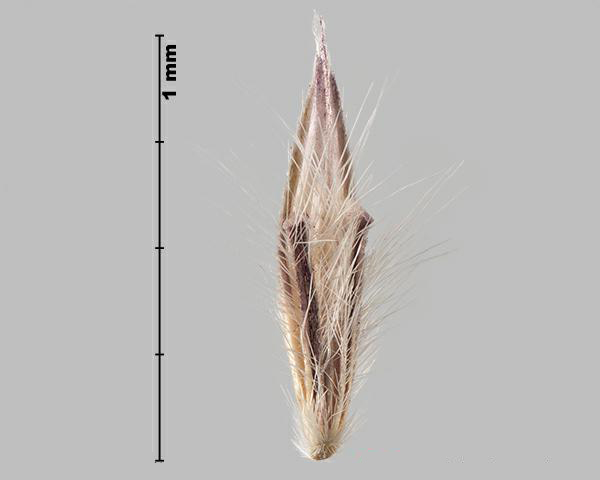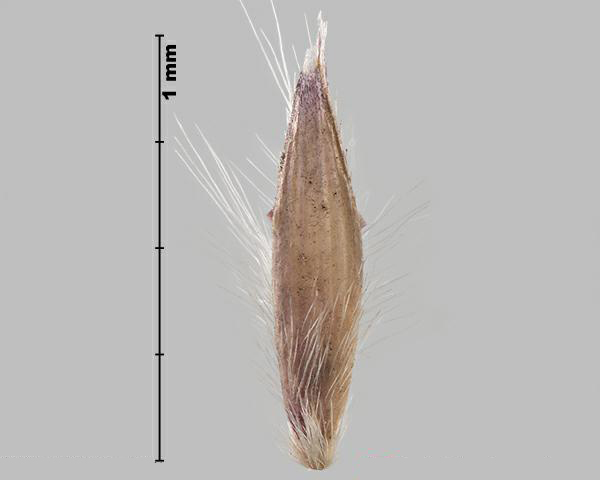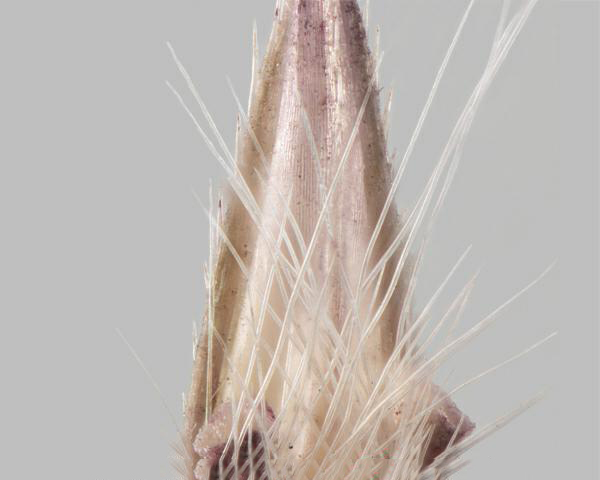 Similar species