Weed Seed: Aegilops cylindrica (Jointed Goatgrass)
Invasive Plant - Jointed Goatgrass (Aegilops cylindrica)
Family
Poaceae
Common name
Jointed goatgrass
Regulation
Prohibited Noxious, Class 1 in the Canadian Weed Seeds Order, 2016 under the Seeds Act. All imported and domestic seed must be free of Prohibited Noxious weed seeds.
Listed on the List of Pests Regulated by Canada established under the Plant Protection Act.
Distribution
Canadian: Limited populations are under official control.
Worldwide: Native to southeastern Europe and western Asia. Introduced and widespread in the United States, particularly in the western states (CFIA 2012Footnote 1).
Duration of life cycle
Winter Annual
Seed or fruit type
Shed as a spikelet embedded in a rachis segment. Each spikelet segment contains an average of 2 viable seeds (Donald and Ogg, 1991Footnote 2).
Identification features
Size
Spikelet segment length: 8.0 - 10.0 mm
Spikelet segment width: 2.0 - 3.0 mm
Shape
Spikelet segment is cylindrical with flat ends
Surface texture
Surface of spikelet segment is smooth with longitudinal ridges and may have scattered short hairs
Colour
Spikelet segment is green when immature, golden-yellow when mature, some are purplish tinged
Other features
Spikelets are embedded in a rachis segment that floats in water
Lower spikelet segments may have awns 3.0 mm - 9.0 mm long, upper spikelets often have longer awns
Habitat and crop association
Cultivated fields, pastures and disturbed areas along fences, ditches and roadsides. A major weed of winter wheat (CFIA 2012Footnote 1).
General information
Jointed goatgrass was introduced into North America likely in the late 1800s through contaminated wheat (Donald and Ogg 1991Footnote 2). It persisted and spread into winter wheat-growing areas in the western and central United States (CABI 2016Footnote 3). This species is genetically related to wheat and can form natural hybrids within or near wheat fields (CABI 2016Footnote 3).
Jointed goatgrass plants can produce more than 3000 seeds per plant (CABI 2016Footnote 3). The stem breaks into spikelet segments during harvesting and the seed inside remains viable for several years (CABI 2016Footnote 3). The similar size and shape to winter wheat make the segments of jointed goatgrass difficult to clean out and can cause yield losses of 25 - 29 % in the field (Hubbard et al. 1997Footnote 4).
Similar species
Itchgrass (Rottboellia cochinchinensis)
Itchgrass has similar cylindrical spikelet segments as jointed goatgrass.The spikelet segments of itchgrass are shorter and wider than jointed goatgrass, and lacks hairs and awns.
Photos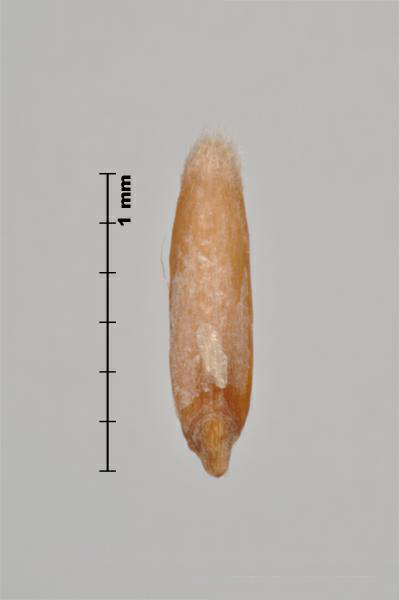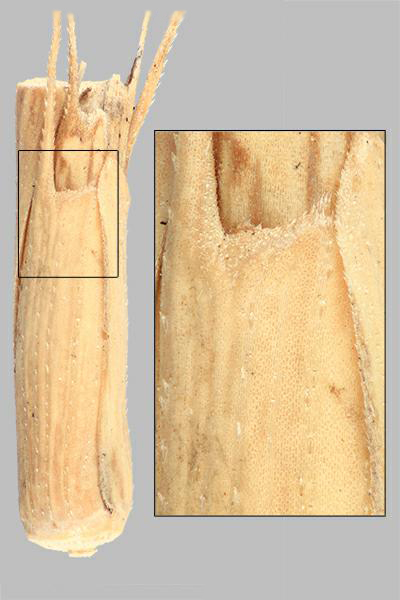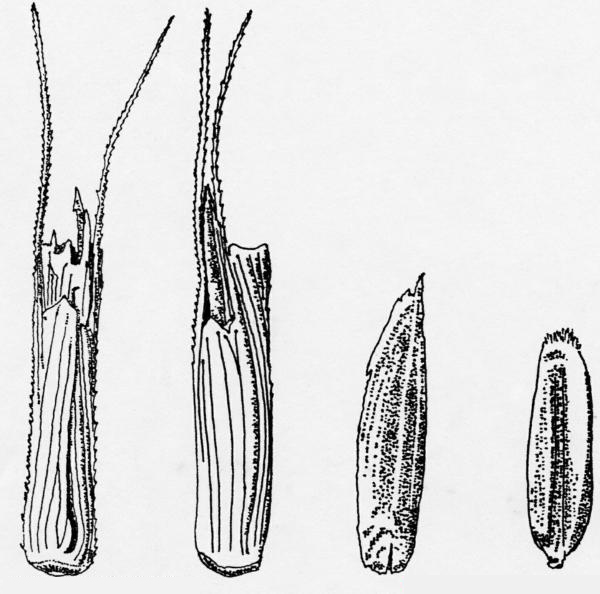 Similar species