Canada Organic Regime operating manual
Appendix D - CB management of nonconformities and enforcement actions under the Canada Organic Regime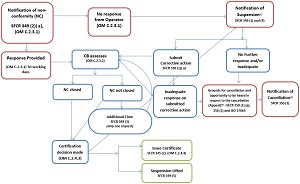 Additional information
The Notification of Suspension has to be issued separately from the Notification of Proposed Cancellation (that is, grounds for cancellation).
Suspension and cancellation are 2 separate processes. Only in the case of clause 350(1)(b) of the SFCR that the CB can proceed directly with a Notification of Proposed Cancellation without suspending the operator. The CB has to give the operator the opportunity to be heard.
Under the SFCR the CBs are required to have an appeal process in line with ISO/IEC17065 and the operator has to be informed about this process when notified about cancellation. This process is considered compliant with the SFCR requirement for "opportunity to be heard".