Meet Dr. Naheda Sahtout, CFIA science analyst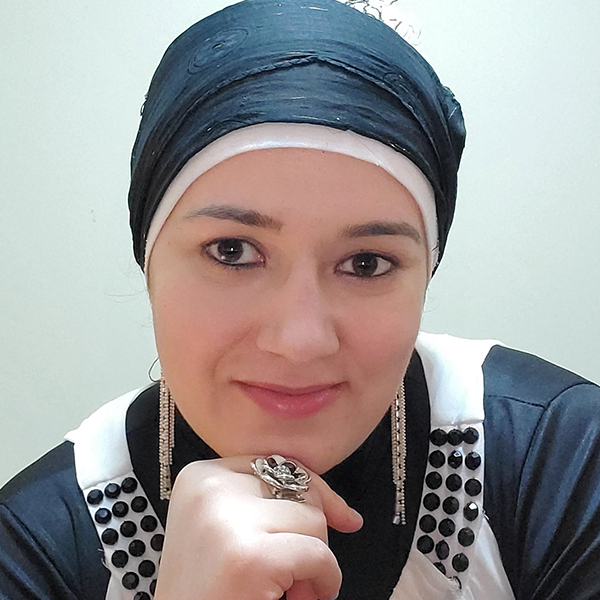 As a Palestinian born in Kuwait and raised in Malaysia, my parents sacrificed a lot to remove my brother and me from war-torn Kuwait in 1990. More than anything, they wanted to secure a safe childhood and good education for us.
In addition to my own family, I credit the teachers I had in elementary, middle, and high school for pushing me to excel and navigate my childhood with a visual impairment. I was told to be curious, to challenge the norm, and to not accept defeat because I had a disability.
I was fascinated by science from an early age. I longed to work with chemicals, dissect frogs, and learn all about dry ice. I even challenged myself to take advanced chemistry, physics and biology during the International Baccalaureate, a specialized high school diploma program taught in more than 140 countries.
Breaking biological barriers
After growing up overseas, the almost 13,000-kilometre journey from Malaysia to Canada was the start of a new chapter.
Fulfilling my interest in science, I completed an undergraduate degree in biology from the University of Waterloo and then continued my studies to pursue a graduate degree. I went on to complete a Master's in Molecular and Cellular Biology from the University of Guelph, and a PhD in Chemistry from the University of Saskatchewan.
Despite these achievements, my academic journey – especially at the graduate level—was not easy. Working in a lab with vision as low as mine is not yet widely accepted, and some researchers would not accommodate my academic needs. Others were simply unimpressed by my unique learning style. Empathy was often lacking. Recognizing this, I pushed myself to step outside of the lab because I knew a career in research was never going to be a reality for me.
I ventured into student politics and leadership, taking it upon myself to organize departmental initiatives in support of graduate students. I extended my leadership through travel to northern, Indigenous and rural communities across the prairies for science outreach. These opportunities cultivated the experiences and networks that were necessary for me to know that I could succeed outside academia.
Only in the very last year of my PhD did I understand the role I needed to play to become a better advocate for making STEM (science, technology, engineering and math) education accessible – both for myself and those like me. I hesitantly became vocal with the difficulties of having a visual impairment in STEM by publishing an article in Nature. This was the most courageous step I took to begin my journey as an advocate of accessibility, equity, diversity and inclusion.
Analysis and advocacy at the CFIA
At the outset of 2021 and ahead of defending my doctoral thesis, I began my role as a Science Analyst in the Office of the Chief Science Operating Officer (OCSOO) at the CFIA. It's not easy to start a new position, especially amid the current virtual environment. But because of the incredible individuals in my team, the transition was easier.
In my role, I support the Agency's Scientific Integrity Policy file and the engagement activities between my alma mater, the University of Guelph, and the Government of Canada. Most of my time is spent leading international files such as the Biosafety Level 4 Zoonotic Laboratory Network (BSL4ZNet), an international alliance of animal and public health organizations from the USA, Canada, Australia, UK, and Germany. Through this network, I help facilitate international collaboration, cooperation, and knowledge sharing to strengthen response to current and emerging high consequence bio-threats.
At the CFIA, I continue my efforts to bring advocacy to the forefront. A few months into my position, I stepped further outside my comfort zone, accepting a nomination as Co-Chair of the Employee Accessibility Network. I also volunteer as a member of the Canadian Institutes of Health Research (CIHR) External Advisory Committee on Accessibility and Systemic Ableism, and the Royal Academy of Science International Trust Science in Braille Global Campaign.
At the regional, national and global level, I've participated in conversations about accessibility and inclusion in science. Committees, campaigns, conversations and all, these opportunities have been informative to my journey as an advocate in STEM and have allowed me to meet other extraordinary individuals dedicated to making a difference. This is just the beginning of my path towards empowering systemically marginalized individuals achieve their success.
Difference can drive success
There are going to be moments in your journey when you feel like giving up. There will be people throughout your life who do not prioritize your success.
Surround yourself with individuals who will challenge you to move forward, push you to achieve excellence and stand by your side during difficult times. Now that I reflect back on my journey, I simply could not have made it without the support system of encouraging family, friends, and educators.
I'm proud to be part of an organization where we can participate in diversity and equity networks and work together to cultivate a more inclusive, accessible, diverse and equitable environment. This emphasis on supportive collaboration allows for courageous conversations to take place, and motivates employees to listen, network and learn.
As a woman, a scientist, a visible minority, or a person with a disability, you have the opportunity to inspire those like you with your leadership, accomplishments, advocacy, drive and passion. Never let fear of failure or rejection prevent you from achieving greatness.
Learn more
Get more Inspect and Protect
Interested in reporting on a story? Contact CFIA Media Relations to arrange an interview with one of our experts.
Have an idea or feedback to share? Get in touch!