How Canada paved the road for COVID-19 testing in Ghana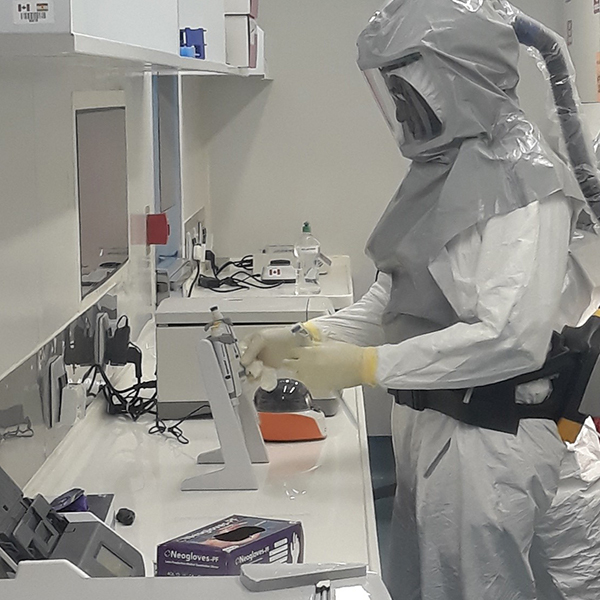 When employees from Global Affairs Canada (GAC) and the Canadian Food Inspection Agency (CFIA) joined forces with veterinary staff in Ghana in 2018, no one anticipated that they would be called to combine their efforts to fight a global pandemic less than two years later.
Fast forward to 2020: the veterinary staff originally trained by Canadian experts to detect anthrax, avian influenza and African swine fever are now using the same lab skills and equipment to test for COVID-19 in Ghana.
You may wonder how labs specialized in infectious animal diseases are equipped to test for human pathogens. This is a story about how foresight, innovation and collaboration converged to make that happen during the COVID-19 pandemic, bringing with it new friendships and hope for success in both countries.
Taking action in the face of uncertainty
Many pathogens are commonly found in Ghana and there had been outbreaks of infectious animal diseases like anthrax, bovine tuberculosis, avian influenza, African swine fever and brucellosis. Some of these diseases are zoonotic, meaning they can be transferred from animals to humans—and all have the potential to be used for bioterrorism.
In 2012, Ghana requested assistance from Canada to tackle several recurring and evolving biosafety and biosecurity challenges.
Poor biosafety and biosecurity measures, combined with inadequate labs and equipment at existing veterinary facilities, were putting the people and animals of Ghana—and potentially other parts of the world—at risk. There was also the mounting threat of bioterrorism, and concerns about samples of deadly pathogens in the region that were not properly secured.
Given the international security implications, Ghana's request was sent to GAC's Weapons Threat Reduction Program, which is Canada's contribution to the G7-led Global Partnership Against the Spread of Weapons and Materials of Mass Destruction.
After a careful assessment, GAC experts developed an ambitious plan to help Ghana build its capacity and mitigate these threats through the design, construction and certification of biological containment laboratories in three locations: Accra, Pong-Tamale and Takoradi.
These state-of-the-art "modular" labs, which can be re-configured easily, were completed and handed over to Ghana's Veterinary Services Directorate in 2014.
Phone a friend
The modular labs were up and running, but underlying capacity issues became apparent in the years that followed. In 2018, the GAC team connected with an ally at the federal level to explore options for supporting these labs. That partner was the CFIA, which had previously approached GAC to express its keenness to "twin" with Ghana's Veterinary Services Directorate. In laboratory twinning projects, a "parent" lab works with a lab in another country to help build capacity for disease prevention, detection and control.
Drs. Kingsley Amoako, Yohannes Berhane and Aruna Ambagala—CFIA experts on anthrax, avian influenza and African swine fever, respectively—devised a plan to address some identified gaps in Ghana, such as the lack of documented procedures, equipment and supplies for diagnostic testing, and training for staff.
GAC committed to supporting the twinning project and ensuring the three labs provided in 2014 would continue to be operational and maintained.
Lab 101: from PPE to high-tech machines
In 2019, the Ghanaian teams made their way to CFIA's Lethbridge and Winnipeg labs to acquire the technical skills needed to detect and identify diseases like anthrax, avian influenza, African swine fever, foot and mouth disease and several others.
Certified biosafety level 3 (BSL-3) labs have a number of safeguards in place to protect researchers working with microbes and infectious agents that could have serious consequences if inhaled or ingested. Strict biosafety and biosecurity measures also keep the environment and communities around these labs safe. Biosafety best practices, the protocols for safely entering and exiting BSL-3 labs, and the appropriate use of personal protective equipment (PPE) were all key components of the hands-on training provided.
In November 2019, four employees from the CFIA's Lethbridge and Winnipeg labs travelled to Ghana to share knowledge on every aspect of running a lab, including detection methods and simulation training on the procedures, best practices and precautions required for working in BSL-3 labs.
With funding from GAC, the CFIA team secured supplies and equipment for the three modular labs in Ghana, including real-time polymerase chain reaction (PCR) instruments. These machines are one of those recommended for COVID-19 testing worldwide.
Ghana signals readiness to test for COVID-19
The first recorded case of COVID-19 was detected in Africa in February 2020. That month, Dr. Yohannes Berhane from the CFIA's Winnipeg lab organized a training session to complement what the veterinary staff in Ghana had learned the previous year.
Dr. Kingsley Amoako, CFIA team lead and director of the Lethbridge lab, recalls how he felt during the first call with colleagues in Ghana and Canada to discuss the evolving situation.
"I was concerned for my colleagues, of course. But the timing was incredible. We had recently trained the Ghanaian team and shipped another round of supplies and PPE there, and those are being used on their frontlines today," said Dr. Amoako.
"The training and molecular diagnostic equipment provided by Canada, including real-time PCR machines, powered air-purifying respirators and other safety protection equipment, are absolutely essential right now. Beyond the high-tech labs and equipment, Ghana has some of the most committed, passionate scientists who are now skilled to run COVID-19 testing. And that's what's always been at the heart of this project: the people."
Dr. Amoako confidently stated, "We were about to witness Canada's impact on COVID-19 testing in Ghana," and he was right. The state-of-the-art lab set up in Accra became the first to assist the Ghanaian health authorities with COVID-19 testing, followed by the Pong-Tamale and Takoradi labs.
The global fight against COVID-19
The COVID-19 pandemic is a global threat that does not recognize borders. It can only be overcome through creative solutions and coordinated action all around the world.
Canada will continue to support international efforts to fight the COVID-19 pandemic in every way it can. This includes maintaining important partnerships like the one GAC and the CFIA have built over the years with Ghana.
Get the latest information on COVID-19.
Image gallery
Click on an image to open the gallery
Get more Inspect and Protect
Interested in reporting on a story? Contact CFIA Media Relations to arrange an interview with one of our experts.
Have an idea or feedback to share? Get in touch!