Exporting food: key principles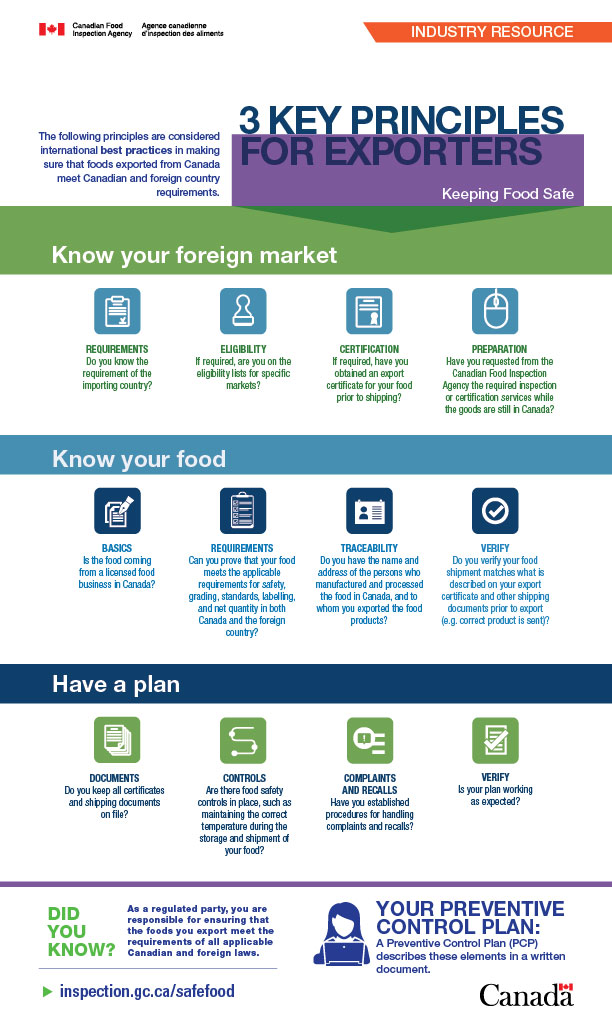 Description of infographic – 3 Key Principles for exporters

Keeping food safe

The following principles are considered international best practices in making sure that foods exported from Canada meet Canadian and foreign country requirements.

Know Your Foreign Market:

Requirements: Do you know the requirements of the importing country?
Eligibility: If required, are you on eligibility lists for specific markets?
Certification: If required, have you obtained an export certificate for your food prior to shipping?
Preparation: Have you requested from the Canadian Food Inspection Agency the required inspection or certification services while the goods are still in Canada?

Know Your Food:

Basics: Is the food coming from a licensed food business in Canada?
Requirements: Can you prove that your food meets the applicable requirements for safety, grading, standards, labelling, and net quantity in both Canada and the foreign country?
Traceability: Do you have the name and address of the persons who manufactured and processed the food in Canada, and to whom you exported the food products?
Verify: Do you verify your food shipment matches what is described on your export certificate and other shipping documents prior to export (for example, correct product is sent)?

Have A Plan:

Documents: Do you keep all certificates and shipping documents on file?
Controls: Are there food safety controls in place, such as maintaining the correct temperature during the storage and shipment of your food?
Complaints and recalls: Have you established procedures for handling complaints and recalls?
Verify: Is your plan working as expected?

Your Preventive Control Plan:

A Preventive Control Plan (PCP) describes these elements in a written document.

Did You Know?

As a regulated party, you are responsible for ensuring that the foods you export meet the requirements of all applicable Canadian and foreign laws.