Food Export Control Policy
On this page
1. Effective date
This policy has been approved by the Canadian Food Inspection Agency (CFIA), and  takes effect on November 1, 2022.
2. Application and scope
2.1 CFIA is committed to implementing a food export program that promotes and verifies compliance with:
Safe Food for Canadians Act (SFCA)
Safe Food for Canadians Regulations (SFCR)
importing country conditions (as applicable)
CFIA supports market access for Canadian food commodities in alignment with Codex (Codex Alimentarius Commission), and other international standard setting bodies (for example World Organization for Animal Health and International Plant Protection Convention). We recognize food commodity certification by CFIA may include requirements linked to animal and/or plant health.
The purpose of this policy is to provide guidance for CFIA and industry. CFIA  procedural guidance will be referenced when conducting export activities subject to this policy.
This policy applies to:
2.1.1 CFIA and its designated certifying officers who are responsible for enforcing SFCA and SFCR.
2.1.2 Safe Food for Canadians (SFC) licence holders that request:
export certificates; or
endorsement to an export eligibility list
This policy refers to these licence holders as "exporters".
3. Authorities
This policy is consistent with authorities under the:
4. Context
Canadian market access relating to food exports is dependant on meeting applicable laws, and the strength of our domestic regulatory system. To help facilitate market access, CFIA works with Canadian stakeholders and Canada's trading partners, as required, to promote the export of food commodities from Canada.
This policy outlines the principles CFIA follows as Canada's competent authority to verify compliance and certify food commodities for export. The policy also clarifies the responsibilities of exporters of food commodities.
5. Objectives
In order for CFIA to issue food export certificates or endorse an addition to an eligibility list, the exporter of the food commodity must meet:
requirements prescribed in the SFCA and SFCR
additional conditions:

consistently provide CFIA with documents and information that are factual, accurate, and complete
any conditions agreed upon by CFIA and the foreign competent authority of the importing country
To achieve this objective, CFIA will:
5.1 establish and maintain positive relationships with Canadian stakeholders and Canada's trading partners (foreign competent authorities)
5.2 follow a risk-based approach to verify that food commodities are produced under conditions that meet food safety requirements and fair practices in food trade
5.3 promote compliance with requirements and additional conditions by taking consistent and appropriate actions
5.4 provide guidance on specific export requirements and additional conditions
6. Expected results
6.1 The expected results from this policy are that:

6.1.1 Exported food commodities are compliant with domestic laws and, where applicable, agreed upon importing country conditions.
6.1.2 Trading partners are confident in CFIA's oversight of exports, which provides access to foreign markets.
6.1.3 CFIA is transparent and consistent in the delivery of export certification activities.
7. Requirements and additional conditions
7.1 Regulatory requirements
7.1.1 The CFIA follows principles of systems equivalence to work with Canada's trading partners. Canada's national food control system (NFCS) supports food exports by demonstrating that the outcome of the domestic requirements for food safety and fair trade are at least equivalent to the importing country's requirements.
7.1.2 Exporters are required to maintain a valid SFC licence, and ensure that the food commodities they export are prepared and exported in accordance with the provisions outlined in the SFCA and SFCR.
7.2 Additional conditions
Meeting the additional conditions for export, below, will facilitate a streamlined process for export certification by CFIA, or endorsement to eligibility lists:
7.2.1 Exporters have a process which ensures they consistently provide CFIA with documents and information that is factual, accurate, and complete.
7.2.2 Exporters will meet any additional conditions as agreed upon by CFIA and the foreign competent authority of the importing country.
8. Roles and responsibilities
8.1 CFIA
CFIA strives to:
8.1.1 Maintain a positive relationship with stakeholders to support market access.
8.1.2 Verify that exporters have prepared and implemented effective written controls (that demonstrate how SFCA and SFCR, and any applicable additional conditions are met).
8.1.3 Promote compliance and take appropriate response action where necessary.
8.1.4 Provide access to information about export certification requirements and conditions.
8.2 Exporter
Exporters are responsible for managing the food commodities they export for the aspects under their control, such as:
safety
acceptability for human consumption
authenticity
compliance with regulatory requirements and meeting additional importing country conditions.
More specifically, exporters must demonstrate how they meet the following:
8.2.1 Controls for regulatory requirements
In order to demonstrate compliance with the requirements outlined in the SFCA and SFCR, exporters must prepare, keep, and maintain:
8.2.1.1 A preventive control plan (PCP) that meets the applicable requirements detailed in Part 4 of the SFCR.
8.2.1.2 Traceability documentation which meets the applicable requirements detailed in Part 5 of the SFCR.
8.2.1.3 Any other documents prescribed in the SFCA/SFCR related to the export activity.
8.2.2 Controls for additional conditions
Exporters will benefit from a streamlined export certification and eligibility list endorsement process by implementing the following:
8.2.2.1 Exporters will demonstrate that their export certificate process results in the generation of export documentation that is:

factual
accurate
complete

Where market access is based only on recognition of NFCS equivalence, then 8.2.1 and 8.2.2.1, once satisfied, are sufficient to provide access to certificates and eligibility lists.
8.2.2.2 Exporters prepare and implement effective written controls that demonstrate compliance with the additional conditions agreed upon by the CFIA and the foreign competent authority of the importing country.
Figure 1 - Graphic representing the 2 levels of market access and required controls

Footnote

1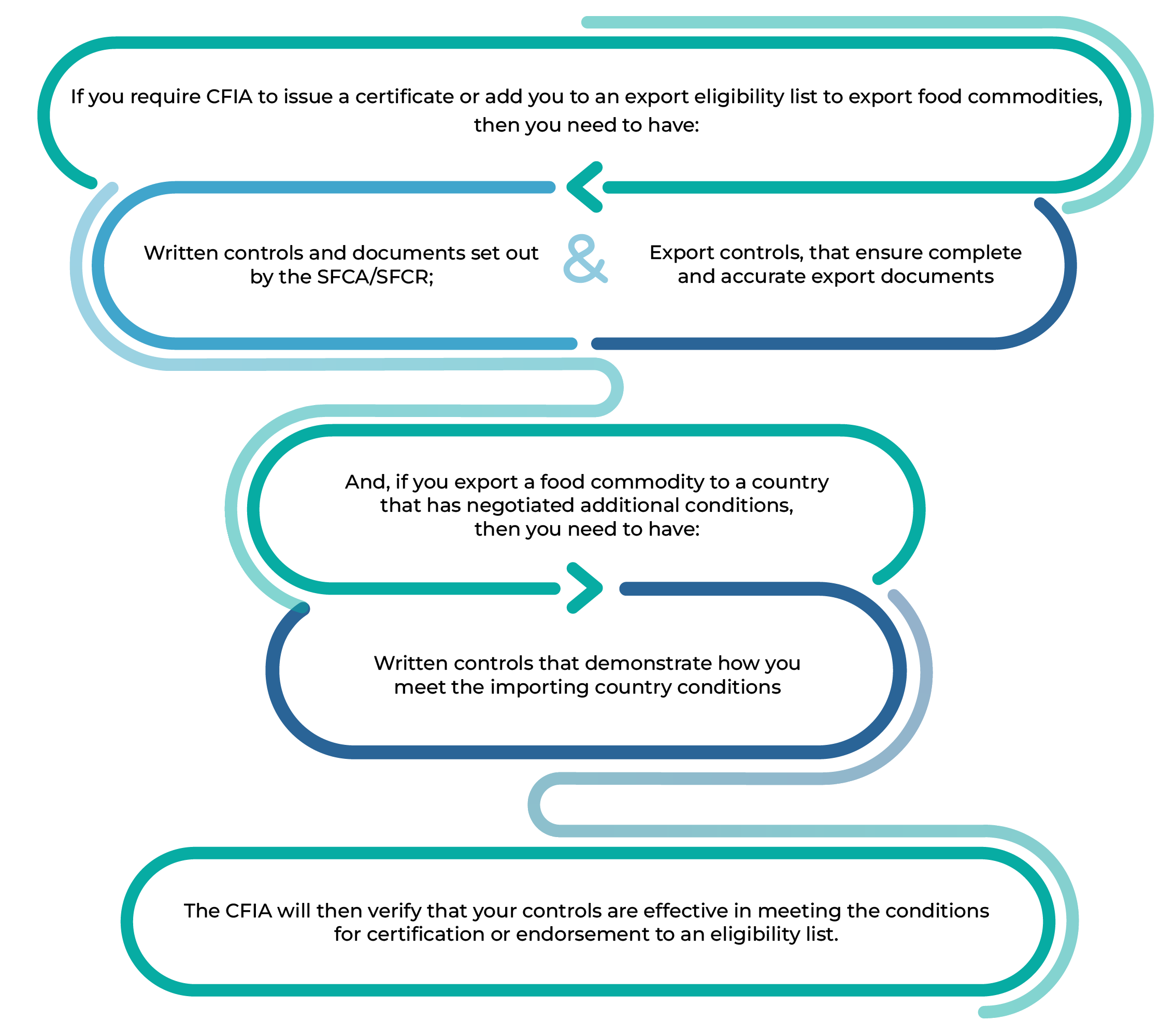 9. Consequences of non-compliance
9.1 Regulatory non-compliance
Where there is a non-compliance to a SFCA or SFCR requirement, CFIA can issue a regulatory non-compliance to the exporter.
CFIA can initiate regulatory response actions for regulatory non-compliances. These actions are in accordance with CFIA's Compliance and Enforcement policy and supporting operational guidance documents.
9.2 Non-regulatory (additional conditions) non-compliance
9.2.1 CFIA may issue a non-regulatory non-compliance when an exporter fails to meet the additional conditions and controls outlined in this policy. The non-regulatory non-compliance is referenced in the Standard Inspection Process (SIP).
9.2.2 If the exporter is unable to take corrective actions to address a non-regulatory non-compliance, CFIA can take actions to manage risk. The actions taken correspond to the category and severity of the non-regulatory non-compliance.
When the controls are not effectively implemented to ensure additional conditions are met, privileges that allow for streamlined processing of export certification or endorsement requests may be delayed or suspended until the risk is mitigated.
10. Mechanism for handling complaints
Regulated parties, stakeholders or CFIA employees can submit comments or complaints related to quality of service.
To register a complaint, refer the CFIA's complaints and appeals process.
11. Review and monitoring
The CFIA will review this policy every 5 years (or earlier if changes are made to the relevant CFIA legislation or regulations), to assess the:
implementation
effectiveness
continued applicability
Results of reviews will be reported to the CFIA's governance committees, as required for consideration. Changes to the policy will be communicated to CFIA officials and other stakeholders, as required.
12. References
13. Definitions
Eligibility list - see My CFIA glossary of terms

A list of entities that are approved to carry out a specified function (for example: sell goods or export specific commodities to specific destinations).

Export certificate(s) - See SFCR - glossary of key terms

Includes an export certificate or other export permission, such as being on an export eligibility list.

Exporting food [within the context of a Safe food for Canadians licence]

The activity that is required on a Safe Food for Canadians licence in order to send food commodities from Canada to a foreign country when a certificate or eligibility list addition is required.

Certifying officer – [taken from Codex]

Officers authorized or recognized by the exporting country's competent authority to complete and issue official certificates.

Competent authority - see My CFIA glossary of terms

(Receiving Competent Authority, Foreign Trading Partner, Foreign Competent Authority, International Trading Partner and Foreign State, Central Competent Authority)

A government agency or department that has jurisdiction to perform legislated functions. This includes any person or organization that has the legally delegated or invested authority, capacity, or power to oversee and enforce the international movement of products or other things regulated under their authority.

Non-regulatory non-compliance – See SIP

A non-compliance for a failure to meet permission conditions, which are not stipulated in legislation. Non-regulatory non-compliances include requirements under voluntary programs that are not cited in regulations.

Stakeholder (in regulatory context)

Individual, groups or organizations likely to be affected by proposed regulatory changes. CFIA's stakeholders can include regulated parties, consumers/ Canadians, Government Departments/ Agencies, International (foreign governments and international organizations.
14. Enquiries
For questions or comments about this policy, please contact the Director of Food Import/Export Division, International Programs Directorate, International Affairs Branch.