Producers: Protect pigs from African swine fever
Whether you're a small-scale or large-scale producer, on-farm biosecurity is critical to preventing foreign animal diseases like African swine fever (ASF) from developing and spreading. Careful sourcing of animals, products and by-products, including feed and feed ingredients, is important.
People visiting your farm could also be carrying ASF on their contaminated clothing, equipment or in their food if they were recently in an area that was infected with ASF.
Producers should make sure that visitors or workers on their farms follow strict biosecurity measures before coming back onto their premises. Review the national biosecurity standards and assess your biosecurity practices to mitigate the risk of ASF entering your farm.
Refer to our frequently asked questions about ASF to inform yourself about this animal disease.
Awareness toolkit
Everyone has a role to play in reducing the risk of animal diseases. Do your part by sharing this toolkit with your network. You'll find helpful videos, fact sheets, posters and images to help spread the word, not the animal disease.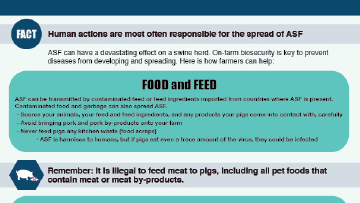 Infographic: On-farm biosecurity
ASF can have a devastating effect on a swine herd. On-farm biosecurity is key to prevent diseases from developing and spreading.
Awareness tools from third parties
Resources for producers
National
Nova Scotia
Quebec
Ontario
Manitoba
Saskatchewan
Alberta
British Columbia