General Producer Guide - National Avian On-Farm Biosecurity Standard
Section 1 - Access Management
1.1 Designation of Zones
1.1.1 Target Outcome - Recognizable zones and access points are in place.
Producer Guidance
Zones and access points may be defined as follows:
Controlled access zone (CAZ): The area of land and buildings constituting the poultry-production area of the premises that is accessible through a securable controlled access point.
Restricted access zone (RAZ): An area inside the CAZ that is used, or intended to be used, to house poultry, including semi-confined and range production, and where personnel and equipment access is more restricted than in the CAZ. Within the RAZ, the unrestricted movement of people, birds, and equipment may occur. The RAZ is sometimes referred to as the "production area" or "restricted area" (RA) in other poultry production documents and guides.
Controlled access point (CAP): A visually defined entry point(s) through which workers, equipment, feed trucks, etc. will enter the CAZ and/or the RAZ.
The CAZ
Recommendations for establishing a CAZ
Draw, in the initial design phase, a map of your property.
Ensure that, when deciding on boundaries, the CAZ is large enough to provide a functional buffer zone around the poultry housing units, but remains small enough to allow traffic that is not directly involved with poultry production to travel around the CAZ (not through the CAZ).
Include all buildings and structures used directly in the production of poultry.
Note: The shape and size of the CAZ will vary among sites.
Require personnel and equipment to pass through an appropriate primary CAP when entering or exiting the CAZ.
Exclude personal residences and non-applicable structures (machine shops and storage sheds, etc.) if they are not used for production equipment and materials. This allows visitors who access a personal residence and personnel who need to enter unrelated machine shops and storage facilities to do so without entering the CAZ.
Park unnecessary vehicles outside the CAZ.
The RAZ
Recommendations for establishing a RAZ
Establish the area that is housing the poultry as a RAZ.
Recognize that the barn entrance to the RAZ is the last line of defence in preventing the entry or exit of disease-causing organisms. Ideally, the RAZ is a physical enclosure that segregates the birds from the external environment and possible exposure to disease agents from outside. A RAZ that includes outside areas (outside pens, laneways for vehicles or equipment, etc.) is at a higher risk for exposure to disease.
Consider facility operations and your areas of concern regarding internal spread of disease-causing agents when designing a RAZ. Everything within a RAZ can be considered of equal risk status, because of unrestricted movement of people, birds, and equipment within this zone.
Applies normally to an individual barn, a compartment or floor within a barn, a series of connecting barns for birds that are raised indoors, or an enclosed outdoor area where birds are raised.
Consider each barn as a separate RAZ in a multi-barn site. Within a single CAZ, having biosecurity procedures among barns is a good practice for reducing the possibility of spreading disease-causing agents from barn to barn.
Note that, for barns with more than one floor, for barns which are physically joined by a common anteroom, or for barns that contain multi-aged flocks, a single RAZ or several separate internal RAZs may be appropriate. If rooms, compartments, or floors of the barn share a common air space - that is, wall dividers do not extend fully to the ceiling, and/or ventilation is shared - creating separate RAZs may be of little value in preventing disease transmission.
Establish a visually defined entrance, requiring all necessary traffic, human or otherwise, to pass through an appropriate primary CAP. This includes a transition area or anteroom where the biosecurity procedures can occur for movement between the CAZ and RAZ.
Note: For some production methods and premises configurations, multiple RAZs may not be operationally feasible. Options, including collective RAZs, are detailed in the diagrams below, with the following understanding:

If multiple buildings and/or ranges operate without restrictions on movements between the buildings/ranges, at least one RAZ should exist around the entire complex with entry and exit controls.
This option would be less effective in reducing the possibility of disease spread into/out of the complex, and has no controls to reduce the risk of disease spread within the complex.

Have your veterinarian or local association help configure a RAZ that would be defined in such a way that is practical, while at the same time, minimize the possibility of disease introduction or spread.
Ensure that the people who enter your premises are not sick, have not been in contact with sick poultry, livestock, pets and/or people, especially those exhibiting clinical signs related to influenza virus.
The three concepts depicted below provide options for laying out these zones, though other scenarios may better fit your operation.
Concept 1 One controlled access zone with one restricted access zone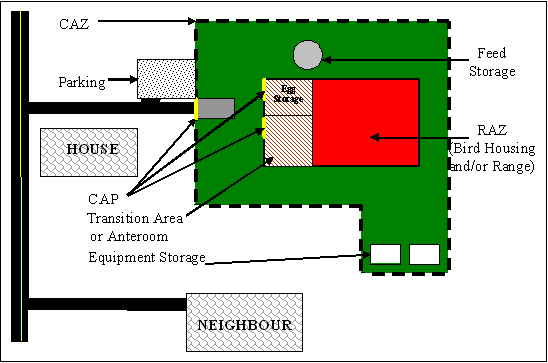 CAZ = controlled access zone RAZ = restricted access zone CAP = controlled access point
A CAZ and a RAZ for a simple farm site, comprised of only one barn and/or range and limited outbuildings, can be easily established. The CAZ incorporates all the farming activities, whereas the RAZ is the barn and/or range. A CAP provides access to each zone, and parking outside of the CAZ limits the volume and frequency of traffic movement.
A transition area at the front of the barn allows room for people who work on the premises to perform boot and clothing changes, hand washing, and other tasks. It may also provide room for dry storage or egg collection activities, depending on the needs of the farm site. For egg production, egg pickup personnel can access the egg storage room via the anteroom or through a separate exterior door.
Concept 2 One controlled access zone with multiple restricted access zones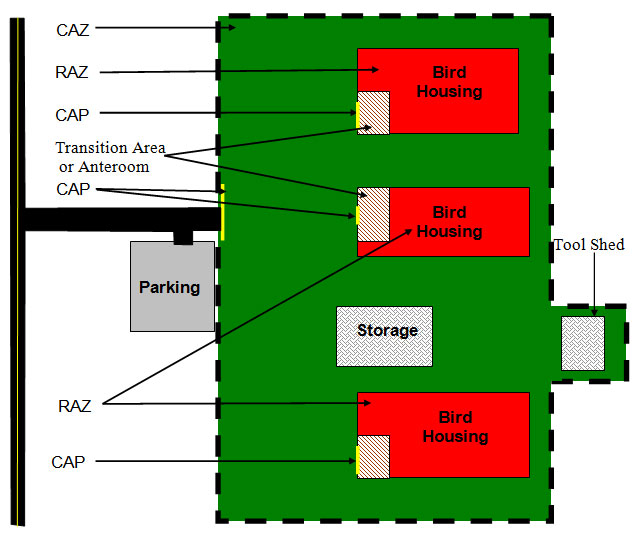 CAZ = controlled access zone RAZ = restricted access zone CAP = controlled access point
A larger and more complicated farm site may contain multiple barns, along with equipment and storage buildings. A separate RAZ and CAP have been established for each barn. Transition areas within the barn allow personnel to apply appropriate sanitary measures. One CAP provides access to the single CAZ. Parking is established outside the CAZ to reduce unnecessary traffic movements within the CAZ.
Concept 3 One controlled access zone with a restricted access zone, containing multiple buildings and/or ranges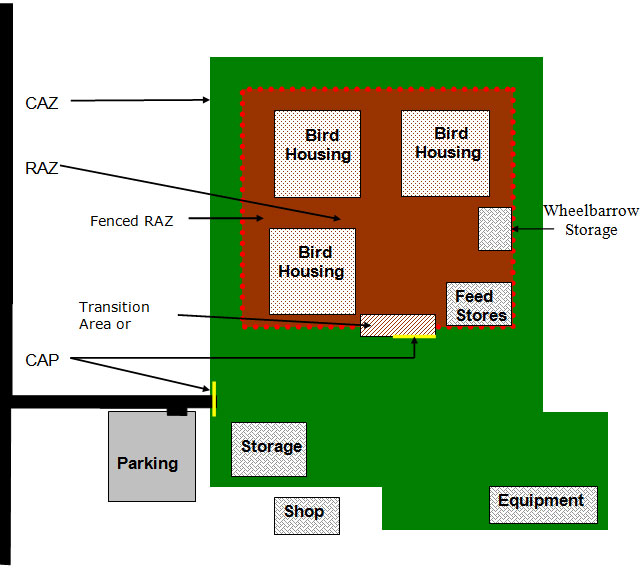 CAZ = controlled access zone RAZ = restricted access zone CAP = controlled access point
A more complex farm site may contain multiple barns and/or ranges, along with equipment and storage buildings. One RAZ, as in this example, is not ideal for disease control; however, if the operation includes common equipment and personnel who are moving unrestricted among buildings, one RAZ, including all buildings and the area inside in which unrestricted movement occurs, may be the only alternative. In this setup, control of disease spread into and out of the complex is less effective than if each barn was a separate RAZ. Further, there is no control of disease spread between the barns. All barns would be of equal biosecurity status (i.e. as if they were all one barn). Entry into the RAZ is controlled by a CAP. This could be an anteroom setup for personnel and with cleaning and disinfecting capabilities for larger equipment. One CAP provides access to the single CAZ. Parking is established outside the CAZ to reduce unnecessary traffic movements within the CAZ.
1.1.2 Target Outcome - Visual indicators are in place to define the controlled access zone (CAZ) and the restricted access zone (RAZ).
Producer Guidance
Recommendations for demarcating the CAZ
Visually define the entrance (i.e. the CAP). This can be accomplished with signage and visual markers.
Ideally:
The boundary of the CAZ would be readily distinguishable.
Boundaries, such as the edge of a cultivated field, driveway, roadway, or the property edge, are used if possible. Boundaries might be distinguished by one or more of the following:

landscaping (grass cutting, gravel, pathways);
tree lines, posts, or other visual markers;
fencing;
signage.
Recommendations for demarcating the RAZ
Establish a readily visible boundary. Typically, this would constitute the walls of the housing unit, but could be fencing or other physical barriers if the RAZ were to include more than the structure that is housing animals.
Visually define the entrance (i.e. the CAP). This can be accomplished with signage and visual markers.
1.2 Entry, Movement, Exit Controls
1.2.1 Target Outcome - People who work on the premises are knowledgeable of and understand the importance of and rationale behind the CAZ and the RAZ.
Producer Guidance
The people who access or work within the zones require a briefing to identify the measures in place regarding access control to the zones and why it is important that they be followed. People who work on the premises should have this covered as part of their training and/or briefing (according to Target Outcomes 3.6.1 and 3.6.2) before starting work. This Guide and the Standards document could be used as training aids. An annual review for people working on the premises would be beneficial.
Individuals who frequent the premises, but do not work within the zones, should understand the importance of avoiding an unintentional compromise of biosecurity. They should know not to enter the zones without being supervised or without having further training. They also need to take responsibility for any accompanying non-essential visitors.
1.2.2 Target Outcome - Access to the CAZ and RAZ is controlled by appropriate measures and routine procedures. Tools/equipment/facilities necessary to accomplish the established procedures are available, functional and maintained for their required purpose.
Producer Guidance
The Controlled Access Points
The purpose of a CAP is to ensure CAZ and RAZ entry and exit is through a place where appropriate procedures can be applied to personnel, vehicles, equipment, and materials that may carry disease-causing agents to minimize disease spread. This may include cleaning and disinfection measures and/or clothing changes. The goal is to reduce pathogen transmission, primarily by mechanical means (common contact), enabling the CAZ and RAZ to be of a higher (more protected) health status than that of the outside environment.
Recommendations for establishing a CAP for the CAZ - physical structures, tools, equipment
Create one primary CAP to the CAZ.
Consider both the entrance and the exit as primary access points for premises that have a U-shaped access point, as they see the common flow of traffic on the premises.
Limit the number of CAPs to ensure adequate maintenance and monitoring.
Devise a method of blocking the entrance to the CAZ when needed (i.e. in a disease response situation) - a single laneway blocked by a wagon or other obstacle, for example.
Ideally:
There is a lockable gate, chain, or other device that restricts access of vehicles and people.
The barrier is kept closed, except when vehicles and personnel are entering or leaving.
Post effective signage for CAPs (e.g. "Biosecurity is in effect in this area").

Signage might also state that permission is required to proceed (with contact information provided) or that staff accompaniment is required.
It is recommended that signage outside the CAZ inform personnel of the procedures to follow for admittance, and include identification of the parking area.
Ideally:
The surface of the CAP would be hard, impervious, and easy to clean with a broom, shovel, or pressure washer. Concrete or asphalt is ideal. Crushed rock is preferred over bare earth, but cannot be easily cleaned. Other options could be considered.
Wash water would run off toward areas that provide natural filtration (grassy areas with vegetation) and would comply with applicable environmental regulations.
CAPs would be equipped with cleaning and decontamination equipment. This includes materials that are adequate for the effective cleaning and decontamination of vehicular and foot traffic, as necessary. For example:

water (preferably hot);
equipment to wash hands (sanitizer) and footwear (brushes);
paper towels and garbage disposal;
dedicated footwear (rubber boots) and outwear (coveralls);
equipment or tools to remove caked-on material;
pressure washers with the ability to apply detergent and disinfectant (when necessary);
equipment to clean the decontamination station.

CAP equipment (i.e. disinfectant, clothing, etc.) must be protected from the elements. A room, shed, or other structure at the CAP can be used for this purpose. For smaller operations, CAP equipment may be stored in large totes or bins.
Recommendations for movement control at the CAP to the CAZ
Allow only essential personnel and vehicles to enter the CAZ.
Ensure that vehicles are visibly clean and free of organic material.
Take care to ensure that all traffic on the premises drives slowly to avoid disturbing dust.
Ideally, access to/exit from the CAZ would be controlled by the following:
Supervised entry;
Agreements with feed, veterinary, and other service providers on entry and premises biosecurity protocols, delivery schedules, etc.;
Vehicles and/or equipment as follows:

For vehicles and equipment that are to remain in the CAZ, it may be sufficient that they are visibly clean and free from organic debris. Washing and disinfecting wheels and wheel wells is still a prudent measure.
At most access points, during summer and winter, cleaning may be accomplished with minimal equipment: a broom, shovel, and hand sprayer may be effective for the types of vehicles and dry roadway surfaces encountered. (A review of the frequency, type, cleanliness, and use of the vehicles and equipment entering the farm site would be required to implement this option.)
The sharing of equipment between premises and operations is not recommended.
Vehicles and equipment that have been directly exposed to poultry and/or manure from other premises will require full cleaning and disinfection. Optimally, this should be performed prior to vehicles and equipment leaving the premises where the exposure occurred to reduce the transmission of disease agents off-site. If this is not feasible, vehicles and equipment should be cleaned at the closest commercial wash station. On arrival at the next premises, minimal cleaning and disinfection would be required.
Vehicles and equipment that have visited other premises without direct exposure to poultry and/or manure require contact surfaces (e.g. tires) cleaned and disinfected.
Upon detection of serious contagious diseases within the local poultry population, all vehicles and equipment entering the CAZ should be cleaned and disinfected prior to entry and upon exit. When a disease alert has been issued, producers should request guidance on protocols from their veterinarian, poultry board or organization, and provincial or federal governments.

Ideally, all personnel would be required to wear CAZ-specific boots and clothing, or to use disposable coveralls and booties.

Boot cleaning and/or the wearing of booties may be all that is necessary for visitors who are wearing clean clothing and who are moving through the CAZ directly to a RAZ where clothing and boot changes will be necessary, or who will be in the CAZ for a brief period and have not visited, nor will be visiting, any other agricultural premises that same day.

Note: All visitors pose a risk to premises for disease carriage, but some visitors pose a higher risk than others. However, without requesting detailed information, risk cannot be adequately assessed. Always consider that visitors may be arriving from or going to other premises.
Recommendations for establishing a CAP for the RAZ - physical structures, tools, equipment
Ensure that there is one primary CAP to the RAZ. If a secondary CAP is required, ensure it is adequately maintained and monitored.
Use secure barriers (i.e. locked doors) to ensure the access through CAPs is restricted.

Install visible signage at all CAPs to a RAZ, stating that it is a biosecurity restricted area, and to avoid entering unless authorized. Signage posted at the entrance should state "No Entry - Biosecurity in Effect," "Permission to Enter Required Past This Point", or wording with a similar meaning.

Provide a transition area, preferably with an impervious, cleanable floor (e.g. concrete) and a roof, where transition area procedures can be applied to personnel and equipment entering and leaving the RAZ. An anteroom as a transition area is highly recommended.

Equip the CAPs with RAZ-specific footwear and clothing plus equipment and materials for cleaning and/or decontamination foot traffic (also equipment and vehicles if applicable).
Recommendations for movement control at the CAP to the RAZ
Limit access to the RAZ to only those individuals required for flock production or to essential visitors who have received instruction in appropriate biosecurity measures.
Sanitize hands prior to entry and exit, before and after handling poultry, and especially after handling mortalities. Adequate hand sanitization is best accomplished by hand washing with soap and water, or if hands are suitably clean, a hand sanitizer or a pre-packaged alcohol hand wipe.
Ensure that there is no common footwear contact between the CAZ and the RAZ.

Changing into specific barn footwear is ideal. Wearing disposable plastic overshoes is acceptable.
If this is not practical, boot dipping in well-maintained footbaths is a less desirable alternative option. (See Annex E for information on footwear sanitation.)

Clean and disinfect equipment that enters the RAZ.
Note: Annex B provides a detailed set of barn access (entry and exit) procedures for personnel.
Ideally, at the access to/exit from the RAZ:
Barn doors or range gates would be kept locked;
The names and dates of essential visitors who enter the RAZ would be recorded; and
Personnel would put on premises-specific clothing or appropriate protective clothing, such as disposable coveralls.
Additional considerations for personnel and visitors
Ensure those who enter your premises are not sick, and have not been in contact with poultry, livestock, pets, and/or people that are sick, especially those exhibiting clinical signs related to influenza virus.
People who have had contact with poultry or poultry workers from other farm sites during the preceding 48 hours need to ensure they have washed (preferably showered) and changed into clean clothing before entering the RAZ where live poultry are kept. Any clothing that is worn off-farm or when visiting other premises is not acceptable as premises-specific clothing.
People should not access barns other than the ones in which they are working.
Traffic flow of trucks or equipment should be regulated to limit the proximity of activities to other barns.
Non-essential visitors
People and their equipment that have no requirement to access the CAZ and RAZ include, but are not limited to, guests, friends, and family. If there is no necessity for production purposes, these visitors should not be allowed access into the CAZ and the RAZ.
Essential visitor:
Any person who enters the CAZ or RAZ, other than personnel concerned with day-to-day poultry management on the premises.
Biosecurity measures that may be required of essential visitors - such as veterinarians, service and delivery people, suppliers and regulators - may include, but are not limited to the following:
The owner or manager ensuring that all visitors and personnel entering or leaving the RAZ follow the designated biosecurity rules;
Wearing RAZ-specific clothing and boots;
The owner and/or a farm employee accompanying visitors who enter the CAZ and the RAZ (otherwise, the owner and/or farm employee must be confident that the visitor is aware of, and will implement, the farm's biosecurity procedures); and
Signing and filling out the premises log book (with name, date, time of arrival, and contact information).
Ideally:
A more comprehensive visitor log is the preferred option and may also include the following:
organization for which the visitor works;
vehicle licence plate;
purpose of visit;
date of last contact with poultry;
*location of previous premises visited; and
*next premises to be visited.
*These details are particularly important during a disease outbreak. The more information provided, the easier it is to trace movements that are a disease transmission risk.
Catching crew, vaccination crew, and other comparable service providers
When live poultry remain in the RAZ, biosecurity measures that may be imposed for RAZ access include, but are not limited to the following:
ensuring adequate equipment cleanliness;
providing barn-specific equipment;
all members of the crew wearing clean clothing or disposable cover-ups;
all members of the crew cleaning and disinfecting boots or wearing disposable booties.
Egg pickup service providers:
Access the egg storage room, using an exterior door to the location that eggs are stored via the anteroom.
Clean, sanitize, and dry the equipment that is used for egg storage and transport prior to entry onto the premises.
The producer should strive to minimize the potential cross-contamination between the egg storage room and the rest of the production facility at all times. After eggs are picked up, the producer should ensure that the storage room is kept clean and tidy. The producer can sweep and spot clean areas, if necessary, to ensure that there is no accumulation of dust or egg residue.
Ideally:
Boot cleaning and disinfection may be all that is necessary for egg pickup service providers moving, for a short period of time, into the egg storage room that is part of the CAZ.
Washing and disinfecting the egg storage room can take place at the time of annual clean-out or prior to placing new birds. Note: For hatching eggs, the Canadian Hatching Egg Quality (CHEQ) Program recommends that egg room floors be cleaned weekly.