Canadian Beef Cattle On-Farm Biosecurity Standard
Principle 3: Manage Animal Health Practices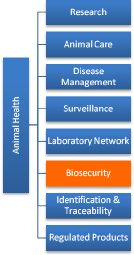 Biosecurity and animal health are closely related, although the latter covers a broad range of factors affecting health, of which biosecurity is one. Other elements of an animal health system include such functions as surveillance, disease management or control, animal care, etc.
Good practices in any and all of these functional areas of animal health contribute to healthy animals and help to reduce disease and its impacts in cattle.
3.1 Establish and maintain a working relationship with a veterinarian
Why Is This Important?
Veterinarians are professionals who are trained to provide expertise in disease management and animal health. Veterinarians can provide a producer with specific advice if there is a relationship that provides a familiarity and understanding of the producer, the premises and the herd. With this relationship in place, veterinarians are better able to:
Respond with quicker and more effective advice when problems arise;
Identify gaps in herd health plans, and suggest solutions;
Provide cost effective recommendations, such as the use of appropriate vaccines, tests and treatments;
Make appropriate use of diagnostic testing facilities; and
Recognize an unusual animal health situation and contact authorities if appropriate, as is required if a reportable disease is suspected.
A valid veterinary client-patient relationship is necessary before veterinarians may prescribe treatments, vaccines and other medical advice for a producer. Additional information on this can be obtained from your veterinarian or provincial veterinary association.
Suggested Risk Management Practices
Producers should regularly consult their veterinarian, (e.g. annually) to review biosecurity and herd health management practices. The veterinarian can provide advice on a range of animal health management issues, including:
The disease / health risks for the herd and their prioritization
Incoming animal practices, particularly the vaccinations, tests and treatments to be utilized
Sanitation practices used for incoming people, vehicles, equipment and tools
The Herd Health Plan
Treatment of Typical Animal Health Situations specific to the operation
Unusual Animal Disease Situations, including both a plan to identify and respond to these, as well as Elevated Biosecurity practices to adopt
3.2. Manage herd health according to a documented Herd Health Plan (HHP), prepared in consultation with a veterinarian
Why Is This Important?
A comprehensive herd health plan will contribute to the health of your cattle by helping to ensure that all aspects of their health needs are met. Since healthy animals are more resistant to disease, such a plan benefits the cattle and producers.
Documenting the practices being followed in a written Herd Health Plan, helps to ensure that it is:
Communicated and understood by personnel,
A training tool for new hires;
Applied consistently; and
Evaluated periodically to remain effective.
A Herd Health Plan addresses a broad range of factors occurring on the operation, including but not limited to: reproduction, genetics, nutrition, welfare, and biosecurity. Each of these contributes to animal health. For example and without addressing each factor, reproduction factors such as length of calving season, weaning weights and calving patterns impact the health of calves, cows and the herd as a whole.
Your veterinarian can help to make your Herd Health Plan more effective by identifying gaps and ensuring that all issues are addressed.
Suggested Risk Management Practices
a. Prepare a Herd Health Plan (HHP)
Prepare a written Herd Health Plan that documents the breadth of practices utilized on your operation to ensure herd health.
Information from your Health Log, all personnel engaged in herd health, and your veterinarian can all contribute to an effective Plan.
b. Review and revise
Review and revise the Herd Health Plan annually, or more frequently in the event of disease concerns, again with input from your veterinarian.
c. Keep records
Keep ongoing records to better manage herd health, specifically record vaccinations and treatments (health log, 4.5) and movements (movement log, 4.5). Records of parentage, reproductive history and source of animals are also useful. This information can be used to identify health risks, factors contributing to their occurrence and management options.
Maintain records on an individual animal basis. While many actions – movements, vaccinations and, in some cases, treatments -- will involve classes or groups of cattle, it is helpful if they can be linked to the individual animal and, ideally, to its unique CCIP identifier.
Considerable effort is required to record and maintain records on an individual animal basis. However the resulting information will help to identify and manage animal and herd health problems more quickly and accurately, reducing the length and severity of a disease process and unnecessary treatments, which, in turn, may reduce costs and increase profitability.
d. Compare results
Routinely measure and compare individual health records to overall herd health and productivity records, e.g.:
length of calving period
weaning weights
rates of gain
days to finish, (etc.)
Comparisons over time or between different groups contribute to an effective and profitable operation.
See also Target Outcomes 4.5.
3.3. Obtain water, feed, medications, and other inputs from safe and reliable sources, and manage or store these resources to ensure their ongoing safety and efficacy
Why Is This Important?
Water, feed, other inputs such as bedding, and even medications, may be contaminated and/or their quality and efficacy compromised at any point from their source to their consumption or use. Cattle that consume or use these contaminated, poor quality and/or ineffective inputs may be exposed to or at greater risk of disease.
Suggested Risk Management Practices
a. Identify and assess risk
Inputs to the herd that impact health include: water, feed, medications, supplements, nutrients, minerals, bedding and other inputs.
Be aware that quality inputs and diet contribute to a healthy herd. Where these inputs are purchased, and how they are handled, managed and stored may impact health.
b. Water quality
Monitor water systems regularly to provide water that is free of contamination from humans, livestock or wildlife. Contamination may involve manure, deadstock, chemicals and run-off after heavy precipitation or flooding.
Some specific practices to maintain the quality of the water provided include:
Obtain water from the safest source possible.

Municipal or deep wells generally offer greater protection from potential contamination than other sources.

Ensure that an alternate source is available in the event of contamination or inadequate supply.
Monitor surface water sources such as ponds or dugouts for signs of algae, access by wildlife or other sources of contamination.
Fence waterways and surface water sources to exclude livestock. This may be effective in preventing fecal contamination and preserving aquatic fish habitat. It may also be required by federal and provincial regulations.
Test water regularly for bacterial content, unless from municipal sources, in which case it should be tested at source. Tests should be annual, or more frequently if there is concern due to disease or heavy precipitation or flooding. Water testing can be performed by provincial and private laboratories.
Raise or elevate waterers and troughs to reduce fecal contamination.
Routinely check waterers and troughs, and maintain them free of manure and other organic matter, e.g. daily where possible. They should also be emptied and cleaned, where possible, between groups of cattle, or more frequently to remove organic material and biofilm, which is heavily populated by bacteria.
c. Feed quality
Obtain off farm feed, including grains, roughages, and bedding, from safe, known and reliable sources.
When purchasing mixed feeds, i.e. two or more grains, ensure that they are provided by a CFIA inspected facility. Mixed feeds can only be sold by a CFIA inspected facility.
To confirm that a provider is inspected by CFIA, they can be asked. However, there is no visible inspection certificate available from CFIA for them to display. Alternately, providers who are FeedAssure certified must also be CFIA inspected. FeedAssure is a feed safety management and certification program provided by the Animal Nutrition Association of Canada.
Maintain a Feed Log, to record purchases and use of feed. Ready access to this information can help to identify and manage certain disease situations.
d. Storing inputs
Store and maintain feed and bedding free of contamination. Contamination may result from manure, run-off, mould and general quality factors. Feed and bedding can also be contaminated by saliva, urine, and respiratory secretions of infected animals and other wildlife. Practices that can help in this area include:
Examine feed and bedding on arrival, and regularly at time of use, for contaminants such as mould, manure and overall quality. Do not use contaminated feed.
Use feed and bedding on a first in, first out basis. Do not add new feed to older feed.
Take samples of all feed batches. These can be held for testing in the event of a problem, or they can be tested on an ongoing basis for quality and safety. Hold samples for nine months or more.
Keep feed and bedding storage areas free of animals, including cattle, wildlife and pests, as well as dogs and cats.
Protect storage areas from weather and run-off to avoid spoilage and the possibility of mycotoxins and moulds.
e. Feeding practices
Good animal health is supported by good feeding practices, some of which include:
Feed only what is required and clean up excess feed before adding new.
Avoid contamination by: feeding in bunks / troughs / feeders, avoid walking in feed, scrape mud / manure from feeding areas, avoid cracks / holes in bunks, which may collect feed and moisture.
Avoid animals laying on or soiling feed provided on the ground, by providing only the amount that can be consumed at that feeding and change locations frequently.
Provide multiple feed sources and monitor densities to minimize congregation and competition.
Ensure that there is good drainage from feeding areas.
f. Medications
Medications are used with the specific intent of improving animal health. Accordingly they should be stored and applied in a manner that ensures they can be effective.
Purchase medications from licensed providers, and store as required. This includes such items as medicated feeds, vaccines, antibiotics, penicillin and other treatments.
Obtain medicated feeds from CFIA licensed sources and use in accordance with the Compendium of Medicated Ingredient Brochures, or a veterinarian's prescription. This will help to ensure they effectively target their intended purpose.
Store and administer as required by the manufacturer and listed on the product label, e.g. refrigeration, light, etc. For additional information see Schedule 4.
Comply with the use by date. Destroy or dispose of all products remaining after that date. Note: the use by date refers to unopened products. Many medications and vaccines, when reconstituted by a diluent or opened, must be used within a short time period, as indicated on the label.