Alfalfa Leaf Cutting Bee Producer Guide to the National Bee Farm-level Biosecurity Standard
Appendix F: Flow Charts of Alfalfa Leafcutting Beekeeping and Risks
Figure 1: Overwintering
Figure 1 follows the operational process of overwintering. Remove nests from shelters via trucks. Place the nests in a temperature controlled storage facility. Store the nests at 2°C for two weeks (Dichlorvos may be used for parasites) then reduce temperature to 4°C – 10°C. Once the bee cells have dried sufficiently, remove nests from storage for processing in a separate room. Use a stripping machine to remove the bee cells from the nests. Separate the bee cells into individual cells by processing in a tumbler or cell separator. Create bee cell lots and take and test samples. Place the individual bee cells in containers and place in a storage facility at 5°C – 10C. Process the bee cells to kill chalkbrood. Clean bee cell processing equipment and the facility frequently. Thoroughly clean the storage facility after bee cells have been removed in the spring.
Figure 2: Incubate Prepupal to Adult
Figure 2 follows the operational process of incubating prepupal bees to adults. Transfer the bee cells to shallow depth trays. Place the trays in an incubator at 30C and 50%-70% humidity. Place Dichlorvos strips in the incubator (day 7 to day 14) for first generation Pteromalus control. Place black lights over water boxes on the incubator floor to attract and drown Pteromalus. Remove the Dichlorvos strips at day 14. Within the next 24 – 28 hours, aerate incubators to remove Dichlorvos from the air. Leave the bee cells and bees in the incubator for 24 days or until the bees are 75% hatched. Refer to the Field Activities section step 4. The incubation period varies depending on the origin of the bees and anticipated crop placement.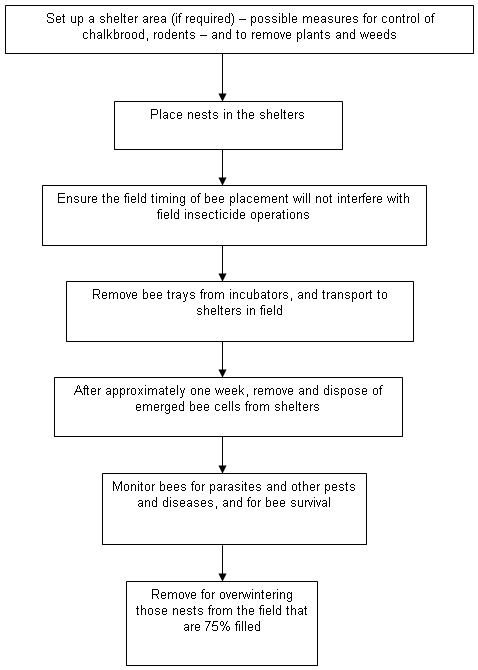 Figure 3: Field Activities
If required, set up a shelter area. This is a possible measure for the control of chalkbrood and helps remove plants and weeds. Place nests in the shelters. Ensure the field timing of bee placement will not interfere with field insecticide operations. Remove the bee trays from the incubators, and transport to field shelters. After approximately one week, remove and dispose of emerged bee cells from shelters. Monitor bees for parasites, pests, disease and survival. Remove for overwintering those nests from the field that are 75% filled.
Figure 4: Shipping bees
If shipping bee cells:
Before shipping, test the bee cells for chalkbrood, parasites, live count and sex. Place bee cells in shipping containers. Obtain export documentation (phytosanitary certificate, declaration of origin), if shipping to the U.S. Prepare for a veterinarian inspection at the border. Ship the bees.
If shipping live bees:
Place hatched bees in temperature-controlled trucks for transport. Inspect the bees for Pteromalus. Obtain export documentation if shipping to the U.S. Ship the bees.
Figure 5: Receiving Bees
Figure 5 follows the operational process for receiving bees. Order bee cells from a known and reliable source. Receive and visually inspect bee cells. Review the test results supplied by the suppliers. Move bee cells into a temperature-controlled storage room.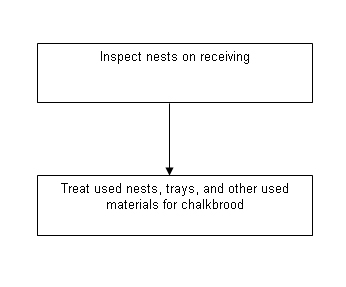 Figure 6: Receiving Supplies
Figure 6 follows the operational process for receiving supplies. Inspect the nests on receiving. Treat used nests, trays and other used material for chalkbrood.
Figure 7: Facilities
Figure 7 lists considerations for facilities. Locate bee cell processing in a separate room from bee cell storage room. Provide adequate dust-collection systems for processing facilities. Clean facilities frequently to remove dust. Provide adequate rodent control in buildings.
Figure 8: Recording
Figure 8 lists several items that your operation should record. These include: bee purchases (supplier, date, number), purchases of nests, trays and other materials, bee cells, bee sales and shipments, field locations, bee placements in field and shelters, nests that are removed from fields, bee and equipment treatments, processing of bee cells, traying and incubation details.