Plant health science mobilization plan
A plan to improve plant health science coordination, foster a proactive systems approach to protect plant health and strengthen evidence-based decision making.
September 2020
On this page
Executive summary
Canada is internationally recognized for its excellence in plant science. Both basic and demand-driven plant science research contributes to a diverse range of key industries including agriculture, agri-food, forestry, and industrial biotechnology. The application of plant science knowledge offers unique benefits to the Canadian economy, international development and trade. However, there is currently unmet potential for translating research into innovative solutions. Given the Government of Canada's Innovation Agenda, the current Plant and Animal Health Strategy for Canada and the International Year of Plant Health, there is an opportunity to define a "Mobilization plan" among the Canadian plant science communities. In 2019 and 2020, contributors came together through numerous stakeholder presentations, a targeted federal interdepartmental workshop, and an online public engagement initiative in order to further refine the "plan". The vision and goal-oriented framework will help develop a roadmap that will propel Canada into a leadership position within plant health science on the global stage.
Introduction
Canada is renowned for its plant science excellence in both basic and applied research, which contributes to decision-making and innovation in plant healthFootnote 1 contexts. Canadians benefit from plant science research and knowledge when the information is effectively translated into policies and practices pertaining to agriculture and agri-food, forestry, environmental sustainability and border security. In turn, this improves food security, environmental and human health, as well as promotes economic growth. To make sure these assets continue to prosper from Canada's plant resources and natural ecosystems, we must reduce the impact of plant stresses including the introduction and spread of plant pestsFootnote 2. The risks to plant health are increasing in complexity due to factors such as climate change, rising travel across borders, and shifting trade patterns. There is a need to better transform research findings into creative solutions to prevent and lessen the negative impacts of plant health risks.
Partners from industry, provincial and federal governments, academia, and other stakeholders co-developed the Plant and Animal Health Strategy for Canada (the strategy), which proposes a list of actionable activities to support and enable a prevention-based approach to safeguard the health of Canada's plant and animal health resources. The strategy was endorsed by federal, provincial and territorial Ministers of Agriculture in 2017. As a deliverable under the strategy, the multi-partner Canadian Plant Health Council (the Council) was established in October 2018 to implement plant health activities from the strategy.
The Plant Health Science Mobilization Plan will support science and research deliverables under the strategy. The preliminary notion for such a plan came from academic and government stakeholders who acknowledged the need to strengthen Canada's current plant health science system. The resulting plan articulates a collaborative approach towards advancing scientific discoveries, innovations, and their applications. This will guide the Canadian plant science community in prioritizing initiatives and achieving common goals. This strategic initiative has allowed the conversation to continue during the International Year of Plant Health in 2020, as well as supported the goals in Canada's Science Vision.
The importance of plant health
Plant health is essential to sustainable agriculture and forestry practices. It has a critical role to play as we look face challenges including food production, health and well-being of people, animals and the environment as well as keeping Canadian borders secure.
Plants are the first link in the food chain and vital to ensuring that both people and animals have access to nutritious food. Plants also drive our export market and support the "Canada brand". They form the basis of all renewable biological resources supporting Canada's economy. The national agriculture and agri-food system generates over $114 billion of our gross domestic product (GDP) and $66 billion in exports. The Canadian forestry sector contributes about $20 billion to Canada's GDP each year.
Pest-induced plant losses and plant health control efforts cost billions of dollars annually. Evidence suggests that the devastating impacts of domestic threats and pests crossing our borders are far-reaching, including changes to land use, nutrient cycles, climate, and habitat structures.
Given the importance of plants to our health, economy and environment, improving all aspects of prevention, detection and management of plant pests is an urgent conservation and resource management challenge.
The need for a mobilization plan
The world is facing increases in population, a changing climate and the depletion of natural resources. Canada is driven to increase trade with a greater number of countries in support of economic growth. There is also an increasing awareness that preventing the introduction of a new plant pest is much more cost-effective than managing its spread (see the invasion curve in Awareness and collaboration). The changing climate is impacting many determinants of plant health. Drought and heat are key abiotic (physical rather than biological) stressors that plants are exposed to as a direct effect of warming temperatures. As a result, stressed plants are more susceptible to infection, infestation and damage by pests. Changing climate conditions also impact pests directly. For example, pests are expanding their ability to survive and thrive in new regions and have the opportunity to infest new types of host plants. As a result, biological risks and threats to plant health are expected to intensify in number, distribution, and diversity, which will be worsened by the direct, abiotic effects of climate change on plants. These risks may negatively impact both Canada's economy and environment.
Awareness and collaboration
Increased awareness and collaboration is the key to address pests earlier.
The invasion curve shows that as a plant pest spreads over time, control costs increase and eradication becomes less likely. Prevention is the most cost-effective solution, followed by eradication. If an invasive species is not detected and removed early, intense and long-term control efforts will be necessary. Identifying where a pest falls on the invasion curveis the first step to taking management action. Stakeholders have acknowledged that collaboration is key to address pests earlier in the invasion curve. Adapted from Invasive Plants and Animals Policy Framework, State of Victoria, Department of Primary Industries, 2010.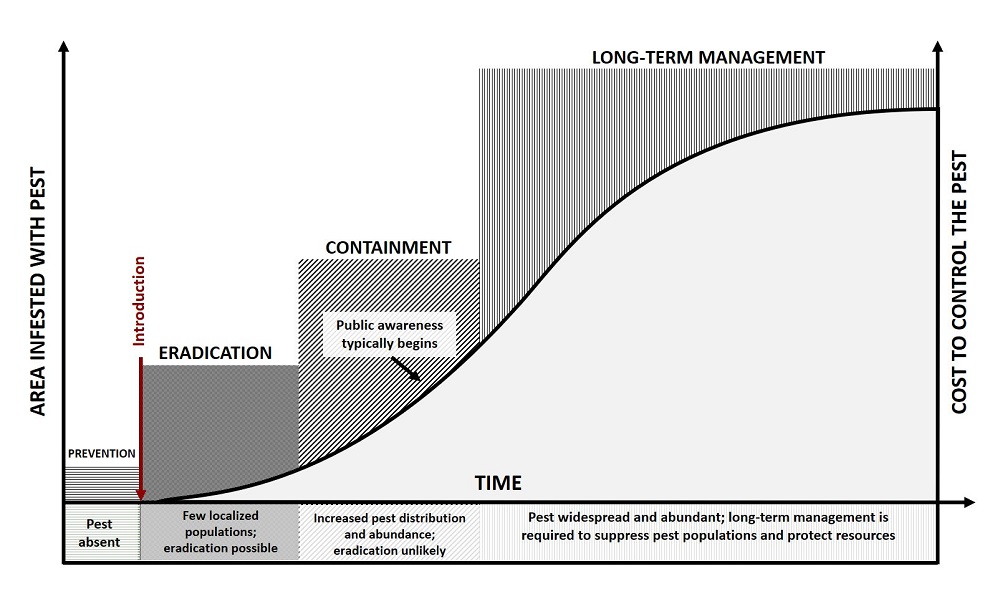 The current situation demands effective and urgent collaboration. Stakeholders have acknowledged the need to better share information and build connectivity among networks of experts. The strategy proposes a comprehensive list of actions to address plant health priorities in Canada. A key function of the Plant Health Science Mobilization Plan is to support the delivery of science and research-based activities under the strategy. Plant scientists have a vital role in developing better production systems, biodiversity management and conservation of the environment, as well as to support Canada's bioeconomyFootnote 3 as it climbs to cutting-edge. The need for solutions from Canadian plant scientists has never been greater.
It is known that forest insects are the biggest cause of tree mortality in Canada. Evidence suggests that their impact is getting worse. Forest insect outbreaks can spread through various trade and transportation routes and are having negative impacts on Canada's environment, economy and forest-dependent communities. A coordinated effort to manage forest pests has been discussed as the best path forward.
For example, a February 2019 Report of the Standing Committee on Natural Resources entitled "Insect management in Canada's forest sector: strengthening national cooperation against current and future outbreaks – PDF (4,228 kb)" made a number of recommendations, including strengthening collaboration with all stakeholders and developing a national strategy to deal with invasive pests.
The extent to which Canadian plant science can realize its full potential depends on a focused, coordinated approach in support of a common vision for the future of plant health in Canada.
Plant health science mobilization
Vision
For Canada to excel as a global leader in plant health science.
To progress from world excellence to world leadership in plant health science, partners must come together to prioritize, innovate and deliver the necessary science.
Principles
The following principles are proposed to guide the development and implementation of the mobilization plan:
Safeguarding plant health is a shared responsibility among growers, industry, importers/exporters, academia, and governments
Proactive prevention, detection, and mitigation based on scientific evidence, inclusive of Indigenous Knowledge, will support decision-making
Effective motivation, coordination and collaboration will build on open science in Canada and internationally
A results and delivery approach which includes specific, measurable and time-bound targets, will support achievement of clearly defined goals and objectives
Goals
The goals of the Plant Health Science Mobilization Plan take into consideration the community's shared and unique responsibilities, capacity, and circumstances.
Goal 1: To advance plant health science through awareness, training and action
Advancing plant health science will require increased engagement of partners (including the public, growers, Indigenous communities, scientists, policy makers, and public servants). The following will equip the next generation of plant health scientists with the tools to advance plant health science in Canada:
Enhanced education and training
Improved access to plant health science research opportunities
Increased accessible science communications
Objectives
To include plant health science and resource management experiential learning throughout the education system

This will serve to build interest among youth as well as enhance the talent pipeline within the research stream.

To improve mentoring and reverse-mentoring opportunities

This will facilitate the transition of land management, research programs and corporate memory to the next generation

To ensure that the next generation of scientists have the right skillsets to enable innovation, development and application of novel tools and technologies

This is required for Canada to become world leader in plant health science

To communicate science in a manner that enables evidence-based decision making

This will build public awareness, trust and citizen science engagement

To increase information-sharing and interaction between institutions, disciplines, and other groups, including Indigenous peoples

This will enhance knowledge development, collection, and translation
Potential opportunities
Increase accessible science communications (such as social media) and incorporate new methods, such as integration with art mediums to generate dialogue and foster public trust
Leverage existing educational and training materials/programs (for example CFIA plant health related curriculum for universities, online training for plant pest identification). In particular, those that can be linked with the ongoing promotion of citizen science (for example identification of invasive species in national parks; Scouts Canada programs)
Integrate plant health science into education curriculums and extra-curricular programming to enhance understanding of emerging approaches such as biovigilance, and engage youth at an early stage
Leverage and cross-promote training for plant scientists on reference collections, barcoding and other digitization tools
Adopt new tools to improve public awareness and understanding of mitigation measures (for example pesticide options, resistant varieties)
Enhance agricultural extension services to improve coordination of activities at all levels of agriculture
Key outcome
Raising awareness about the impacts of plant health will inspire the next generation of scientists and citizen scientists and drive them to take action (supports Objective 1 of the strategy).
Goal 2: To mobilize the plant health science community towards a biovigilance approach
Shifting to coordinated collaboration across sectors will help proactively plan, support, and perform innovative, forward-looking plant health science. This change will enable earlier detection and response to plant pests and threats, reduce trade barriers, and support a stronger Canadian plant health system.
Biovigilance is the study of unintentional effects of climate change, pest movements, new crops and farming practices on pest populations, plant health, ecological services and biodiversity in agro-ecosystems.
Biovigilance provides a framework to address the increasing complexity of plant protection. The objective is to manage potential threats before they become important problems. This approach is forward-looking and should constitute a foundational component of pest-management research activities in the long-termFootnote 4.
Objectives
To support science and research in the protection of Canada's plant resources and natural environments

This will incorporate data from all aspects of the biovigilance continuum to effectively respond to plant health issues (for example awareness, assessment, mitigation)

To promote a systems approach to plant health science that encourages knowledge integration from all partners

This will build on existing tools, platforms, and networks to optimize Canada's management of plant health

To enhance regional and national plant health science coordination and collaboration

This will optimize resources through co-locations, digital connectivity, data value mapping, complementary staffing, and strategic partnerships

To measure the impacts and progress of plant health activities

This will monitor for unintended effects and anticipate future threats
Potential opportunities
Phase in a Canadian Plant Health Information System defined by a strong data infrastructure and communication process to facilitate collaboration and planning among partners
Identify and leverage existing partnerships and their core activities, to foster improved information-sharing, collective priority identification, and targeted action

These may include the Canadian Plant Health Council, Federal/Provincial/Territorial Senior Plant Health Officials Committee, Agricultural Value-Chain Roundtables and Pest Management Centre

Monitor national and international responses to COVID-19 and take stock on lessons learned to further develop, evaluate and refine threat management
Leverage existing collaborative research funding mechanisms to support the vision and national interests

These may include NSERC CREATE, research networks, MITACS suite of programs, and Business Risk Management programs

Further explore international efforts, such as the International Bioeconomy Forum, to contribute to a global plant health science network
Capitalize on planned science infrastructure and information technology funding for laboratories through federal initiatives to develop new collaborative teams around common priorities

These may include Laboratories Canada and Digital Research Infrastructure
Key outcome
A biovigilance approach will enable plant health partners to be proactive and to respond rapidly, flexibly, and efficiently to threats. As a result, natural biodiversity will be better protected. In addition, strengthened responses will support elevated economic growth and market competitiveness of plant resources (supports Objective 2 of the strategy).
Goal 3: To enhance Canada's plant health system through evidence-based decision making
Plant science research and innovation must be supported to enable knowledge collection and transfer into usable information. Decision makers require evidence to support policy on key issues, including international trade, biodiversity and ecosystem health.
Objectives
To translate scientific evidence into usable information for growers, policymakers and other stakeholders to aid in decision-making

This will promote conservation practices and mitigation measures to safeguard Canada's natural environment and plant resource base

To promote the development and implementation of an agile and progressive regulatory framework that supports innovation

This will help advance international trade of Canada's agricultural and forestry sectors

To combine and communicate knowledge and information across real and perceived boundaries, including traditional indigenous knowledge

This will help to support comprehensive, inclusive decision-making
Potential opportunities
Identify the science priorities in the recommendations of recent regulatory reviews and act on them in a coordinated fashion
Build on surveillance activities and strong genomic capacity in Canada to lead internationally in these areas
Develop internationally recognized methodology for new technological approaches to influence standard setting (for example, whole genome sequencing and the use of DNA barcoding for diagnostics)
Collaborate with national trade associations to support development of a clean plant program to maintain pest-free propagative plant material for use/distribution within Canada and to meet import requirements
Focus on creating advanced prediction models for threatened species
Support the digitization of Agriculture and Agri-Food Canada's biological collections to improve accessibility of resources that can help inform evidence-based decision making
Collaborate with indigenous communities through the Indigenous Support and Awareness Office at AAFC and their Interdepartmental Indigenous STEM Cluster
Key outcome
Enhanced collection and transfer of plant health science information among stakeholders will support Canadian capacity to make decisions based on scientific evidence. As a result, Canada's global leadership position in plant health will be supported and advanced (supports Objective 3 of the strategy).
Next steps
Discovery and innovation in plant health science has a central role to play in our future. From enhancing border and food security, safeguarding biodiversity, improving global health, to supporting Canada's economy – plant health science is crucial. Mobilizing a coordinated effort to achieve a unified vision for the future will ensure scientists are well-positioned to respond to critical challenges. The UN Food and Agriculture Organization and the International Plant Protection Convention Secretariat have proclaimed 2020 as the International Year of Plant Health. This has provided an opportunity to raise awareness during 2020, revise the concepts and develop a more detailed action plan for improved collaboration and coordination.
The action plan will describe how the Canadian plant health science community can help meet current and future challenges, while focusing resources and energy towards short-, mid- and long-term goals. The broad plant health community has been an important part of this process. Not only will the plan identify the most prominent trends and drivers in plant science, but it will also identify additional linkages and highlight potential areas for collaboration. As progress is made, efforts will be focused on measuring progress and tracking results in order to define best practices and lessons learned. This action-oriented approach will not only advance plant health science through collaboration and informed decision-making, but also strengthen Canada's position as a global leader in plant health protection.