Framing competitiveness and innovation for success
The Canadian Food Inspection Agency (CFIA) is examining how to further strengthen its regulations, programs and services to help support the economic recovery and resiliency of the agriculture and agri-food sector. We are seeking your input on areas of opportunities within the mandate of the CFIA to spur innovation, growth and competitiveness.
On this page
Who we are, what we do
The mandate of the CFIA is to safeguard Canada's food supply and protect the animal and plant resource base and thereby enhance the health and well-being of Canada's people, environment and economy. This is accomplished through prevention and management of food safety risks and animal diseases; protection of plant resources and animal health and welfare; and, contributing to consumer protection and market access opportunities so that Canadian food, animals, plants and their products can be traded domestically and internationally. Our vision is to excel as a science-based regulator, trusted and respected by Canadians and the international community.
Working with all levels of Government on common priorities
Federal, provincial and territorial (FPT) governments have been working together to enhance competitiveness and innovation in the agriculture and agri-food sector. In 2019, FPT agriculture ministers endorsed 7 guiding principles (Annex A) to bring consistency in our approach towards economic growth for the sector. These principles guide our decision making to ensure alignment across all orders of government to facilitate trade and balance diverse social, economic and environmental needs while maintaining the health of Canadians. Common priorities (Annex B) have also been set out to help the sector meet its growth targets.
Adapting to a new normal
As the sector adapts to a new normal operating environment, there has never been a greater need for the CFIA to help support economic recovery in a post-pandemic world. We continue to be mindful of the suite of challenges and drivers for change that the sector faces.
With new marketplace pressures, such as public scrutiny for social, ethical and environmental stewardship, we see opportunities for enhanced partnership with industry and other non-government organizations to advance capabilities and knowledge in areas such as food safety assurance systems and food traceability. Emerging technologies also bring new opportunities for creating value-added and novel products such as those supported through Canada's Protein Industries Supercluster. Yet, efficient entry of these new/novel products into the marketplace remains challenged by the current regulatory framework.
We are examining how best to orient our regulatory activities in a hyper focused manner to further facilitate entry of new/novel products into the market. This builds from the concept of a "Hypergrowth Passport" recommended by the Economic Strategy TablesFootnote 1 and reinforced by other stakeholdersFootnote 2. With demand for a more inclusive economic growth, we are examining how best to leverage partnerships with stakeholders in obtaining data, research and knowledge, including traditional knowledge of Indigenous peoples, to better understand the regulatory burden on stakeholders. Considerations for small and medium-sized enterprises, diverse population groups and Indigenous peoples are also key to success.
Questions for you
Where do you see the greatest need for the CFIA to examine cumulative economic impact of incremental regulatory requirements on the agriculture and agri-food sector?
Where do you see that the CFIA would best support the agriculture and agri-food sector in gaining market access?
To what extent do you support prioritization of regulatory activities to facilitate market access of new/novel products given the CFIA mandate and the need to promote a level playing field for regulated parties?
How do you see the CFIA positioning itself to support small and medium-sized enterprises and Indigenous peoples with agriculture operations?
Contact information
Canadian Food Inspection Agency
Policy and Programs Branch, Program Policy Integration Division
1400 Merivale Road, Ottawa, Ontario, Canada
K1A 0Y9
E-mail: cfia.programpolicy-politiqueprogramme.acia@canada.ca
Annex A: Regulatory guiding principles set out by federal, provincial and territorial (FPT) agriculture ministers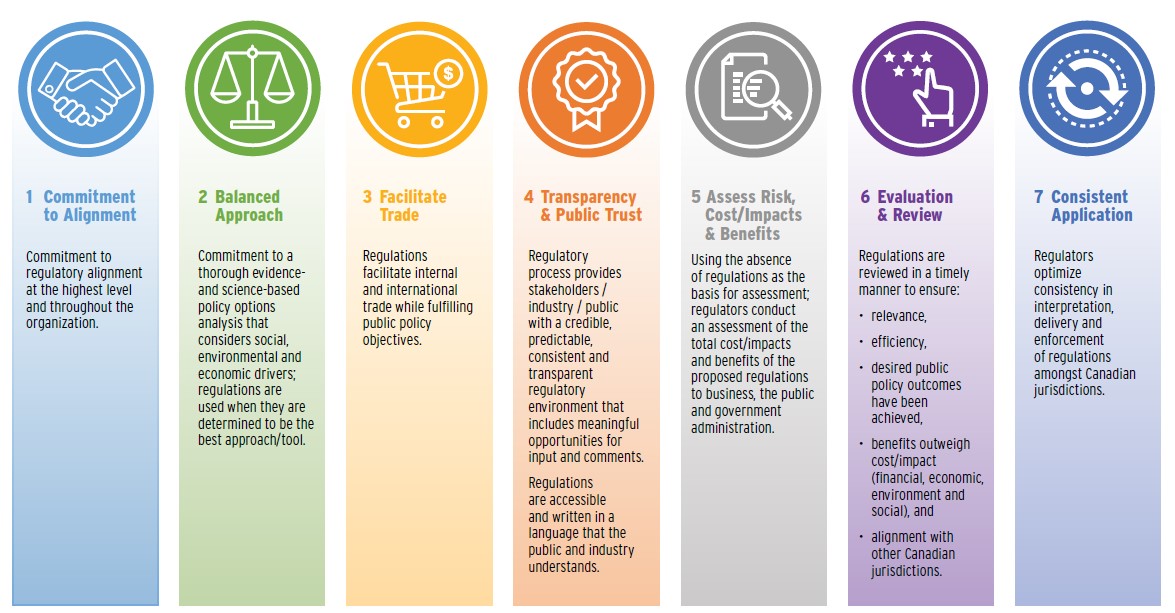 These principles were endorsed by FPT ministers and deputy ministers of agriculture in July 2019 and reaffirmed in November 2020.
Annex B: Federal, provincial, and territorial agriculture ministers priorities
The FPT Ministers have initiated joint work in 5 shared priority areas.
Streamlining regulations to reduce overlap and increase alignment to spur innovation, growth and competitiveness.
Reducing internal trade barriers through improved coordination, and support for improved internal trade of food and agricultural products.
Collaboration beyond agriculture ministries through joint initiatives with the Public Health Agency of Canada, Health Canada and the Pest Management Regulatory Agency.
Implementation of the Canadian Plant Health Council to respond to plant health risks and emergencies.
Measures to support animal health emergencies to strengthen confidence in Canada's regulatory system and limit economic impact on the sector.