Archived - What We Heard Report - Consultation on the proposed equine infectious anemia disease control program
This page has been archived
Information identified as archived is provided for reference, research or record-keeping purposes. It is not subject to the Government of Canada Web Standards and has not been altered or updated since it was archived. Please contact us to request a format other than those available.
On this page
Introduction
The Canadian Food Inspection Agency (CFIA) is a global leader in regulating food safety, and animal and plant health. Maintaining the health of Canada's animals is a responsibility shared between many stakeholders including owners, producers, industry, veterinarians and governments.
Equine infectious anemia (EIA) is a federally reportable disease that the CFIA and Canada's equine stakeholders work together in partnership to control. The current disease control program is not having any further positive impacts in certain areas in Canada and both the CFIA and equine stakeholder representatives have indicated that they would like the program to be redesigned to address some identified challenges.
A proposed program was drafted by the CFIA based on input received from external stakeholders and the CFIA's aim to focus more resources on prevention and less on response activities. The program outlines a way to protect the owned and tested population by incorporating some federally imposed test requirements. To do so, Canada must be zoned for EIA so that the CFIA has the authority to require testing to be performed prior to certain equine movements in western Canada. Modifications to current stakeholders' roles and responsibilities in disease response were also included in the proposal.
This report summarizes the comments received by the CFIA about the proposed program. The views expressed herein are those of the participants and do not necessarily reflect those of the CFIA or the Government of Canada.
All comments were reviewed and have been used to inform the decision on whether or not to proceed with implementing a pilot of the proposed program and if going forward, what modifications should be made. While submissions included a wide range of specific comments, this report summarizes feedback into the following main themes:
zone boundaries
movement controls (permits)
designated site criteria
cost of testing
testing interval
disease response
compliance promotion and enforcement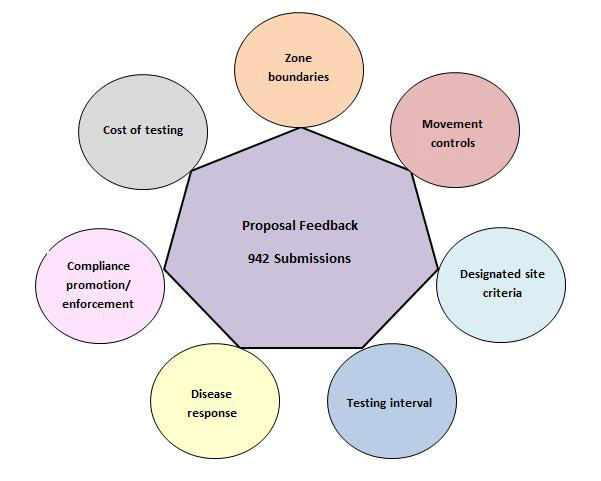 Consultation overview
The proposed EIA program was open to the public for comment for the period of 72 days, from April 19, 2018 to June 30, 2018.
The CFIA sent notifications to equine stakeholders when the consultation comment period opened. Recipients included national equine stakeholder groups, provincial chief veterinary officers, members of the external EIA program working group and a notice was issued through the Canadian Animal Health Surveillance System's Equine Health Surveillance Network. The CFIA also used social media messaging to raise awareness throughout the consultation process.
All equine stakeholders were encouraged to submit their feedback using an online form or to submit it directly via email or regular mail.
Who we heard from
The CFIA received a total of 883 online form submissions, 48 emails and/or CFIA web submissions, and 11 letters. The submissions were received from individuals representing the public equestrian community, as well as various stakeholder groups, including some provincial governments and national, provincial, and local level equine industry associations, veterinary professionals and businesses. A national stakeholder group organized an open call for equine stakeholders and invited the CFIA to participate in it and respond to questions.
Over 90% of all submissions came from individuals, groups or organizations that identified themselves as being located in western Canada. The remaining submissions were from national representative groups and individuals or groups from eastern Canada. The remaining proportion of submitters did not identify their location.
Note: Self-identification was not a requirement for online form submissions. Users could enter multiple submissions if they chose to do so.  
What we heard
All submissions were reviewed and feedback was grouped into main themes when possible. As expected, a diverse range of responses was received which represented strong positions at both extremes as well as many that fell in between. It was apparent that some initial negative feedback was based on a lack of understanding about the current EIA program and certain aspects of the proposed program. The CFIA included some additional information in the questions and answers section of the proposal document to help address this. An appendix has been added to this document to further expand on some areas where there was confusion, such as movement controls. Some comments received were considered to be outside of the scope of this consultation and will not be addressed here. For example, CFIA limiting barn sizes at events, CFIA requiring all veterinarians to provide EIA testing services, and the control of other diseases.
Main themes
Examples of the range of responses received for each of the identified themes are outlined under each heading below.
Zone boundaries
Control boundaries should be expanded and all of Canada should be included
Control boundaries should be minimized to target small high risk pockets within certain provinces
No control zones are needed
More information needed on how provinces were classified
Movement controls (permits)
A lot of misunderstanding on how the proposed permit system would work and impact them (for example, misinterpreting that a permit needed to be applied for and paid for whenever a horse was moved)
Support for the movement control system if it was not onerous and allowed for some federal EIA test requirements to be imposed
Designated site criteria
The proposed size of 200 or more equines at an event is too high for the pilot and too few horses will be impacted by the new requirements
Movement requirements should apply equally to all types of commingling sites, and horses, within control zones (for example, events on Reserves, auction marts racetracks, feral horses)
When site criteria change in future phases, and smaller events are included, the program could have a negative financial impact on owners and event organizers
More clarification needed in the criteria description so that stakeholders know which events qualify (for example, 200 participants at one point in time vs. over the course of a multi-day event)
Cost of testing
Cost of testing is prohibitive for some and may impact compliance with federal requirements
There is too much variability in what owners are charged for testing and something should be done to standardize pricing and limit costs
Grassroots level organizations will be negatively impacted if participants have to pay for an EIA test
Owners who transport their horses to commingling sites, or bring new animals onto their premises, should consider EIA testing to be a regular expenditure
Testing interval
For the pilot, a testing interval of 12 months would be more appropriate and more generally accepted than the proposed 6 months
A test should be required prior to each movement because the test only indicates the horse's EIA status at that point in time
Defined testing intervals should take into account things such as time of year, types of events, which control zone (for example, primary control zone vs. secondary control zone)
Disease response
Concern about the impact that a reduction in CFIA disease response activities in control zones will have
Concern that owners notified of a risk will not respond with appropriate follow-up actions (such as having their animal tested)
The option to permanently quarantine positive horses should still be available under unique circumstances
The vast majority of veterinarians and owners would feel comfortable working together to examine the history of a positive case
Compliance promotion and enforcement
Misunderstanding that event organizers would be solely responsible for compliance promotion and enforcement
Some organizers welcome federal support to impose pre-entry EIA test requirements
National stakeholder groups are willing to work collaboratively with the CFIA to develop and implement an education and awareness strategy as well as assist with some aspects of compliance promotion
More information wanted on the specifics of how compliance promotion and enforcement will  be implemented
Next steps
The CFIA would like to thank everyone who contributed their time, shared their views, and participated in the consultation process. Based on the feedback and general agreement received from national stakeholder groups, there is sufficient support to proceed with planning and implementation of a pilot with some modifications.
More information on the status of the pilot will be available in the coming months. To receive the latest news and updates, visit stay connected to sign up for email notifications, to subscribe to The CFIA Chronicle and to follow us on Facebook, Twitter, LinkedIn, and YouTube.
Appendix
The following has been included to address some key issues raised in the consultation feedback. Some questions and comments were based on misunderstandings of the current program or of the information presented in the proposal. Comments that were considered to be outside of the scope for this consultation are not addressed here.
Comment: The proposed program will not eradicate EIA in Canada
Clarification: National eradication is not the goal of the current or proposed program for a variety of reasons and was addressed in previously distributed documents. The goal of the program is to protect the owned and tested horse population. The federal government can help accomplish this by imposing some mandatory test requirements. Other stakeholders can also impose test requirements at other levels (for example, personal premises, public events, regional areas, provinces), to compliment the federal approach.
Comment: It is too onerous both financially and logistically to require people to obtain and pay for permits and have their animal tested every 6 months
Clarification: Federal test requirements would only apply to those horses being moved to organized events within the primary control zone (PCZ) and secondary control zone (SCZ), with over 200 participants (EIA designated sites). Permits do not have to be applied for and there is no cost for the permit. Electronic permits which outline movement requirements will be available for viewing on the web. A final decision has not been made on whether or not a 6 month testing interval would be appropriate; many have suggested a 12 month interval. Horses that are not moved to a designated site within a control zone would not have any federal test requirements.
Comment: EIA test requirements should be the same for horses in the PCZ and the SCZ
Clarification: They would be. Although there are some administrative differences between the PCZ and SCZ, both zones would have the same test requirements and owners would not notice any difference between the two. The proposal outlined how disease response would differ when a case was identified in either the PCZ or the SCZ.
Comment: EIA testing can be too expensive and prices should be controlled
Clarification: The Canadian Food Inspection Agency (CFIA) does not have the ability to set costs for private business owners (for example, veterinarians and laboratories), who provide testing services. Animal owners and veterinarians do have the ability to compare pricing and make informed decisions which they are comfortable with. It is also possible for stakeholder groups to organize initiatives to encourage testing by offering lower-cost options.
Comment: Not all stakeholders agreed with the working group's recommendation for there to be some federal EIA test requirements in western Canada
Clarification: The working group was composed of members who represented a wide variety of equine experience and expertise from across the country. Many issues were raised and debated and in the end, the group agreed on a path forward to be presented to equine stakeholders at large. Stakeholders were asked to review the proposal and submit their comments on it. It was never assumed that a consensus would be reached among all stakeholders. This is in large part due to the fact that the equine sector includes such a diverse group of people and their animals play a variety of roles in our society ranging from treasured pet to work partner to international elite level athlete.
Comment: Event organizers should be allowed to make their own decisions about EIA test requirements
Clarification: Under the proposed and current programs, event organizers have the choice to impose pre-entry EIA test requirements or not. This applies across the country and historically, organizers in eastern Canada have done a good job of encouraging testing. What the proposed federal program does is place responsibility on the people moving horses to an EIA designated site (for the pilot, an organized event with 200 or more participants within the PCZ or SCZ). Event organizers who do choose to make EIA testing a pre-participation requirement will be practicing good biosecurity and encouraging compliance with EIA program requirements.
Comment: Ensuring compliance with requirements will be difficult
Clarification: To ensure compliance with federal requirements, the CFIA can ask event organizers if they imposed pre-entry EIA test requirements for their participants and if yes, confirm how they verified test status (specifically, did they check for proof of a negative test result). If the CFIA is satisfied, no further action would need to be taken. If the event organizer did not have a pre-entry test requirement in place and/or did not verify EIA test status (for example, did not check for proof of a negative test), the CFIA would begin the process of verifying compliance. Organizers would need to be able to provide the CFIA with a complete list of participants along with any other required information so that the CFIA could pursue appropriate follow-up actions with owners. In addition to actions taken with individuals, the CFIA could also alert other stakeholders of potential EIA exposure risks associated with being present at a particular event.
Comment: Owners should be allowed to make their own decisions about the management of their animal's health
Clarification: The proposed program addressed the request received by the CFIA from stakeholder groups to help protect the target population from EIA. Those whose animals do not commingle with this group are not directly impacted by the federal requirements and owners are free to make their own decisions about when and if to test for EIA. These decisions should be made in consultation with their veterinarian and include a discussion about potential risk factors (for example, introduction of an animal of unknown disease status, commingling with animals of unknown disease status, known or potential exposure to an infected animal at some point in the past, history of intermittent illness of unknown cause).
Comment: Canada should use an EIA vaccine to control this disease
Clarification: Currently, there is no licensed EIA vaccine available for use in Canada, the U.S., Europe, or in any other country from which Canada imports horses. The nature of the EIA virus makes vaccine development extremely challenging and this has been demonstrated by the inability to develop one for its close relative, the human immunodeficiency virus (HIV). This is in spite of a tremendous amount of resources being spent to do so. If an effective vaccine becomes available for use in the future, the EIA disease control program would be amended appropriately.
Comment: The EIA test result is only good on the day that the blood is drawn
Clarification: This is true for EIA, and for many other diseases. Tests are performed to establish an animal's disease status. An EIA test is not preventative for that particular animal, but results can be used to prevent further spread of the disease when it is found. Regular surveillance of susceptible animals also helps to evaluate the health status of a larger group. Informed caretakers can take precautions to control risks and limit the chance of their animal becoming infected. The purpose of the proposed federal requirements is to ensure a reasonable level of surveillance is occurring among the group of animals who commingle with the target population and prevent known positive animals from putting others at risk. It is acknowledged that the proposed program does not offer 100% protection, but by increasing testing requirements and awareness in areas where the disease continues to be detected, the risks can be better managed.  
Comment: Something needs to be done to control EIA in the unowned horses (feral populations)
Clarification: The management of unowned animals is the responsibility of provinces and/or municipalities, other than those in national parks. It is the CFIA's mandate to control specific diseases in owned animal populations and the goal of the proposed EIA program is to protect the owned and tested population.
Comment: Horses in areas outside of the control zones may be at an increased risk for EIA with these program changes
Clarification: In the areas outside of the control zones, the EIA program will continue to function as it has been. Stakeholders in those regions would still be expected to implement test requirements as they have been, and the CFIA would respond to positive cases as they do now. For several years, only an extremely small number of cases have been found outside of the proposed control zones and owner-requested testing numbers have been consistently higher in these areas. This indicates that the current approach is working well there. If this trend were to change in the future, modifications to the program would need to be considered.
Comment: The CFIA is not managing all EIA risks with this approach
Clarification: This is true. It is important to remember that this is not an eradication program and the CFIA does not have the ability to require testing of all horses on all premises unless they are part of an active disease investigation. The proposed program outlines the different roles that stakeholders can play to support a national approach. It would be important for veterinarians, organizers, owners and provinces to be aware of what federal controls are in place (for example, import controls, disease response activities, movement controls and test requirements in control zones), so that others can decide what additional steps might need to be taken to help protect our horses and control the spread of EIA in Canada.