Completing a portal task in My CFIA
After you've submitted a new service request in My CFIA, you may receive a "portal task notification". A portal task notification is an email message sent to you if the CFIA needs more information before processing a service request that you submitted through My CFIA.
Portal task notifications are sent to the person who submitted the application for the service and may look like this:
Le texte français suit le texte anglais
A service request requires your attention.
You may log in and access the service request task here : http://www.inspection.gc.ca/about-the-cfia/my-cfia/eng/1482204298243/1482204318353. Please provide the information or detail as appropriate to avoid request processing delays.
If you have any questions about the task you may contact the CFIA at:
* Tel: 1-800-442-2342
Thank you,
CFIA
Une demande de service nécessite votre attention.
Vous pouvez vous connecter et accéder à la demande ici : http://www.inspection.gc.ca/au-sujet-de-l-acia/mon-acia/fra/1482204298243/1482204318353. Veuillez fournir l'information ou les renseignements détaillés pour éviter des retards dans le traitement de la demande.
Si vous avez des questions à ce sujet, vous pouvez communiquer avec l'ACIA en composant le numéro de téléphone suivant :
1-800-442-2342
Merci.
L'ACIA
To complete the portal task, you must sign in to your My CFIA account.
Once signed in, make sure your validated party associated with the service request is selected by clicking the white drop down box under "Party Administration", clicking on the proper validated party and clicking "Select":
Now scroll down to the "Service Request" section of your party profile dashboard, where you will be presented with all previously submitted service requests. This section should look similar to this: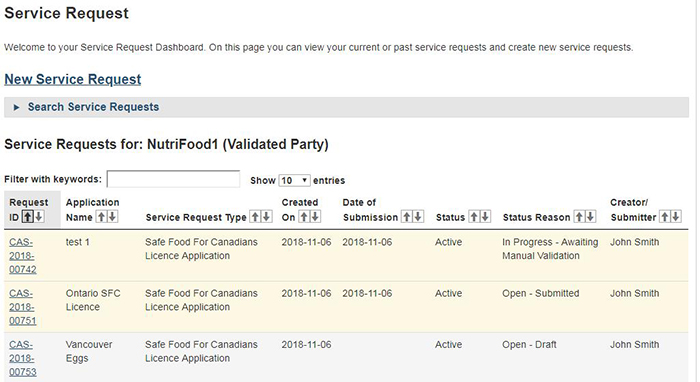 Click on the "Request ID" link of the service request that requires your attention as directed below:
After clicking the "Request ID" link, further details related to your service request will be displayed. Tasks requiring your attention are marked as 'Incomplete' under "Status". Scroll down to the tasks section on this page, and click the "Action/Edit" link, as indicated below:

You will then be presented with the "Task Information" page.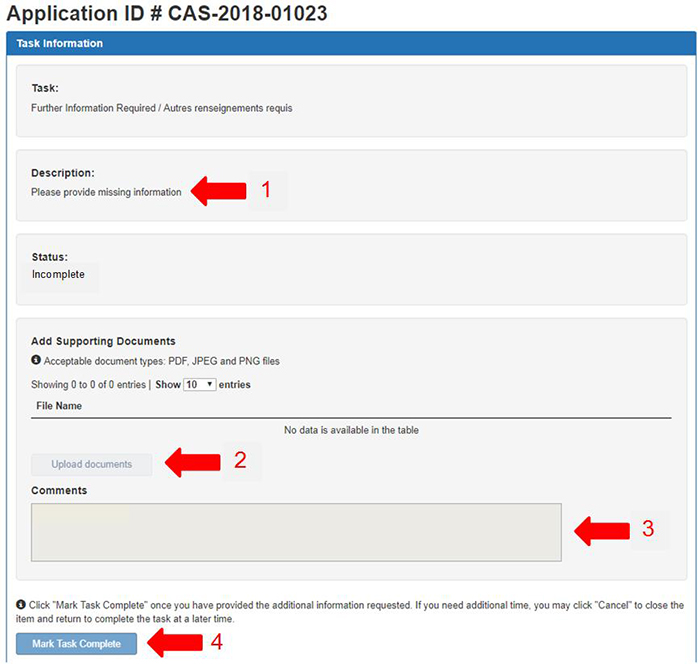 Once the task has been completed, the CFIA will review the information and continue with processing your application. We may reach out to you again should additional information be required.