Making an online payment in My CFIA
After you've submitted a new service request in My CFIA, you may receive an email message notifying you that payment must be made before a service request can be processed or a permission, such as a licence or permit, can be issued.
A "Payment Task Notification" will be sent to the person who submitted the application for the service and may look like this:
Le texte français suit le texte anglais.
Please note that a new Payment Task has been assigned to your service request. Please login to My CFIA (https://www.inspection.gc.ca/about-the-cfia/my-cfia/eng/1482204298243/1482204318353) to confirm amount and remit payment. The service request cannot be completed until payment is made.
If you have any questions about this task you may contact the CFIA at:
*Tel: 1-800-442-2342.
Thank you,
CFIA
Veuillez noter qu'une tâche relative au paiement a été assignée à votre demande de service. Veuillez-vous connecter à Mon ACIA (https://www.inspection.gc.ca/au-sujet-de-l-acia/mon-acia/fra/1482204298243/1482204318353) pour confirmer le montant et procéder au paiement. La demande de service ne peut être complétée tant que le paiement n'a pas été effectué.
Si vous avez des questions à ce sujet, vous pouvez communiquer avec l'ACIA en composant le numéro de téléphone suivant :
*1-800-442-2342.
Merci,
L'ACIA
To make your payment online, you must sign in to your My CFIA account.
Once signed in, make sure your validated party associated with the payment task is selected by clicking the white drop down box under "Party Administration", clicking on the proper validated party and clicking "select":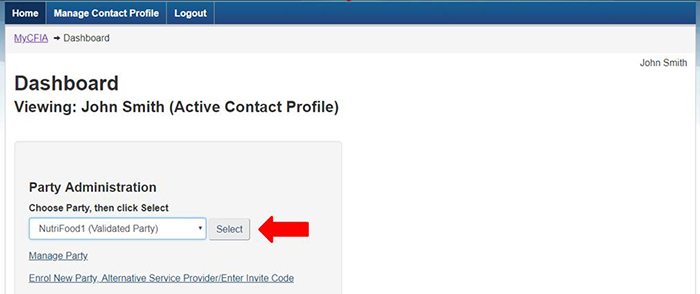 Now scroll down to the "Service Request" section of your party profile dashboard, where you will be presented with all previously submitted service requests. This section should look similar to this: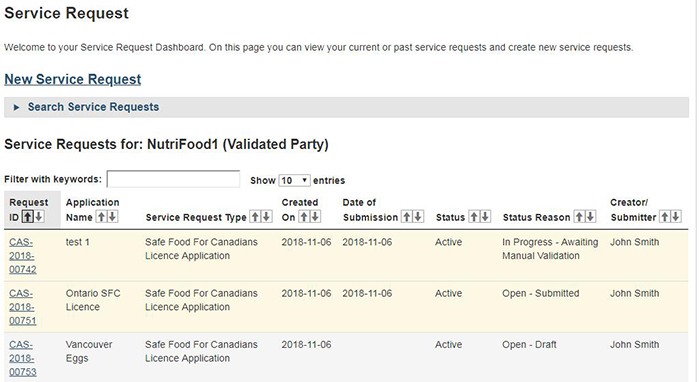 You may scroll through your previous service requests or use the filter to find the required service request. Service requests requiring your attention are listed in the Status Reason column as 'On Hold – Awaiting Payment.'

Click on the "Request ID" link of the service request that requires your attention as indicated below:

After clicking the service request ID link under, "Request ID", you are presented with further details related to your service request. Tasks requiring your attention are marked as 'Incomplete' in the status column. Scroll down to the tasks section on this page, and click the "Action/Edit" link, as indicated below:

You will then be presented with the "Task Information" page.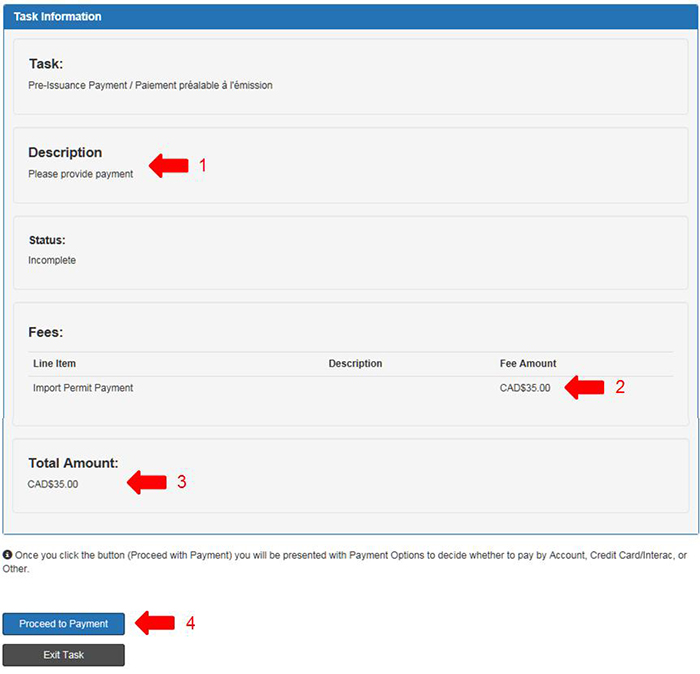 On-Account: If you have a billing account with the CFIA National Accounts Receivable Centre and have entered the On-Account number within your Party profile, it will appear here once it has been verified by the CFIA. If you select this option, the fee will be charged against your CFIA account and we will proceed with processing your application.

Note: If you wish to apply for a billing account, you may complete an Application for Credit (CFIA/ACIA 0015) and email it to ARCentre@inspection.gc.ca.

Online: Upon selecting "online" as the payment method, you will be redirected to the Moneris website. Here, you will enter you Visa, MasterCard, or Interac payment information. Once the payment is complete, your application will be processed.
Other: Select "other" as the payment option if you wish to pay through other methods such as over the phone, cheque, or electronic funds transfer (EFT). After selecting "proceed to payment", you will be provided with information as to how and where to make your payment. We will only proceed with processing your application after we have received your payment.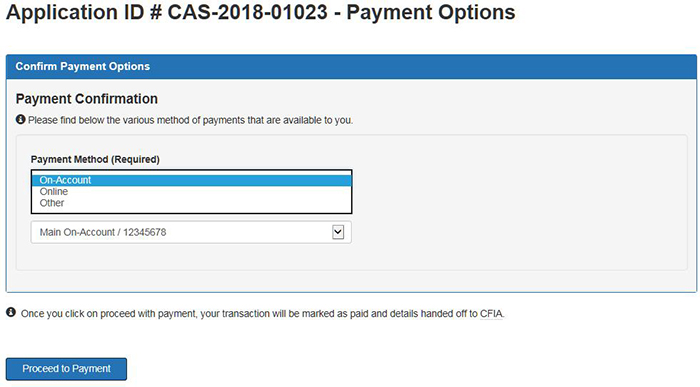 Note: Once you click on "Proceed to Payment", you will not be able to return to this page again.
If you have made a mistake and require assistance with payment, please call 1-855-212-7695.