How to assign an Alternate Profile Manager in My CFIA
Profile Managers and Alternate Profile Managers are authorized by the Profile Authority to create and manage My CFIA profiles, invite other users, and conduct business online with the CFIA on behalf of a business. CFIA strongly recommends that all My CFIA party profiles have an Alternate Profile Manager in case the Profile Manager leaves the company, or is out of the office due to vacation or illness. If your Profile Manager has left the company and you do not already have an Alternate Profile Manager, you must call 1-800-442-CFIA (2342) to have your profile re-validated.
To assign an Alternate Profile Manager, sign in to My CFIA and make sure the party that you want to assign an Alternate Profile Manager for is selected by clicking the white drop down box under Party Administration, clicking on the proper party and clicking Select.
To assign or update your alternate profile manager, click on Manage Party.
Your Party Profile Overview will be displayed. Scroll down and select the Mandatory Party Contacts.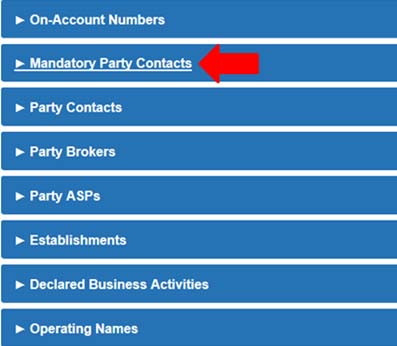 The Mandatory Party Contacts field will drop down to show your profile's Principal Contacts. From this list select the Edit hyperlink to the right of the Alternate Profile Manager as shown below.
The page will load to display the Manage Party – Alternate Profile Manager screen. If your profile has an existing Alternate Profile Manager the information will appear here. To assign a new Alternate Profile Manager, enter an email as shown below.
Note: Your profile can only have one Alternate Profile Manager at a time, if you already have an Alternate Profile Manager, they will be replaced by the new invited profile.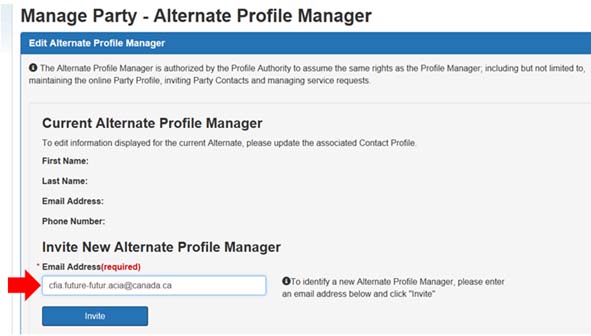 After clicking Invite, an expiration date will appear. Your newly invited Alternate Profile Manager will have until that date to accept your request. If they do not accept by the expiration date, you will need to repeat these steps. If you wish to cancel your invite you can do so by selecting Cancel Invite displayed below the expiration date.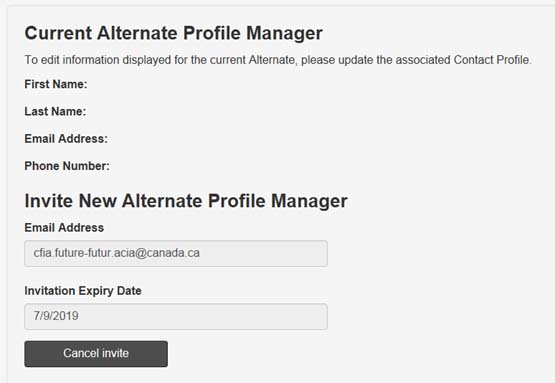 Once you've sent an invite, an email with a code, as shown in the red box below, will be sent to the email address you provided.
Instructions for the individual invited to be the alternate profile manager
Log in to the email that was used to invite you to become an Alternate Profile Manager. Copy the code and click on the hyperlink provided in the email.
Le texte français suit le texte anglais.
You have been invited by John Smith to adopt a role for Party NutriFood01 in MyCFIA.
Follow the link below to access the Portal, go to the screen titled "Enroll A Party or Alternative Service Provider (ASP)/Enter an Invite Code" and enter the code 4860fd4f-8b96-e911-8016-005056814aa3 when prompted.
http://www.inspection.gc.ca/about-the-cfia/my-cfia/eng/1482204298243/1482204318353
This invitation shall be accepted within the next 15 days. If this invite has been sent in error, or if you have any questions about this invitation, please contact the inviter (cc'd above) prior to proceeding.
Thank you,
CFIA
Vous êtes invité par John Smith à adopter un rôle au sein de la Partie NutriFood01 sur MonACIA.
Suivez le lien ci-dessous afin d'accéder au portail, aller à la page titre appelé « Inscrivez une partie ou un fournisseur de services/Entrez le code d'invitations » et d'inscrire le code : 48060fd4f-8b96-e911-8016-005056814aa3 lorsqu'il vous sera demandé de le faire.
http://www.inspection.gc.ca/au-sujet-de-l-acia/mon-acia/fra/1482204298243/1482204318353
Cette invitation doit être acceptée dans les prochains 15 jours. Si cette invitation a été envoyée par erreur, ou si vous avez des questions à propos de celle-ci, veuillez contactez l'invitant (en copie conforme ci-dessus) avant de procéder.
Merci,
L'ACIA
Click on the Sign in link found on the My CFIA webpage.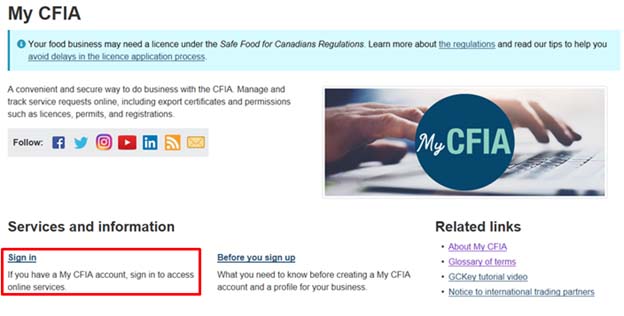 If you already have a My CFIA Contact Profile, log in as you normally would.
If you do not have an existing Contact Profile, create one by either using your banking information or GC Key.
If you logged into an existing account, select Enrol New Party, Alternative Service Provider/ Enter Invite Code as shown below:
The Enrol a Party or Alternative Service Provider (ASP)/ Enter Invite Code page will load.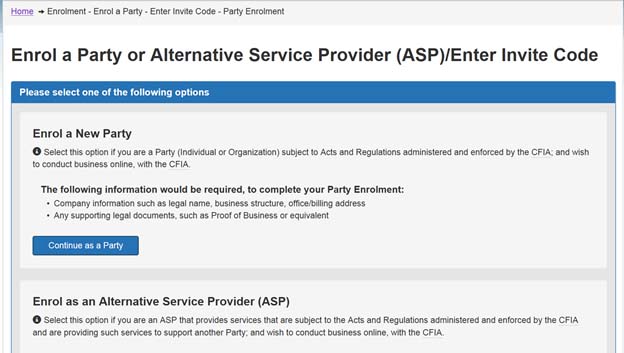 Scroll down to the bottom of the page and enter the code provided in your invite email.

If you are creating a new account, the New Contact Enrolment screen will load. Select the Create Contact Profile, then you will be asked to fill out basic contact information on following screens.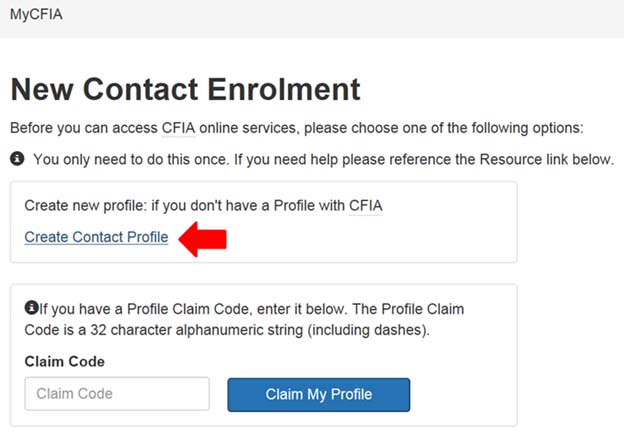 At the end of your new contact enrolment screens, the Enrol a Party or Alternative Service Provider (ASP)/ Enter Invite Code will load. Scroll to the bottom of your screen and enter the code you received in your invite email.
After entering the Invite Code and selecting Submit, you will be presented with the Accept a Role for a Party. Read the attestation, select the I accept box and click the Accept button.
After clicking the Accept box, the Alternate Profile Manager will be presented with their dashboard, where they can select the validated party and continue to use My CFIA to manage the profile and request services on behalf of the business.